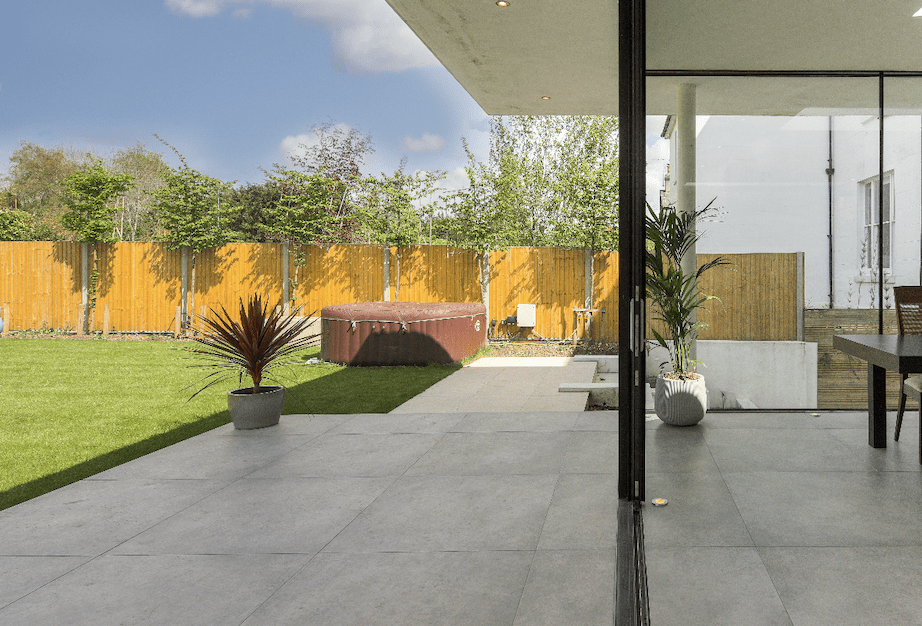 Pleached trees are trees that have been trained to form an attractive screen of branches and foliage on a straight, thin trunk. They're often known as "hedges on stilts" due to the dense, hedge-like foliage sitting above this single stem. They are often used to form a screen of foliage, hiding unsightly views and buildings, or grown above an existing wall or fence for privacy.
Credit for the above photo of our Reigate landscaping project goes to Ralph James 
In Medieval times, pleached trees were often used to form walkwaysor "tree tunnels". Some even say that they were used in the time of Julius Caesar for defensive purposes! We may not have to protect ourselves from Roman cavalry charges these days, but after pleached trees made an appearance at The Chelsea Flower Show a few years ago, they're having a bit of a comeback.
Pleached trees are certainly a current trend and something that we are being asked for more and more at Ayegardening. We use them for attractive boundaries and privacy, as well as tree tunnels and garden features as in days gone by. So in this post, we're sharing our tips on using pleached trees in your landscaping, and how to help them thrive.
Why we like pleached trees
Space: Planting any tree will help to hide an eyesore or provide privacy, but the benefit of using pleached trees is that they take up less space.  Making them a perfect solution to soften small and urban spaces.
Instant screening: Pleached trees can be supplied as mature specimens, meaning that you benefit from instant, attractive privacy when using them as screening, or to extend the height of an existing fence or wall.
Living fences: Another way to describe pleached trees is as "living fence panels", making them an attractive solution for boundaries and an alternative to hard landscaping.
Availability: The increasing popularity of pleached trees means that more varieties and options are becoming increasingly available in commercial nurseries.
When you are buying your trees, remember that the cheaper specimens are usually younger, and won't provide the screening that you are looking for immediately. It may be tempting to save some money by purchasing these cheaper trees, but keep in mind that the younger the tree, the more development and care it will need to develop into a living screen.
Your pleached trees may be more of an architectural feature in your garden, but they are still primarily living plants that need the right soil, sun and aspect to help them thrive.
In fact, when choosing a site for your pleached trees, remember that they are already stressed because of the manipulation of their branches to achieve the pleached look. So it's especially important that the soil is well-drained, to prevent further stress and damage to your trees.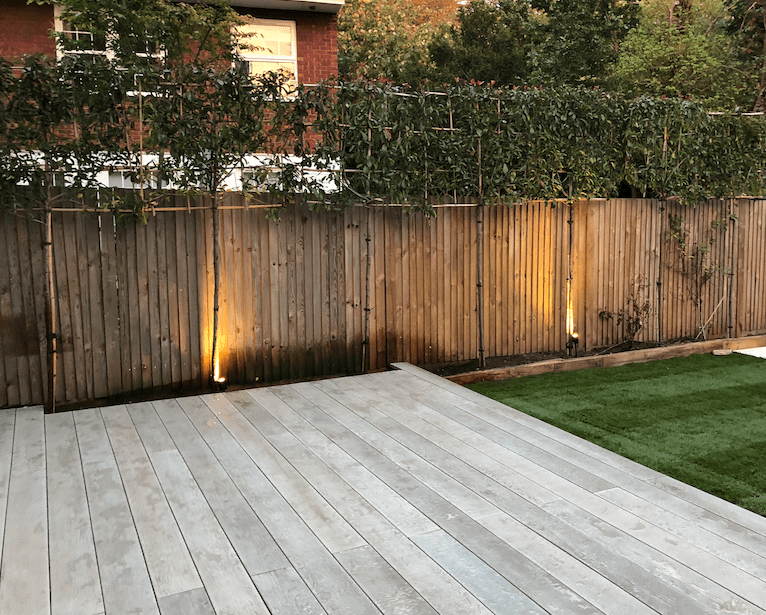 Looking after your pleached trees
Plant your pleached trees as you would any other tree, making sure that you dig a hole twice the size of your tree's root ball.
Keep the planted area free of weeds by adding a layer of bark chips.
To maintain the sleek, single stem of the tree, pay regular attention to the trunk, rubbing buds off as they develop.
Both sides of the pleached tree will need to be kept accessible for maintenance. You'll need to prune your trees twice each year, in summer to keep them neat and then pruned and tied in winter when you'll be able to see the structure of your tree more easily (at least with deciduous varieties).
Aye's Trouble-Shooting Tips
A note on maturing trees: As your trees mature, you can expect their branches to grow and graft together. The branches remain malleable, so depending on how strong you want this architectural element to be in your garden, you can bend and train the branches together to form one structure.