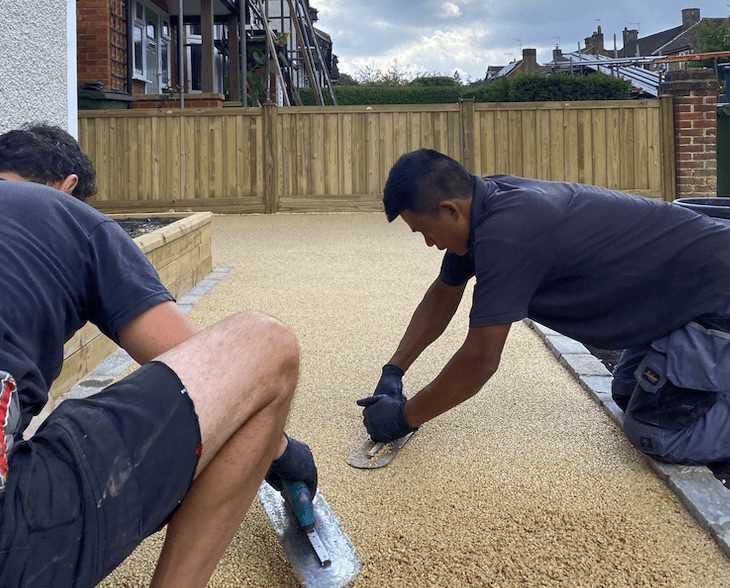 AYE'S ADVICE: RESIN BOUND MAINTENANCE
SureSet permeable paving is a resin bound product that we regularly use in a variety of residential settings, including driveways, paths and patios. We are proud to be an SureSet Approved Installer, and have used their resin bound permeable paving in a variety of projects. We are often asked by our clients about the best way to maintain their resin bound driveways and paths. This post takes a look at the best way to maintain your resin bound. 
What is resin bound paving?
SureSet resin bound permeable paving is made in the UK from marbled or recycled material (stone) and a high-quality clear resin binder. It is a fully permeable, hardwearing, Sustainable Drainage System ("SuDS") compliant surface that doesn't need planning permission.
Resin bound permeable paving has a smooth finish with no loose stones to migrate to other areas of your property, making it friendly on the feet and ideal for adjoining lawn areas. It can be laid on a new base, but it is also possible to lay it over an existing asphalt or concrete surface.
Cleaning:
Resin bound permeable paving will benefit from occasional sweeping and washing to keep it looking as good as new. Before cleaning, we recommend that you carry out a spot check by cleaning a small area before extensive use on the whole surface.
Cleaning:

Resin bound surfaces should be swept clean with a stiff broom to remove leaves and other debris. Then hosed down with clean water at the same time. More heavily soiled areas may require hosing with clean water and detergent.

Outdoor drive cleaning with high pressure water jet

Power washing:

It is safe to power wash resin bound permeable paving using a pressure washer (up to 150bar rating). Be careful not to use excessive pressure, use cold water, and keep the jet at least 200mm from the surface, using a sweeping motion.

Stubborn stains:

You can remove stubborn stains by lightly scrubbing the affected area with warm water and detergent, using a plastic or natural fibre bristle brush.
Precautions

Normal use:

SureSet resin bound surfaces are designed to be used by pedestrians and vehicles at normally expected levels of residential use. Additional protection should be provided wherever possible against "abnormal" usage.

Protection for "abnormal" use:

Take care with any hard objects such as motorbike stands, gardening machinery, car parts and concrete plant pots, which could cause damage if dropped on, or dragged across the paving.

Beware of point loading:

The surface could potentially be marked by crushing of individual pieces of stone that make up the aggregate, by exceptional point loading, such as pressure caused by high heeled shoes, or stones trapped in the treads of tyres, especially in areas of high use.
Tyre marks: Resin bound surfaces can be marked by tyre residue or dirt tracked onto them from other surfaces. Marking can be reduced by avoiding turning a vehicle 'on the spot', and other manoeuvres that cause scuffing of the surface.

Always ensure skips are placed on boards

Protection during building works: Take special care when placing or storing large, heavy items on your resin bound paving, e.g. skips, tail lifts and building supplies. You will also need to protect it from staining and contamination from cement, oil, dust and other debris. Never drag or drop heavy items on the surface.
Maintenance

A SureSet resin driveway needs very little maintenance. To ensure that it continues to look its best and last for as long as possible, we recommend that a few simple maintenance procedures are followed.
Weeds:

The technology of SureSet minimises weed growth and reduces puddles. As long as any established weed growth was removed before installation, it is highly unlikely, with regular cleaning, that any significant new weed growth will appear. Any seedlings that have appeared in the surface can be easily removed by hand wedding, or by treating with a weed killer. Regular cleaning will also help to reduce any moss or algal growth on your paving.

Undertaking a small resin bound repair

Repairs – small areas: Minor areas of damage can be repaired by carefully removing a small patch of the damaged surface and replacing it with the same blend as the original resin bound. Be aware that the replacement material may take some time to tone in with the aged and weathered original material. 
Repairs – larger areas:

Larger areas can be repaired by cutting back the damaged area to a convenient point and installing a saw-cut day joint. In the event of any damage, please contact us for a quote. Alternatively we can put you in touch with your nearest SureSet Approved Installer if you are outside our area.
Seasonal maintenance
Autumn
Regularly sweep away fallen leaves throughout the Autumn, as they can quickly decay and cause a slipping hazard. Rotted leaves can also cause unsightly black stains on the paving, turning a quick sweep into a lengthy task with the potential need to scrub and power wash the stains away. You may want to consider investing in a leaf blower to make the task even easier!
Winter & Spring
SureSet resin paving systems are permeable, which prevents rainwater from pooling and means less chance of ice forming on the surface. If cold weather is predicted, scatter a layer of rock salt on to prevent ice from forming on the surface. Be sure to hose your paving down well with clean water after the cold spell.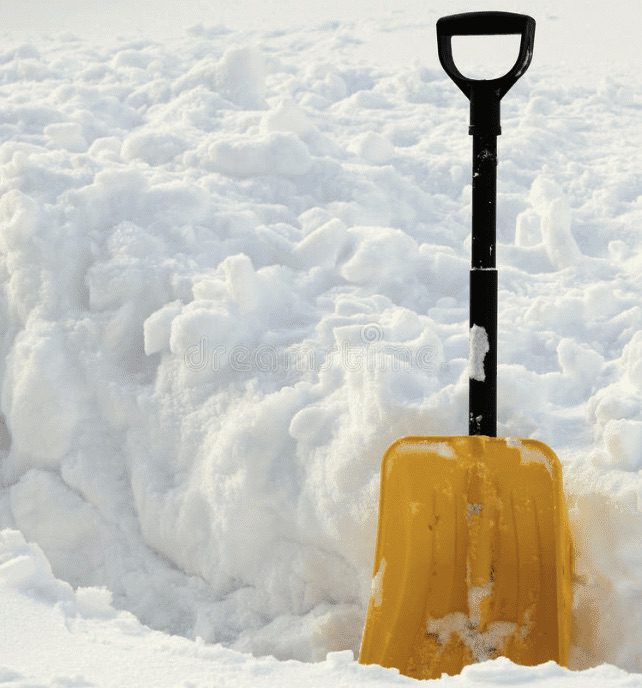 If you need to remove snow, SureSet recommend using a plastic snow shovel, as a metal shovel could damage to the surface.
SureSet resin bound paving is designed to expand and contract when the water freezes between the voids. Frost damage is covered as part of the 21-year guarantee for this reason. SureSet resin bound can be installed all year round even in the winter, as long as the temperatures are above 0˚C and rising.
Summer
Sweep away any fallen leaves or flower petals, as this will make for lighter work in the Autumn. During late spring and early summer you may start to see weed growth. Remove them as soon as possible to stop them seeding and spreading.
You may notice some growth of algae and moss. Although this is not limited to summer, it's at its most aggressive then and if not removed it will come back. Not only can algae and moss be unsightly, but they can also pose health risks and be slippery.
Aye's Trouble-Shooting Tips
An alternative to rock salt: If you have limited access to rock salt but are expecting freezing temperatures, try using table salt, which can be just as effective. Approximately 1 tablespoon of salt can dissolve around 1 square metre. Salt will not weaken SureSet's high quality resin systems, but remember to wash the salt away with clean water after the cold spell has finished.
Edging: Avoid using a metal lawn edging tool to tidy your grass where it meets the resin surface, as the metal will damage your paving. When planning our projects we always recommend including a stone edging between your paving and lawn or flower beds. This keeps things neat, and avoids the need for lawn edging maintenance.