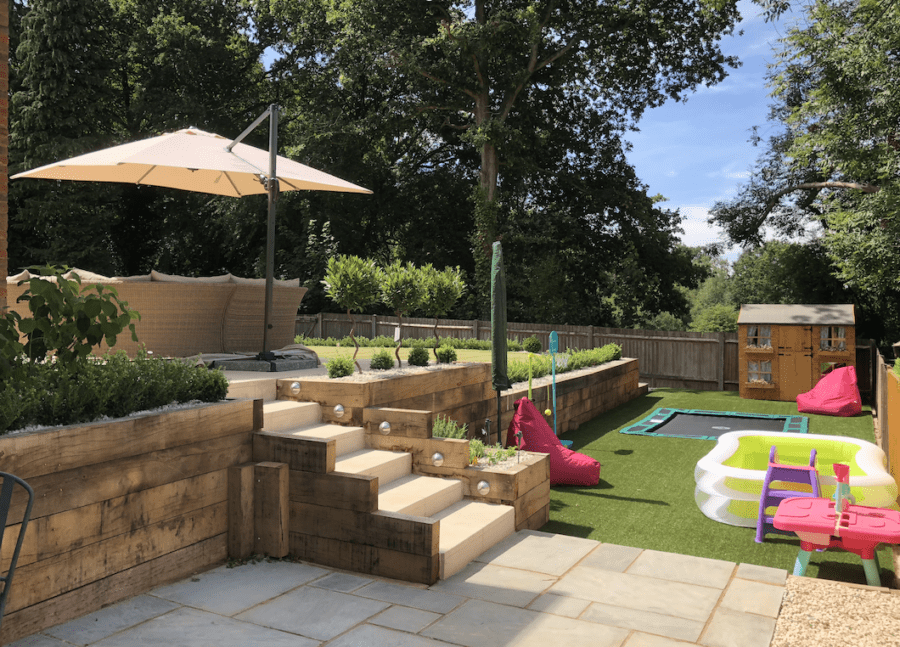 AYE'S ADVICE: USING OAK TIMBER SLEEPERS IN YOUR GARDEN
From raised beds to retaining walls, steps to seating, railway sleepers are a favourite in all kinds of gardens. And the trend is not set to be going anywhere –natural, rustic and versatile, railway sleepers and oak timber sleepers remain popular amongst our clients for their landscaping projects.
Although "railway sleepers" come in a variety of woods, we prefer to use oak timber sleepers in our projects. This is because hardwoods such as oak are slower to grow, giving them a denser structure, which is highly durable and more resistant to decay without treatment. This also means that they are heavier to handle and are usually more expensive than softwood sleepers. However, when you consider that oak timber sleepers have an untreated lifespan of around 30 years they represent great value.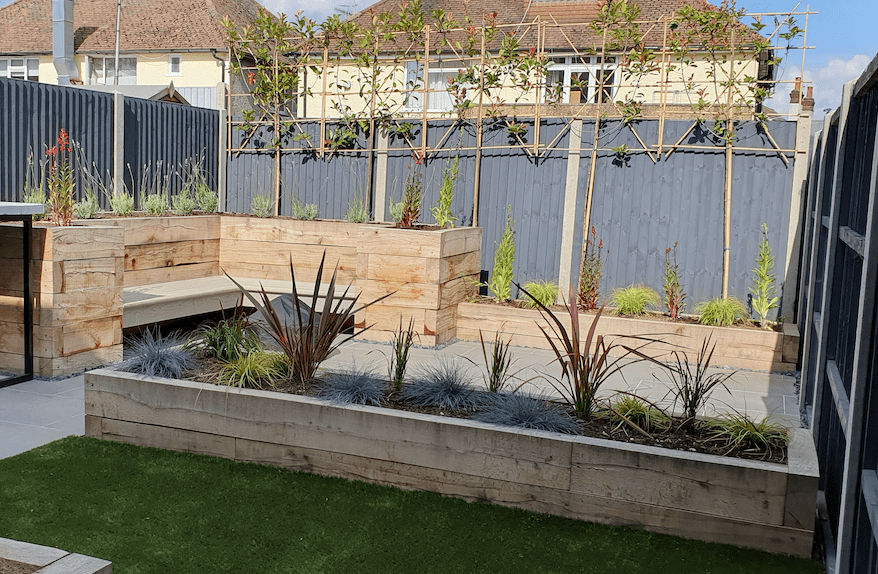 New oak timber sleepers vs. reclaimed railway sleepers
You may have been attracted to using "railway sleepers" in your garden because you like the idea of using reclaimed wood, and bringing a little "heritage" into your garden. However, please remember that reclaimed sleepers that have actually been used on railways will be covered with grime, and treated over years with tar... which will seep out into your garden, onto clothing and skin.  This is why we highly recommend opting for new oak timber sleepers so that you can be confident that your wood will be kind to your garden, plants and family, whilst letting its own unique character shine through.
Embracing natural material and its unique characteristics
As oak timber is a natural material, your sleepers' rustic charm is probably one of the reasons that you chose them in the first place! We encourage you to embrace their unique characteristics, and offer the following advice / reassurance as your sleepers settle into your garden:
New oak timber sleepers are landscape grade, rather than furniture grade. They are 'green' oak, (meaning they have been freshly cut in the last 6 months) and not dried or seasoned. The oak can have splits at the ends and may have knots, blemishes and "waney" edges. Sometimes the timber can develop dozens of thinner cracks, or sometimes a lesser number of larger ones. These are all part of the character and charm of your wood.
New oak timber sleepers change from a gold colour to a darker, 'stained' look, before finally maturing to a silver grey as the wood seasons. This natural cycle of seasoning will take 4 to 12 months, depending on sunlight and the location of your sleepers.
New oak timber sleepers are normally square edged on one face, with some rounded edges (scallops) on the opposite face, where the oak has been cut from the outside of the tree. Sometimes they may bow along the length.
Sap and resin occur naturally in all timber. Depending on the density within the growth rings of the timber, this will need to escape at some point, and you may find sap appear through any cracks or knots in the wood.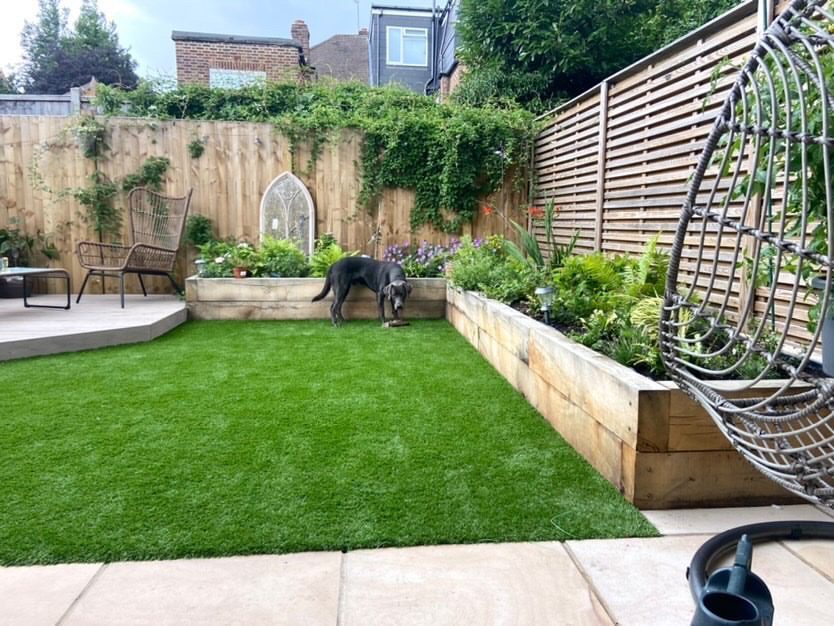 Cleaning: You can brush your oak timber sleepers down to keep them looking clean and tidy. It is possible that you may notice a sap or resin leaking on the sleepers- you can wash this off with soapy warm water. Algae can also be removed by scrubbing the sleepers with warm water.
Treatment: Unlike softwood railway sleepers which have to be treated with either creosote or pressure treatment to prevent them rotting and collapsing, hardwood sleepers are much more durable. Because they are naturally longer lasting, we suggest leaving your oak timber sleepers untreated.
Aye's Trouble-Shooting Tips
Splitting: Hardwoods tend to be full of moisture so are more prone to cracking and shrinking over time. It is completely normal for wood of all types to split as it contracts and changes in response to the weather, and it is common for many splits to appear over time. However, it is unusual for a split to reach the centre of the sleeper over a long enough distance to affect the structural integrity of the sleeper.
Resin pockets: Resin pockets form when resin collects in the cavities that can occasionally form in the growth rings of the log. When sunlight hits the resin is drawn out -similar to 'sap rising' but more concentrated. This is an entirely natural occurrence and something that happens from time to time when dealing with a natural, organic product such as timber. A good clean with warm water and an oil-combating soap will help to remove it, but never be tempted to use a pressure washer as this could damage the structure of the wood.