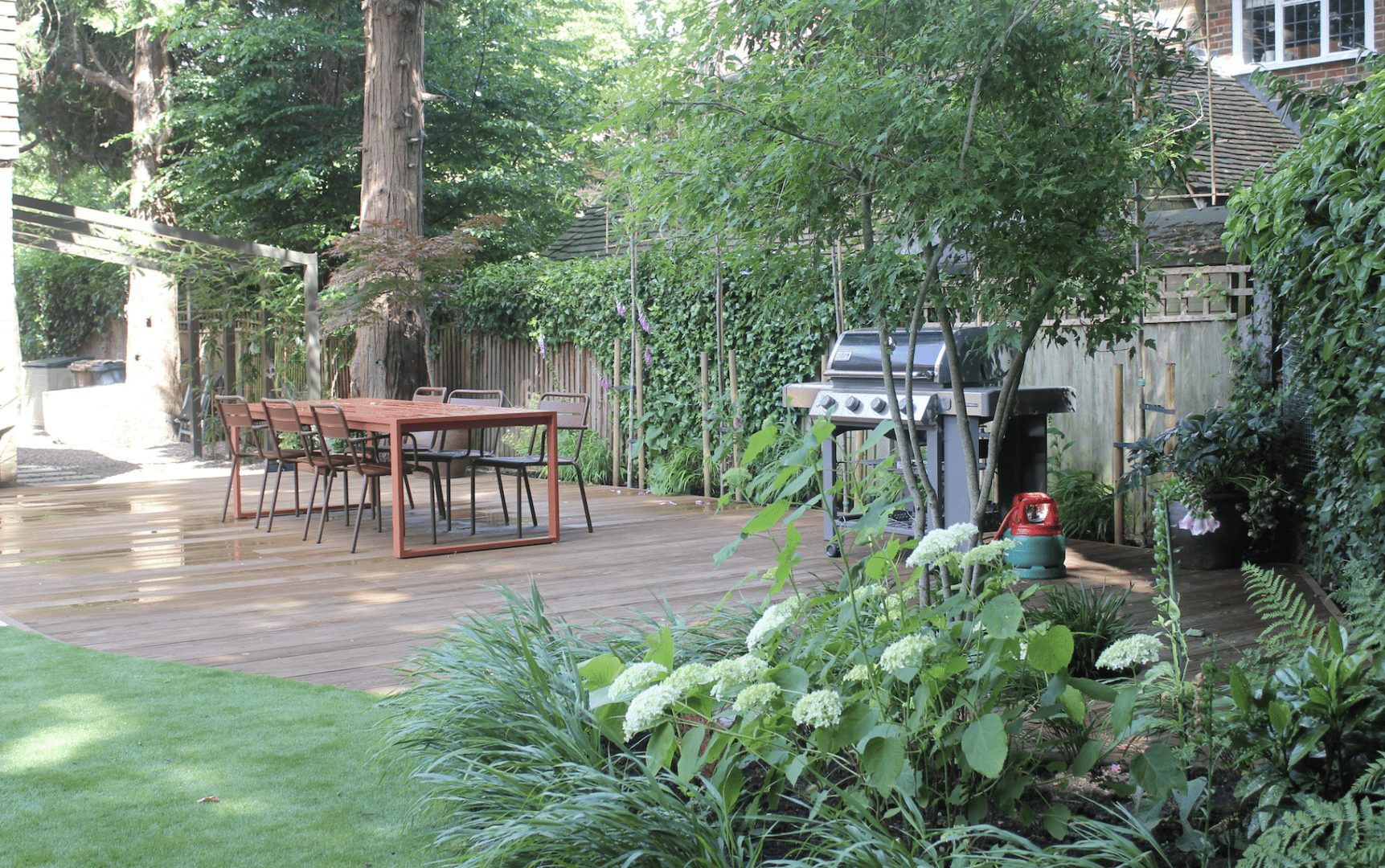 The different types of garden decking, and how to choose the perfect material for your garden
A deck is a perfect way to extend your living space outdoors and create a comfortable area for relaxation and entertainment. But what are the different types of garden decking, and how do you choose the right decking material for your garden?
In this post, we'll look at the different types of garden decking, each with its unique characteristics and benefits. We'll explore the differences between the four most popular types of decking: softwood, hardwood, composite, and Millboard. Understanding these options will help you make an informed decision when selecting the perfect decking material for your outdoor haven.
Softwood decking is typically made from coniferous trees such as pine, spruce, or cedar. It's a popular choice for decking projects due to its affordability and natural look. Here are a few key characteristics of softwood decking:
Natural look:

Softwood decks have a warm, natural appeal and a charming rustic look that complements various architectural styles.

Maintenance:

Softwood decks require regular annual maintenance, including staining, sealing, and occasional repairs, to protect them from weathering, rot, and insect damage.

Durability:

While softwood can be susceptible to scratches, dents, and warping over time, using high-quality treated or naturally durable softwood can improve its lifespan. For example

, Jacksons Fencing's softwood decking is guaranteed for 25 years and never needs retreating. Ayegardening are Jacksons Fencing approved installers,

and know this product well.

Affordability:

Softwood decking tends to be more budget-friendly compared to hardwood or composite options, making it an attractive choice for those on a tighter budget.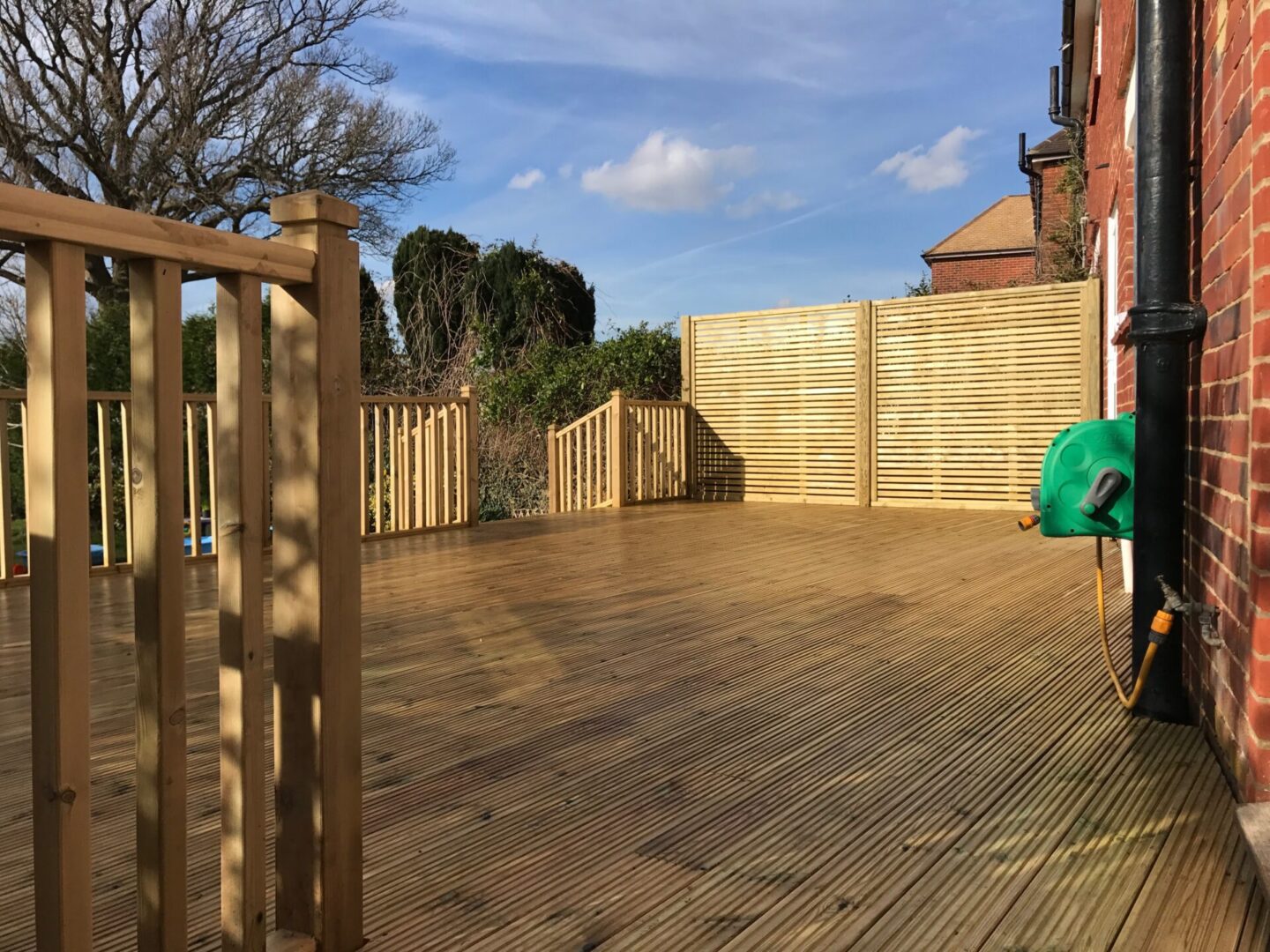 Hardwood decking is made from dense, durable woods derived from deciduous trees such as ash, oak, or teak. Here are the key features of hardwood decking:

Natural beauty:

Hardwood decks offer a luxurious and sophisticated aesthetic, featuring rich colours, intricate grain patterns, and a smooth, refined finish.

Maintenance:

Remember that hardwood decking requires regular maintenance. Sealing and occasional refinishing are required to preserve the beauty and integrity of the wood. Neglecting maintenance can lead to discolouration and accelerated ageing.

Strength and longevity:

Hardwood decking is known for its strength and durability, as well as its resistance to rot, insects, and weathering. It can last for decades with proper maintenance.

Higher cost:

Due to its premium quality, Hardwood decking is generally more expensive than softwood or composite options. However, its longevity and timeless appeal can offset the initial investment.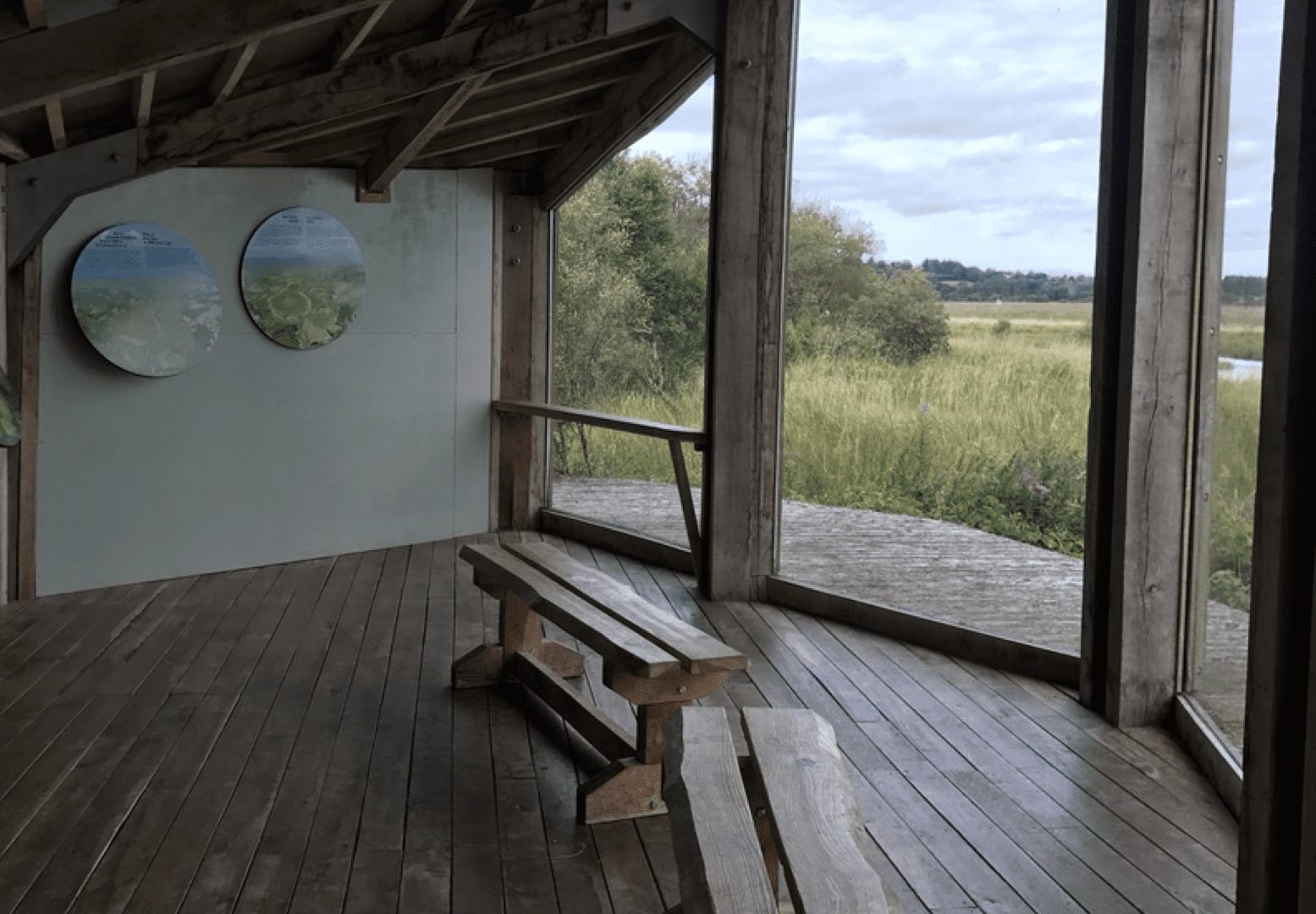 Composite decking is a blend of recycled wood fibres, plastic, and additives, resulting in a low-maintenance and eco-friendly alternative. Its features include:
Versatility and aesthetics:

Composite decks come in various colours, finishes, and textures, so you can achieve the desired look without the maintenance requirements of natural wood.

Low maintenance:

Composite decking requires minimal upkeep, as it does not need staining, sealing, or regular refinishing. It resists fading, staining, and mould growth, making it an attractive option if convenience is of high importance to you.

Durability:

Composite decking is highly resistant to rot, splintering, warping, and insect damage. However, it may be susceptible to scratching and heat retention in direct sunlight.

Initial Cost:

Composite decking typically has a higher upfront cost compared to softwood, but it requires fewer ongoing expenses, such as maintenance and replacement, over its lifespan.
Ayegardening are a Saige Decking approved installer and also endorse London Stone DesignBoard. We regularly use both products in our landscaping transformations.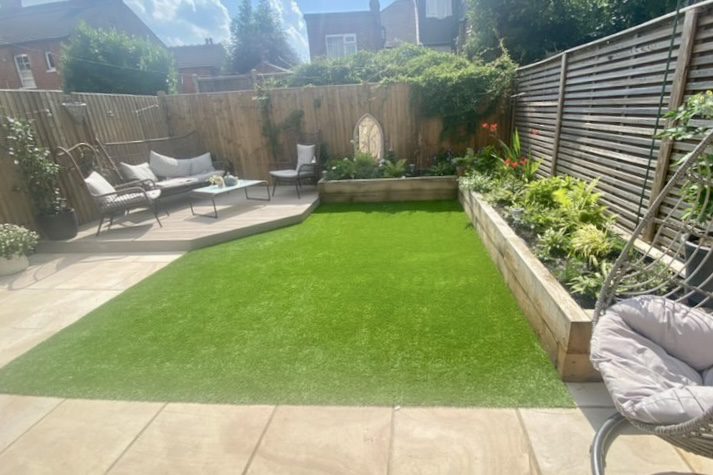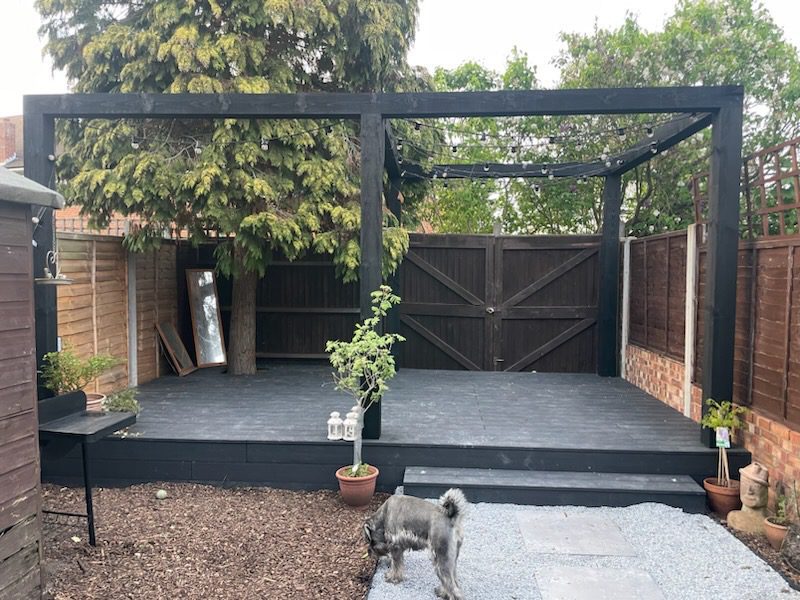 Millboard decking is made of a polymer resin that is hand-moulded from real oak to resemble natural timber. Ayegardening are proud to be a Millboard decking approved installer.
Millboard decking has the following benefits:
Design flexibility:

Millboard decking comes in a range of colours, textures, and finishes, so you'll have lots of options to choose from to suit your garden's aesthetic.

Enhanced durability:

Multiboard decking is non-porous and resistant to algae growth. It can withstand tough outdoor environments, and resists stains and marks. It's also anti-slip.

Low maintenance:

Similar to composite decking, Millboard decking requires minimal maintenance, making it an appealing choice for those seeking long-lasting aesthetics without the need for extensive upkeep. 

Cost considerations:

Millboard decking falls within the mid-to-high price range, combining some of the qualities of hardwood and composite decking. Its longevity and reduced maintenance costs can provide a good return on investment.
When choosing the perfect decking material for your outdoor space, you'll want to be clear on your budget, and your thoughts around aesthetics, durability, and maintenance requirements. Softwood decking offers affordability and natural charm, while hardwood decking provides strength and luxury. Composite decking offers low maintenance and versatility, combining the best features of different materials. By understanding these different types of garden decking, you can make an informed decision. And create a stunning deck that meets your needs, style, and long-term expectations.
Of course, if you still need help with the different types of garden decking, and which would suit your project best, please get in touch; we'll be happy to help!