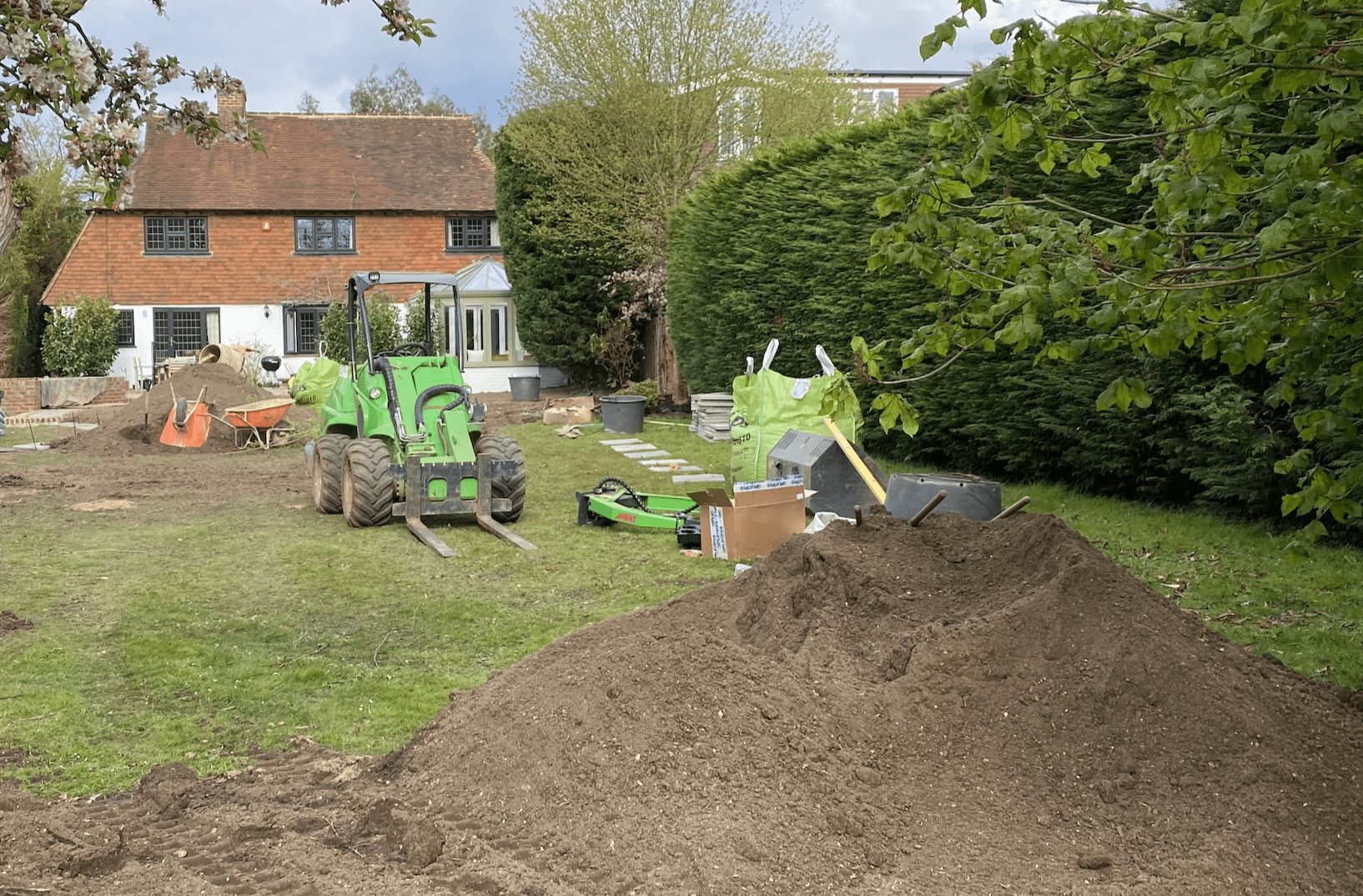 Optimising your budget: Landscaping in phases
We are going to be honest here... landscaping your garden is an investment. We understand that and do our very best to ensure that you can achieve the garden of your dreams, on a budget and in a time frame that suits you. One way to do this is by landscaping in phases.
By breaking the work into phases, and sometimes planning them across several years, you can spread the cost, as well as the thought process. Which means that you don't have to compromise on your plans.
Karen & Danny – Ashtead
Planned phasing by areas
Our work with Karen and Danny started in August 2020, when they approached us with a plan from another garden designer. They wanted to incorporate the original plan for the first third of the garden, but keep the space further back for family games. Their plan was to undertake their landscaping in phases. The aim was to have it completed and ready for their daughter's wedding in the summer of 2022. 
Landscaping in phases allowed Karen and Danny to focus on their primary objectives, the patio and privacy, before addressing the rest of their garden.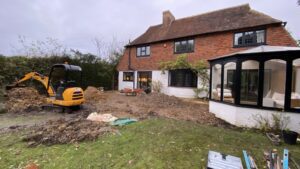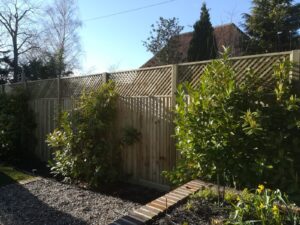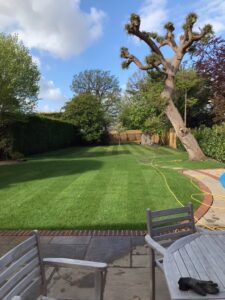 Timeline of Landscaping Works
Oct 2020

We built the patio, which was close to the house, and planted pleached trees along one side and the bottom of the garden for privacy. This first stage of the project was completed in October and November 2020.

Dec 2020

In December 2020 we took out an old dead hedge and planted a new hedge for security.

Apr 2021

We returned to Karen and Danny in April 2021 to continue the next phase of work. We installed a pathway from the patio - that we built the previous year - to the shed, and built a raised brick bed near the patio. We planted some new trees and installed stepping stones down the right-hand side of the garden to the shed.

May 2021

This was followed by a new lawn for the whole garden in May 2021.

Mar 2022

To complete Karen and Danny's garden, we installed a new fence with a trellis and planted new flower beds in March 2022.
Chris & Karina – Ashtead
Developing a garden to meet lifestyle changes
Chris and Karina first contacted us in Autumn 2019 to help with an overgrown area of their garden. As we worked for them, and their lifestyle changed with the addition of bikes and dogs, so did their plans for their garden.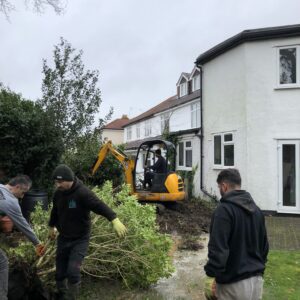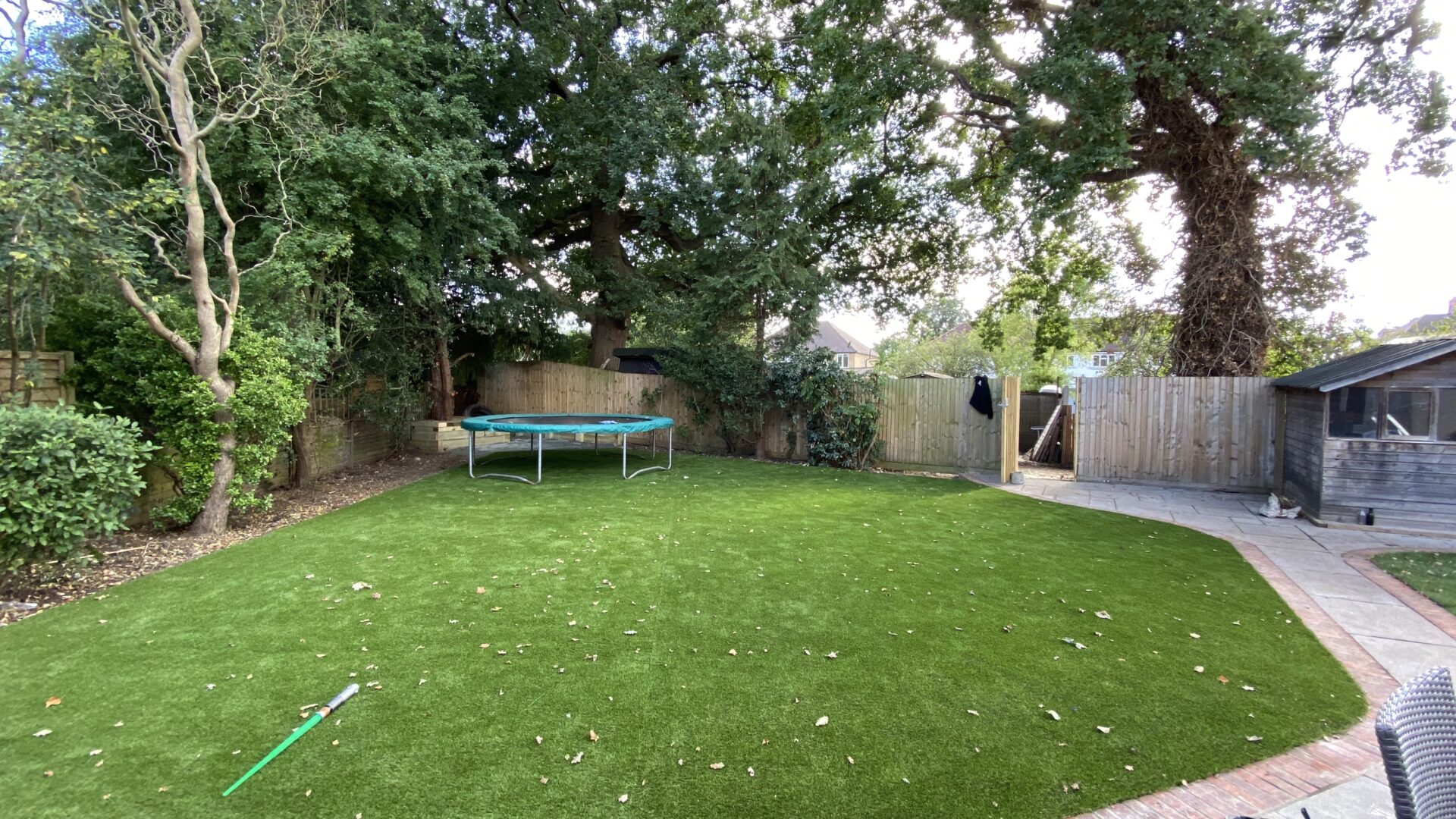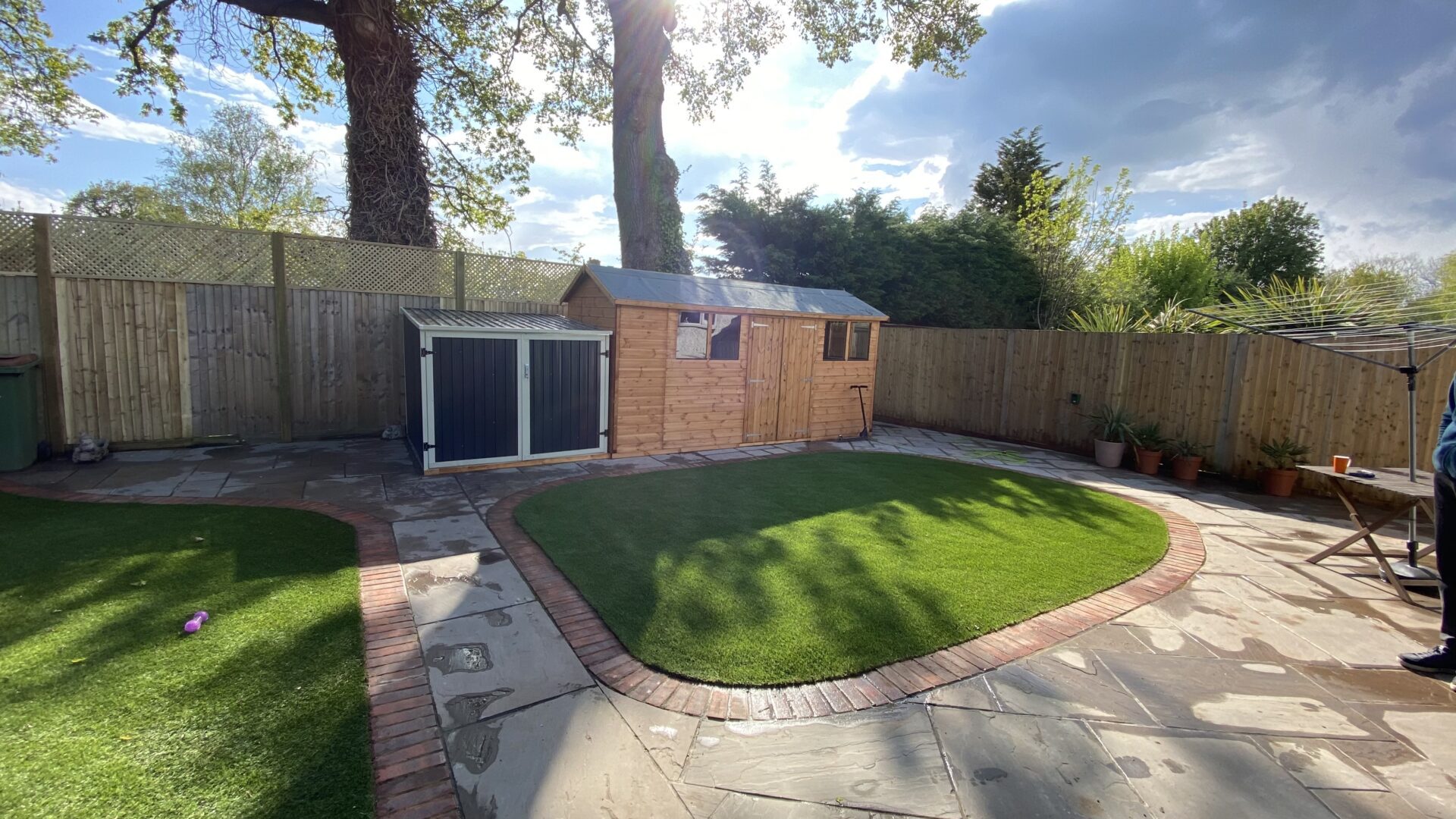 Timeline of Landscaping Works
Mar 2020

We started work clearing the overgrown area, removing a pond and installing a fence. We also built a new extended patio to make the most of the larger space that was exposed from the clearing work. We quoted for this work and started the first phase in March 2020.

Aug 2020

In June 2020, Chris and Karina contacted us again, needing our help to change the lawn to an artificial one as it had very poor drainage and tall trees that stopped the lawn from growing. They also wanted to use it for games such as table tennis and badminton. We started this second phase in August 2020 as we had a gap open up in our diary.

Sep 2020

A few months later, in September 2020, the clients wanted to think about the third and final phase, which was a result of their new hobby - cycling. This included replacing the sheds in the garden, changing the position of the gate, and installing fencing and a new path to the back gate - all to provide better access and storage for the new bikes.

May 2021

This final phase of the project also involved changing a small lawn to artificial grass, because Chris and Karina's new dogs had ruined it! This was completed in May 2021.
Some things to think about:
If you are considering planning your landscaping in phases like Karen & Danny or Karina & Chris, you may want to think about the following :
Access:

Your landscapers and their equipment will need to have access to your garden. So careful planning is needed to ensure that work on later phases does not damage earlier work.

Working with the seasons: Certain elements of work depend on seasons e.g. planting. You'll also want to see how your new garden looks and feels through the different seasons. Therefore we recommend taking the time of year into account for each phase.
Equipment:

You may need heavy equipment for each phase of the project. Hire costs may be bigger if you are bringing them onsite more than once, for each phase.

Communication:

Remember to keep your neighbours informed of potential timelines.

Future-proofing: If you're not installing lighting or irrigation initially, we recommend placing conduit under hard landscaping to future-proof your project.
If you would like some advice on the best way to phase your landscaping project, please get in touch!