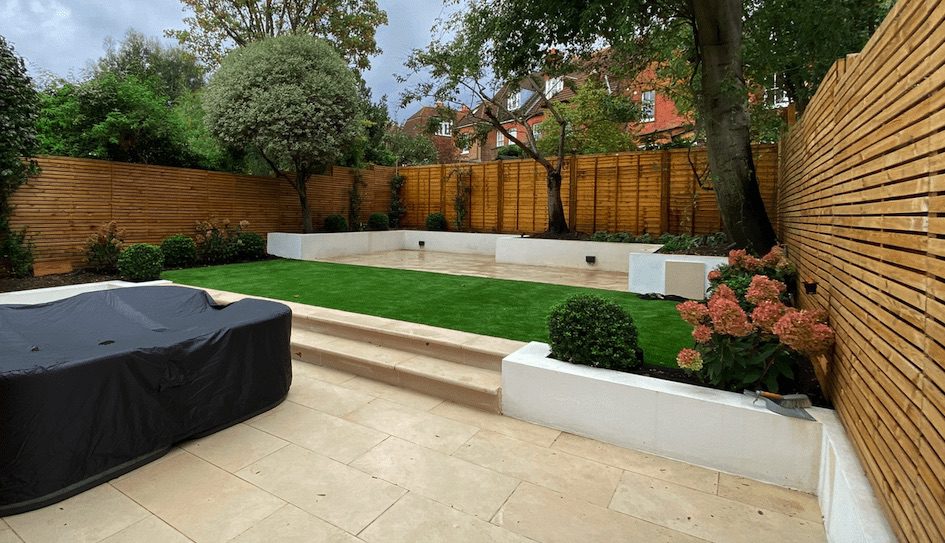 How we liberated a dated garden by embracing a low-maintenance approach –thus freeing up time for its owners to enjoy their new outdoor space
We were particularly excited about this project, as we were given the opportunity to build our clients their very first garden. We are proud that we achieved their brief despite the challenges and uncertainties of the pandemic lockdown of the summer of 2020–a time when a calm and inviting outdoor space was even more important to our clients' wellbeing.
Who lives here? A interior designer, an accountant and their Shih Tzu dog Archie
Location: Wandsworth
Garden Dimensions: Approx. 14m x 14m
Maintenance Advice: Artificial grass maintenance
Why we loved this project: We loved helping Rob and Hina as this was their first garden space.
When they first contacted us, Rob and Hina had recently moved into their new home. They were excited to have their own outdoor space for the first time. As soon as they had finished redecorating the inside of their house, they turned their attention to their new garden and contacted Ayegardening for help.
The 14m x 14m plot needed a complete renovation. The former lawn had died, and together with a dated patio area was surrounded by low, old-fashioned brickwork walls that split the garden into three levels. As Rob works from home from an office with a view over the garden, the couple were looking for expert help to turn this struggling space into a bright garden that they could be proud of. The couple were keen to explore low-maintenance options for their garden, so that they could spend more time enjoying their new outdoor space and less time maintaining it.
This project gave us the opportunity to open up the whole garden and start afresh, bringing together elements of interesting paving, considered planting and imaginative lighting around a central area of artificial grass.
Our design and installation included:-
reimagining the space across two rather than the former three levels
installing artificial grass to form a central lawn area
constructing two patio areas using slab khaki porcelain paving from London Stone.
incorporating porcelain paved steps with a softer, bullnosed edge to link the main patio to the grassed area
building raised beds with a rendered wall to frame the grassed area
incorporating sunken troughs around the retained trees covered by tree protection orders
lighting to highlight the patio and other focus points
installing new fencing to secure and define the garden
summer planting of hydrangeas and jasmine
later planting of bulbs and climbers for spring colour
The plot was completely transformed from an outdated space to a bright, clean,and inviting garden. The installation of steps along the width of the patio lead the eye up into the grassed area, opening up the garden and making the whole space feel much bigger. We built a second, smaller patio at the end of the garden, to give a further entertaining or relaxing area amongst the raised beds. Lighting and electrical sockets make this the perfect space for secluded outdoor dining. We installed an irrigation system and timer in all the flower beds to help the low-maintenance requirements of our clients, and considered planting echoed this simplicity.
We started and completed the project during the difficult lockdown period of the COVID-19 pandemic, which meant that the start of the project was delayed from March to June. The restrictions meant that we were unable to access the garden next door to install new boundary fencing, as the elderly neighbours were shielding and understandably didn't want people working in their garden. We overcame this by installing the new slatted fence panels within our clients' garden, inside the boundary, whilst retaining the neighbours' original fencing on the other side. This can easily be removed if the neighbours wish, to reveal the new slatted panels that are a feature of our project. Negotiation was also required with three neighbours at the back of the property, who were reluctant to change their style of fence to the new slatted panels of Rob and Hina's garden design. We solved this issue by installing new fencing along the back boundary but using the same style of fence that the three neighbouring properties used for the rest of their garden fencing.
We are delighted that we were able to make Rob and Hina's vision for their new garden a reality, giving them a calm but bright area for relaxing and entertaining, as well as an inspiring view to look out on during the working day. The added beauty of this garden is that maintenance is minimal... leaving Rob and Hina to enjoy all the benefits of having their own garden, without the pressures of garden chores! If you need some help to design an outdoor space that works for your family, give us a call to discuss your requirements and find out how we can help you make the most of your garden!