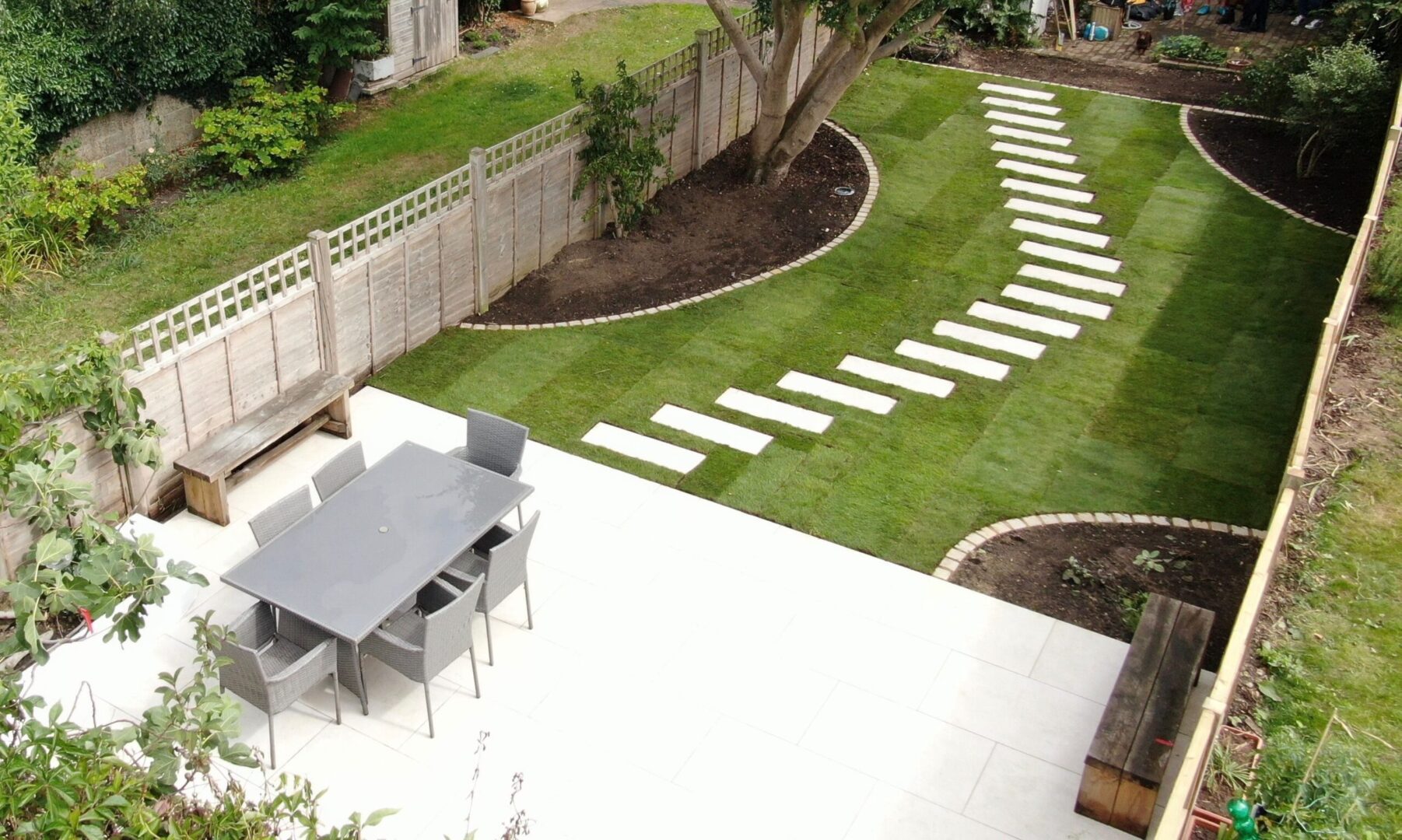 How we rescued a mature but tired suburban plot and turned it into a relaxing space, through clever design and varied landscaping
Our gardens have become more important than ever in recent months. Ayegardening has continued to work with our clients to help them make the most of their outdoor spaces. We're particularly proud of this recent project, which showcases the range of landscaping and gardening services that we used to revamp a multi-functional garden.
Who lives here? A pilot and vet, plus their two dachshund dogs
Location: Reigate, Surrey
Garden Dimensions: Approx. 16m x 16m
Maintenance Advice: Porcelain Paving, Turfing
Why we loved this project: We loved working on this multi-functional garden as it's going to make such a difference in our clients' lives, especially with their high pressured jobs.
Ben and Emma sadly had to postpone their wedding this summer due to the pandemic. So they decided to put some of their savings into revamping their garden instead!
A mature but tired shrub garden with a pond called for an Ayegardening makeover! Our clients described it as "a forest of a 16m x 16m plot" that they wanted to turn into a multi-functional garden. The dogs desperately needed some grass to play on, and our human clients wanted a patio for relaxing and outdoor entertaining. The design needed to easily incorporate a shed, and a planned extension to the house in the future. In terms of planting, our clients wanted to retain a beautiful giant Acer tree, a fig, and some rose bushes already thriving in the garden. They would then plant up the rest of the garden themselves.
We believe that the secret to interesting and timeless landscape gardening is variety. On this project, we worked closely with our clients to bring together interesting shaping, varied textures and focused lighting to give depth to the garden and ensure functionality. Our design and installation included:
laying turf to create a new open lawned space
installing a patio using Luna Ivory vitrified porcelain paving from Royale Stones
incorporating a stepping-stone path to link the two main spaces of lawn and patio
three flower beds with sandstone edging that our clients were looking forward to planting themselves
retaining the existing giant Acer and fig in the design and advising on care
moving three rose bushes from elsewhere in the garden so that they can continue to thrive
lighting to highlight the patio and other focus points
updating fencing to secure and define the garden
We cleared the plot of debris and overgrown shrubbery to open up the space. We left the area immediately next to the house ready for the future extension. Then we laid the lawn next to it and installed the patio at the end of the garden. By leaving the space clear for the future extension, Ben and Emma were able to get an idea of space implications right from the start. This also saved them money.
We suggested a stepping-stone concept to link the lawn and patio together, providing easy access to the patio without damaging the grass. Our clients were heavily involved in the design, with Susan sending them lots of photos of suggested stones and layouts so that they could confidently pick the right combination. "It was important that we got the materials right" explained Susan. "Ben and Emma knew that they didn't want a stone that was either too rough, or too shiny. With our knowledge of different stones and suppliers, we were able to guide them to a solution that met their wishes, adding to the overall look and feel of the garden".
We understand that timing is crucial to a successful project, and this one came in at a mere eight days, with a team of four landscapers working on the plot each day.
Our clients are at the centre of every project. We took Ben and Emma's ideas and turned them into reality, advising on materials and landscaping design as well as plant care and ongoing maintenance.
The clients decided that they wanted to plant the beds up themselves, and we can't wait to see what they do with their fresh new outdoor space. Meanwhile, our two canine clients are loving their new lawn, as you can see from the photo!
If you need some help designing an outdoor space that works for your family, give us a call to discuss your requirements and find out how we can help you make the most of your garden!