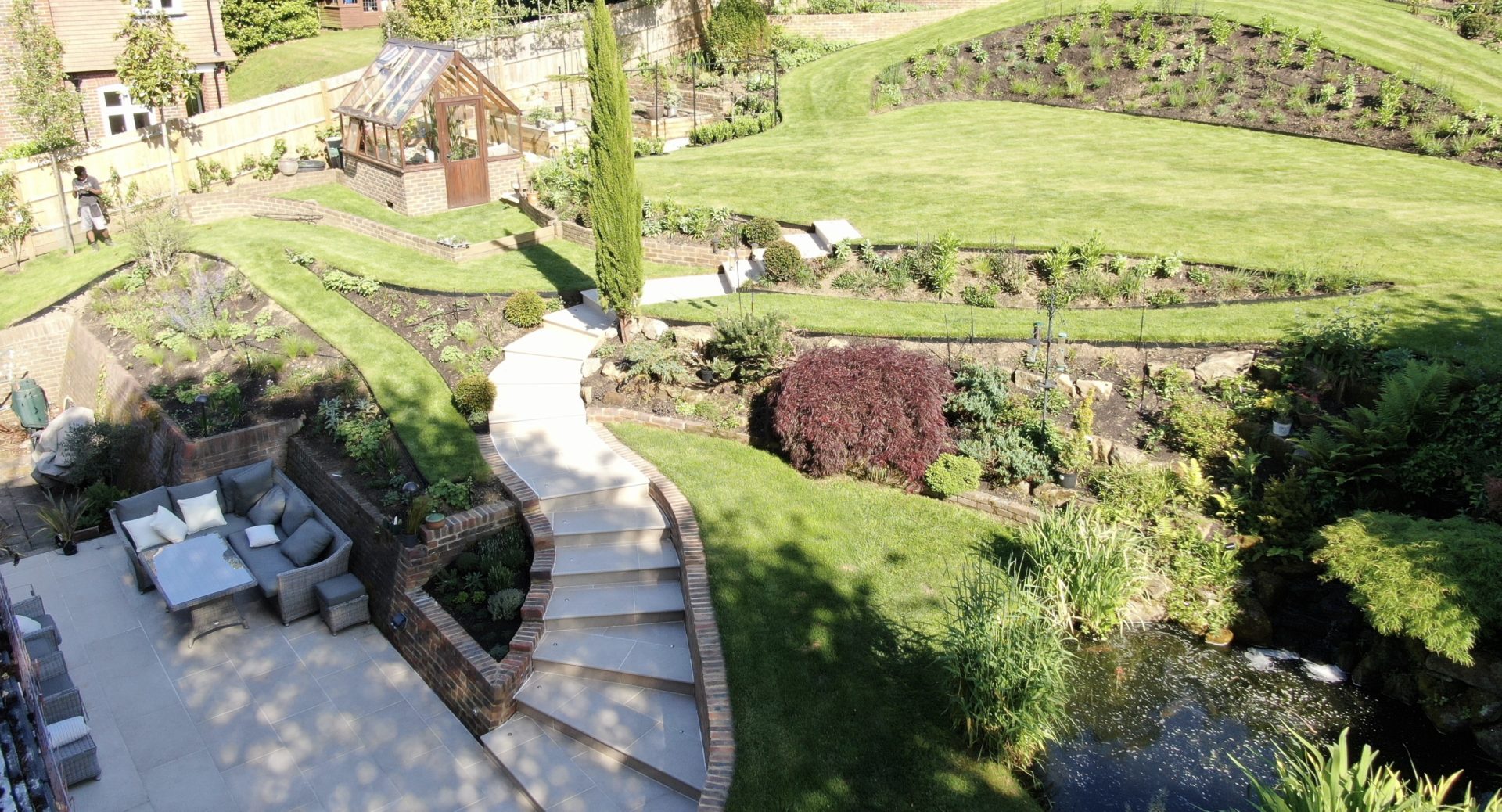 A look inside one of the biggest and most demanding projects that we have undertaken!
Our recent Dorking, Surrey landscaping project was a real joy to work on. It demonstrates the magic that happens when you put together the right team with regular communication and flexibility between the client, garden designer and landscaper. Together we were able to transform a difficult sloping garden into an enticing, beautiful space that is full of surprises!
Who lives here? A professional couple whose grown-up children have left home, their dog and tortoises
Location: Dorking, Surrey
Garden Dimensions: Approx. 20m x 40m
Maintenance Advice: Porcelain paving, oak sleepers, tree care, planting care & maintenance
Why we loved this project: We loved the challenge of this project because of the complexity brought by various different levels, and we really enjoyed working with garden designer Barbara Brooks to bring her ideas to life!
Chris and Sue are a professional couple who live with their pets in a beautiful detached house in Dorking. Although their grown-up children have left home, Chris and Sue enjoy holding family gatherings and entertaining friends. They wanted to make the most of their sizeable, dramatic garden space to welcome people to their home.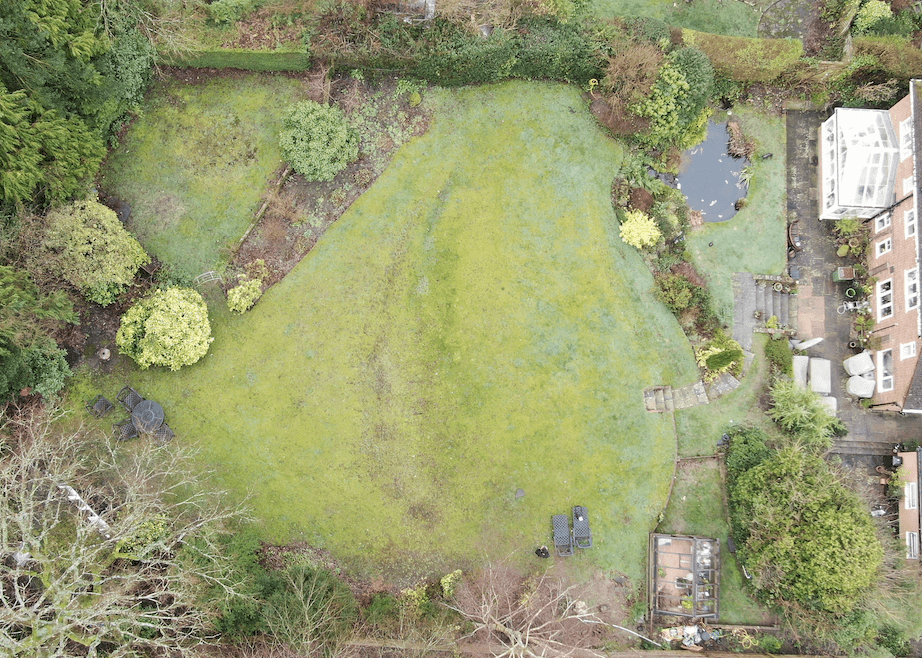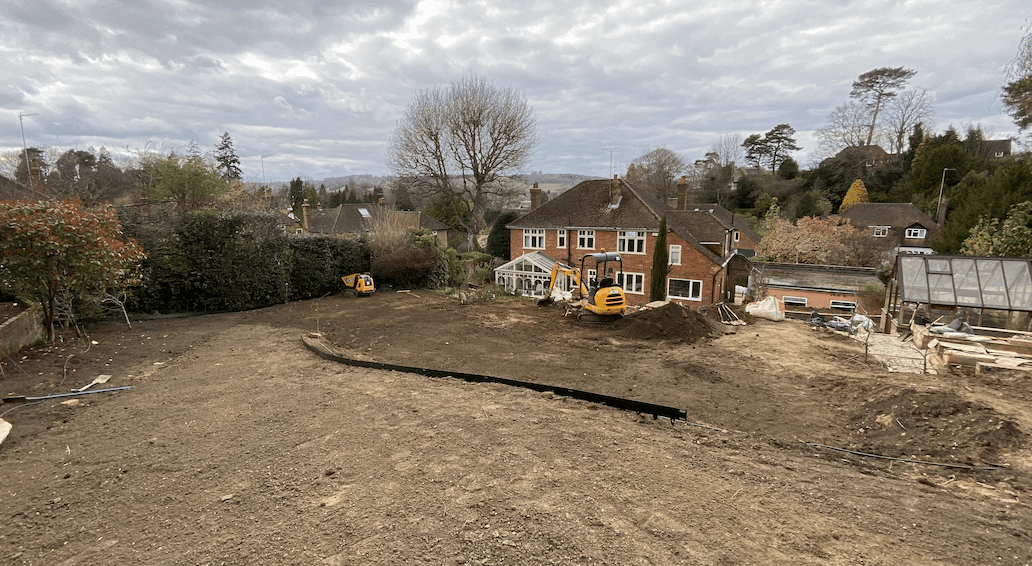 The couple came to us when they had struggled to get a landscaper to take on their project, mainly because of the size, complexity, and huge sloping lawn. The design had already been drawn up by garden designer Barbara Brookes ("B") of B Brookes Garden Design. Finding a landscaping contractor to bring that design to life had been difficult. Chris and Sue dreamed of a garden that they could be proud of, using the sloping landscape of their property as a feature rather than a challenge. They wanted to use the size of the plot to provide different areas throughout the garden. Encouraging wildlife was important; their son designed a natural pond to be incorporated into an area designated for a secret garden. This was one of the most complex briefs that we have worked on, especially given the size of the garden, and we couldn't wait to get started!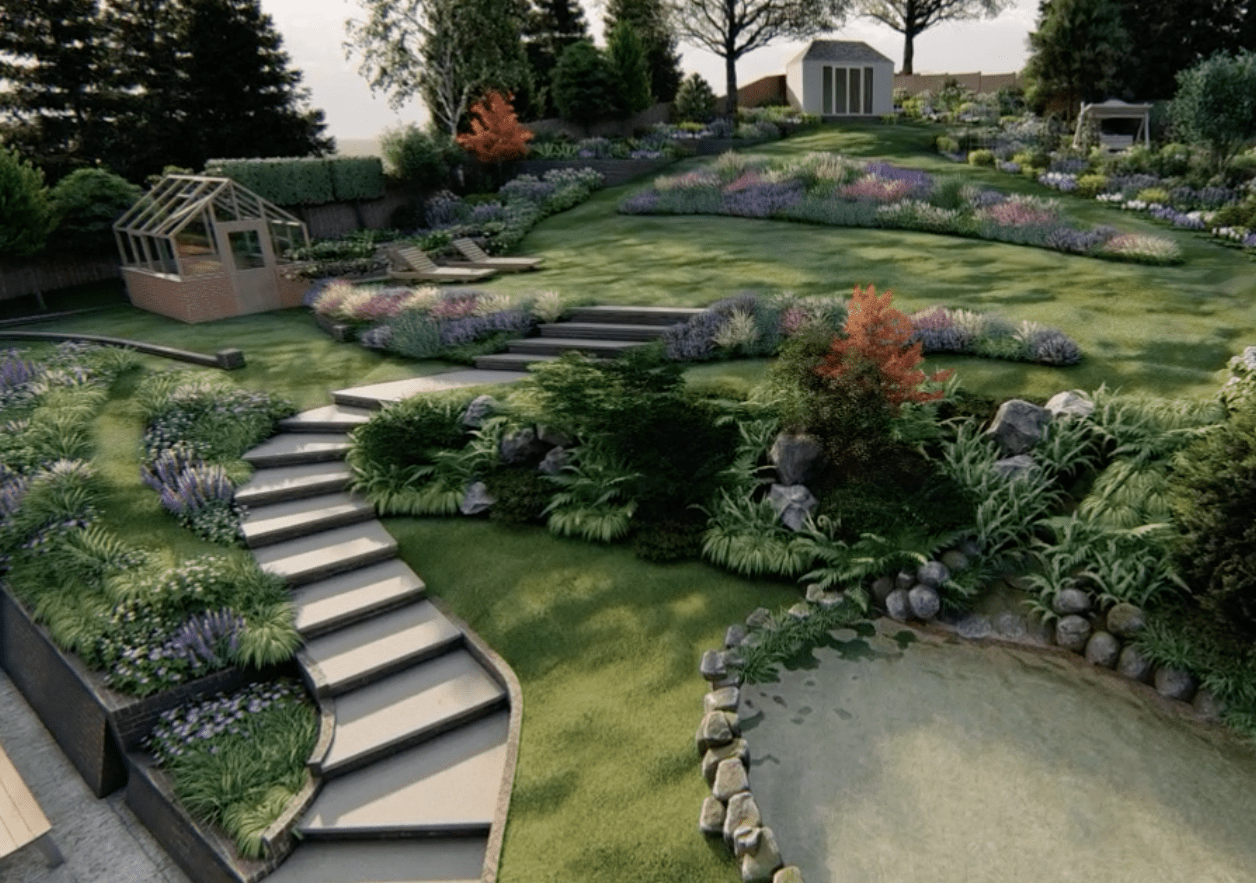 The ambitious design made the most of the space and landscape. Bringing together lots of different ideas and spaces to give Chris and Sue a garden that met and exceeded their vision. The design was based on a journey around the garden, which cleverly showcased many of the features already there, and turned previous challenges into highlights. To start, we took out a tree-shadowed patio to open up the whole space, ready for the addition of a dramatic, flowing staircase to link a new patio area to the rising lawn and the start of the garden journey.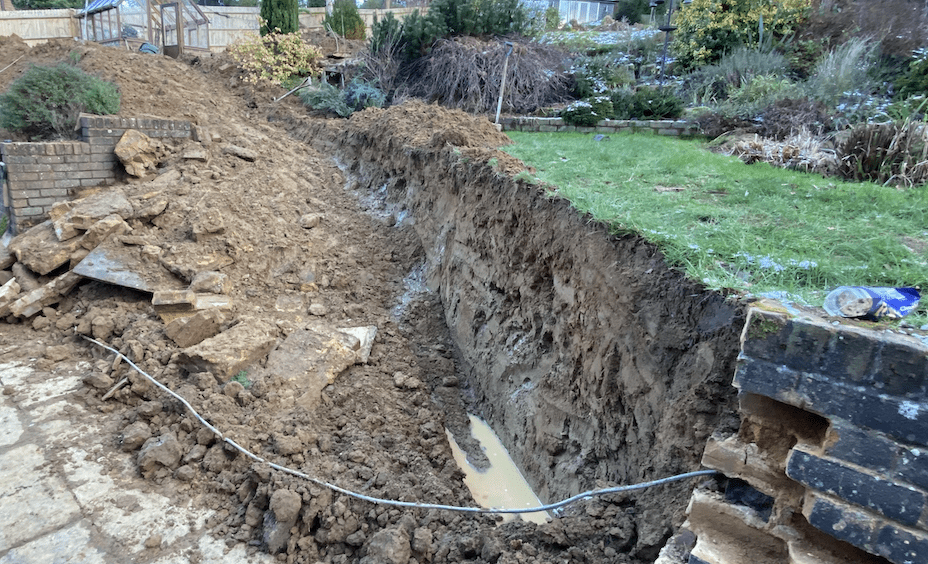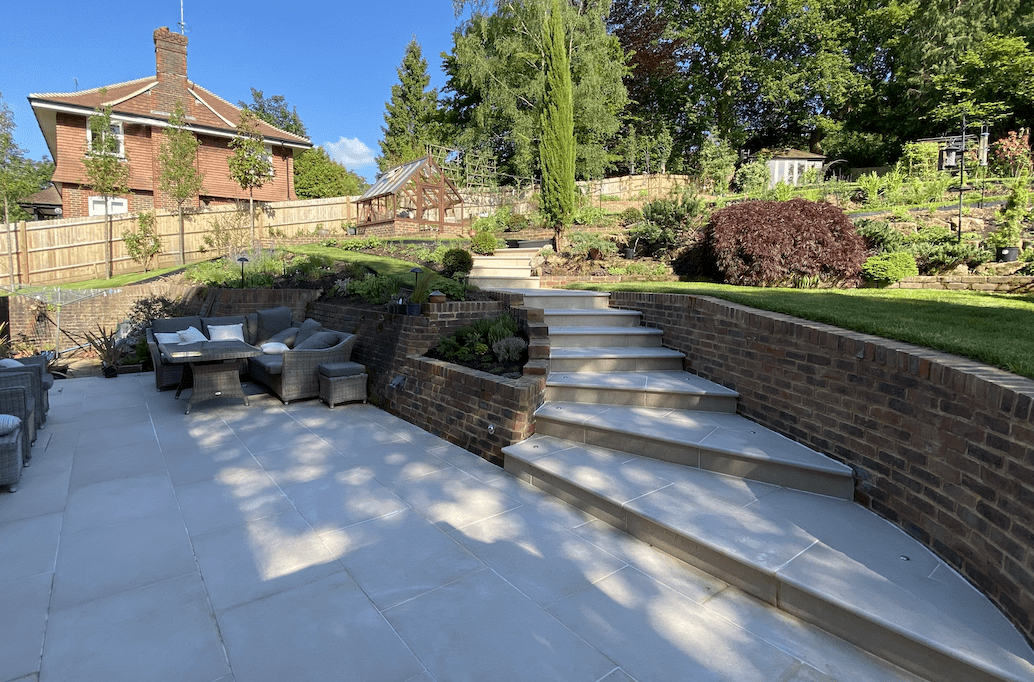 We added an irrigation system to the lawn and flower beds to help Chris and Sue manage the maintenance of their planting. Lighting was also a key element of the design, so the foundations of the various electrical installations were important from the very beginning of our work on the property.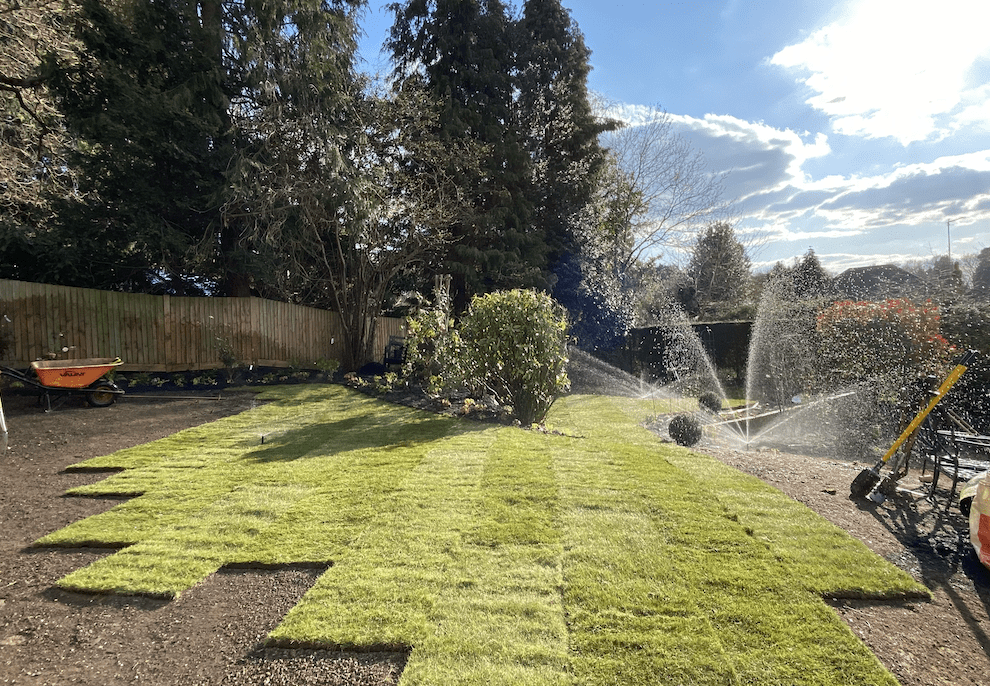 The most dramatic feature of the garden is the grand, sweeping staircase, which was key to achieving B's vision. This was a bespoke installation to fit the aspect and gradient of the slope, with the stones being cut to size on-site. Aye undertook this skilled work by hand once London Stone had delivered the raw material, saving our clients the expense of having a bespoke staircase manufactured offsite.
This spectacular garden also features:-a Japanese theme for the area around the nature pond;
a nature pond in the secret garden to encourage wildlife
a greenhouse next to a new vegetable garden
a summer house situated in a shady border
lots of flowing grasses mixed with perennial planting.
The designer took Chris and Sue to her own garden, who then chose many of their trees based on what they saw already established and thriving. This was one of the biggest projects we have ever done, and certainly one of the projects that we are the proudest of! The clients were flexible with the plan, recognising and accepting when they had to make changes along the way to make the design work in practice, whilst having the confidence to add their own ideas and touches throughout.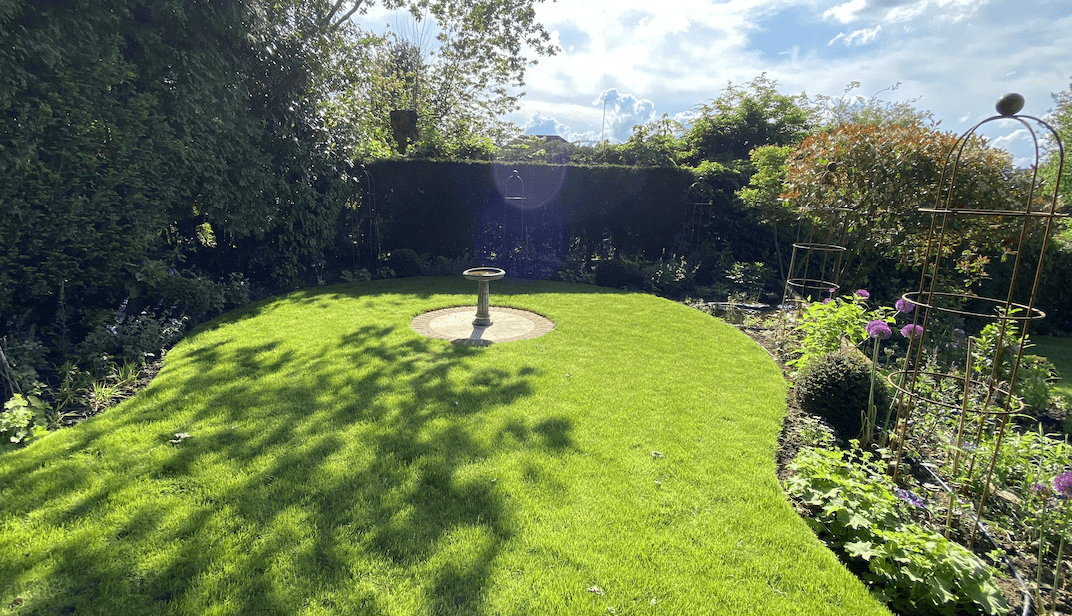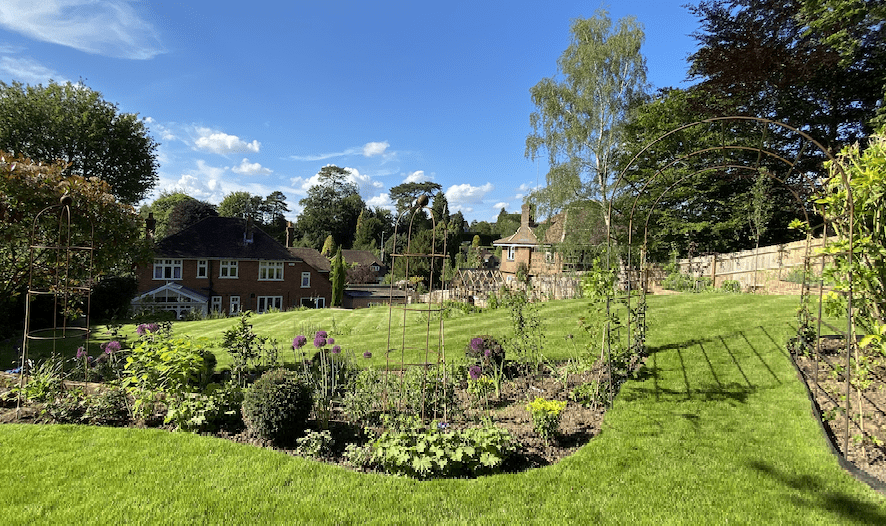 Our client is always central to the work that we do on a project, but this focus was even more important as we recognised the difficulty that Chris and Sue had faced to even find a landscaper to help them bring their design to life.
Communication was key to this project. As both of our clients were working during the day, we made extensive use of WhatsApp to keep them updated, setting up a WhatsApp group with B the designer. Chris would then go home and check things in the evenings, feeding back to us ready for the next morning, which saved time and kept the project on track. This was particularly helpful in making plant substitutions as quickly as possible, especially as we were faced with shortages of plants due to the pandemic restrictions and Brexit. However, this combination of challenges led us to discover new suppliers and specialists, and we were happy to go the extra mile to find what was needed.
Our clients were ambitious and their plans for the space evolved as the project progressed, so a flexible approach was needed. Garden designer B was happy for us to do what worked for the clients, and we helped Chris and Sue to add extra touches as they saw their garden take shape. It is exactly this kind of teamwork and collaborative working that we love to encourage in our work with our clients.
We were delighted that Chris and Sue were so happy with their finished project, which they have been proudly showing off to family and friends. We can't wait to see how the design evolves as planting matures and the planned extension to the house and patio are completed.