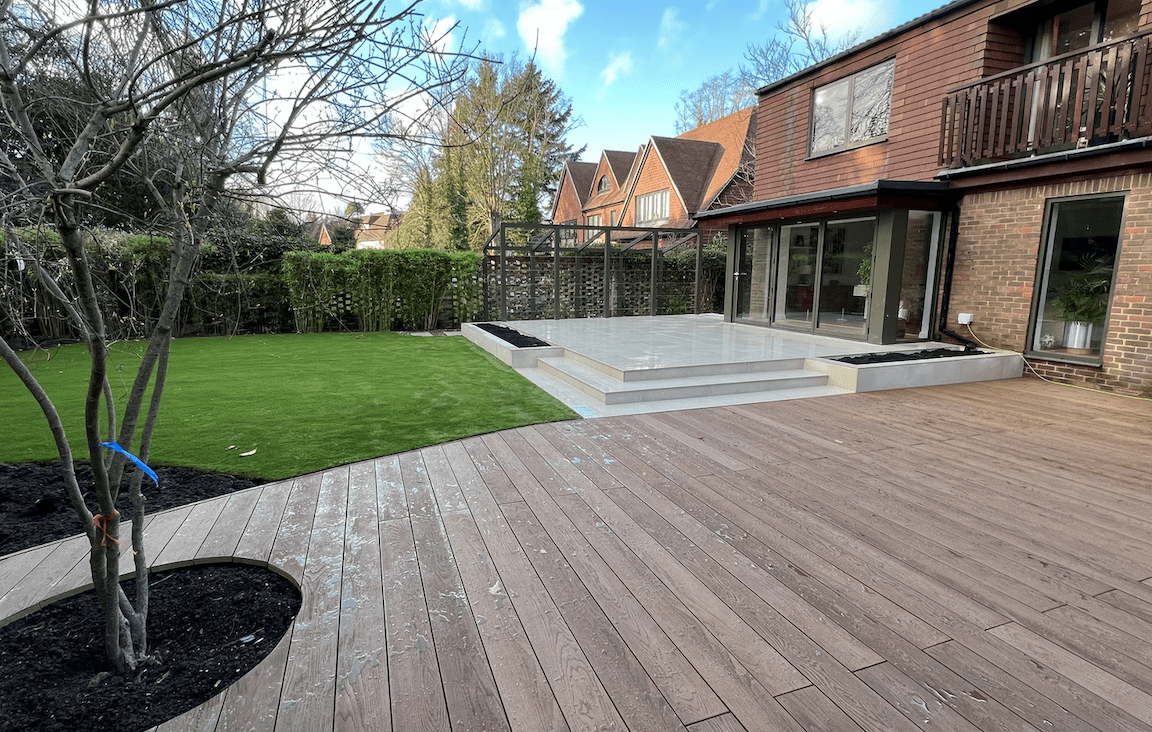 LANDSCAPING PROJECT: A SOPHISTICATED, ZONED GARDEN FOR THE WHOLE FAMILY
How we transformed a tired, suburban garden into a multi-functional space, perfect for relaxing, playing and entertaining.
In many homes with young families, the garden is an outdoor playroom. Then as the children grow older, and entertaining and relaxing take over from ballgames and swing sets, the purpose of the garden can become confused. And a once fun outdoor space can become a little neglected. 
Well… not any longer in this amazing transformation in Tadworth! Working with garden designer Ivan Tucker of New Leaf Design we transformed this tired family plot into a sophisticated, multifunctional space that works for the whole family.
Facts & Figures:
Who lives here? Heidi, Graeme and their teenage daughter – a family who enjoy outdoor entertaining and relaxing
Location: Tadworth, Surrey
Garden dimensions: Approx. 15m x 16m
Maintenance advice:  Artificial lawn care, pleached trees, porcelain paving, millboard decking  
Why we loved this project: It was an absolute pleasure to work with Ivan the designer, and the family, to bring together so many different elements into this design. 
The Clients: 
Heidi, Graham, and their teenage daughter wanted to make the most of their tree-lined plot so that they could spend more time outdoors. The cleverly zoned project was designed by Ivan Tucker of New Leaf Design, who really understands the importance of creating gardens that improve his clients' quality of life.
The Brief:  
The family asked for a multifunctional garden that would serve them for years to come. They wanted the garden design to be based around key features of a deck for dining, and a raised patio for their L-shaped outdoor sofa, so that they had a variety of options for socialising and relaxing. They also wanted a solution for the lawn, which had always struggled to thrive underneath the surrounding trees, so that there was still somewhere for sports activities. And finally, being in a suburban setting, privacy would be important if they were to enjoy their new garden to its potential.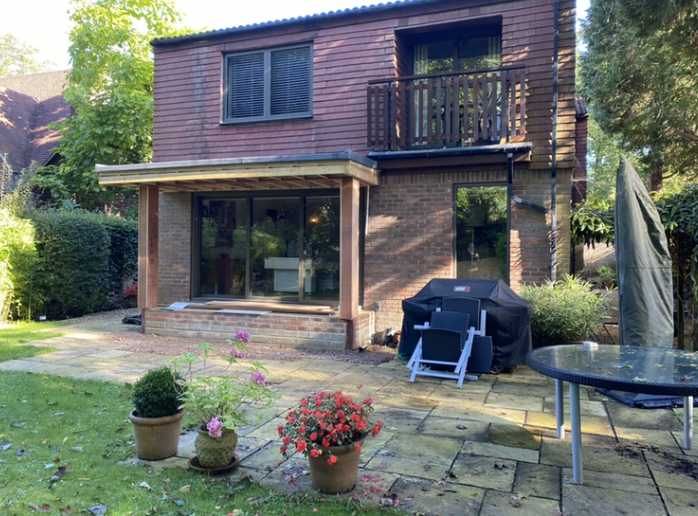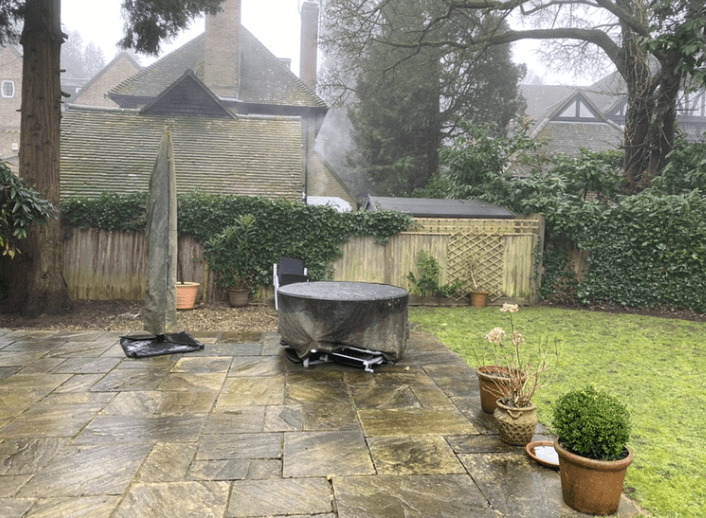 The Solution:
We worked with Ivan to interpret his beautiful design into the finished garden. We focused on the quality of the materials and the details of the installation to build a sophisticated, modern space, which included:
installing a porcelain paving patio as an outdoor relaxation area:
continuing the outdoor room around the side of the house with a millboard deck for entertaining and dining;
planting pleached trees to provide privacy along the overlooked boundary;  

constructing a pergola to further protect privacy;

building two large corner beds that will be planted up this Spring to give colour and interest;

laying artificial grass from Namgrass to provide year-round greenery in a plot that was surrounded by trees.
The choice of construction materials and planting was important, to both focus on the new features of the garden whilst enhancing the existing elements of this unique property. For example, the millboard decking was chosen in a coppered oak colour to give warmth, and the pergola matches the frame of the bifold doors. 
The decking was built from a composite frame which is longer lasting than softwood. This frame also gave us the precision that we needed to achieve the crisp and clean join where the three different elements of decking, lawn and porcelain paving meet.
The porcelain paving patio is a stunning focal point for the whole space, being central to the garden and a beautiful place to relax and take in the tranquillity of the garden. We incorporated profile edging to the steps to make it safer, as well as a little softer in terms of design. The slab khaki porcelain paving is from London Stone, and we used it to clad the planters to a sleeker finish which is also more durable than render.
The whole garden will be softened as the planting establishes; as the Photinia "Red Robin" grows up the pergola, the Acer tree in the deck flourishes, and the new planters and flower beds are planted up with the family's choice of shrubs and flowers.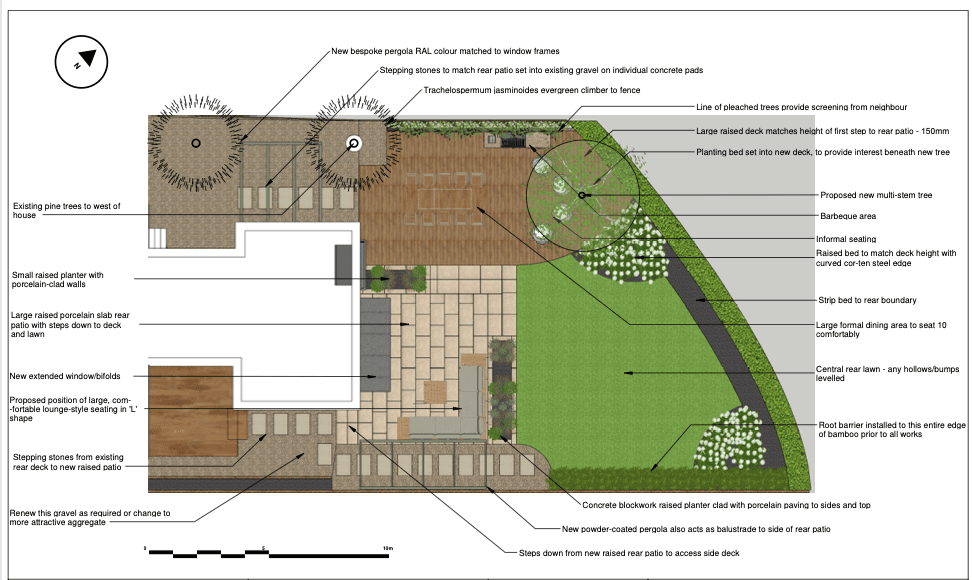 Client focus:
In this project, we took several different elements and brought them together into one multifunctional space, that gives each member of the family, and their guests, a number of new outdoor rooms in one. As such, it has extended this beautiful family home and given the whole property a new feel. The transformed garden has given the family flexibility and choice to maximise their use of their garden.
"A huge thanks to Susan, Aye and team #dreamteam for the transformation of a dark and shady garden. We love the result and you were great to work with! It has certainly made the garden feel bigger and one that we can now proudly entertain in once the finishing touches are complete (planting and furniture!!). Thank you again, you've been awesome."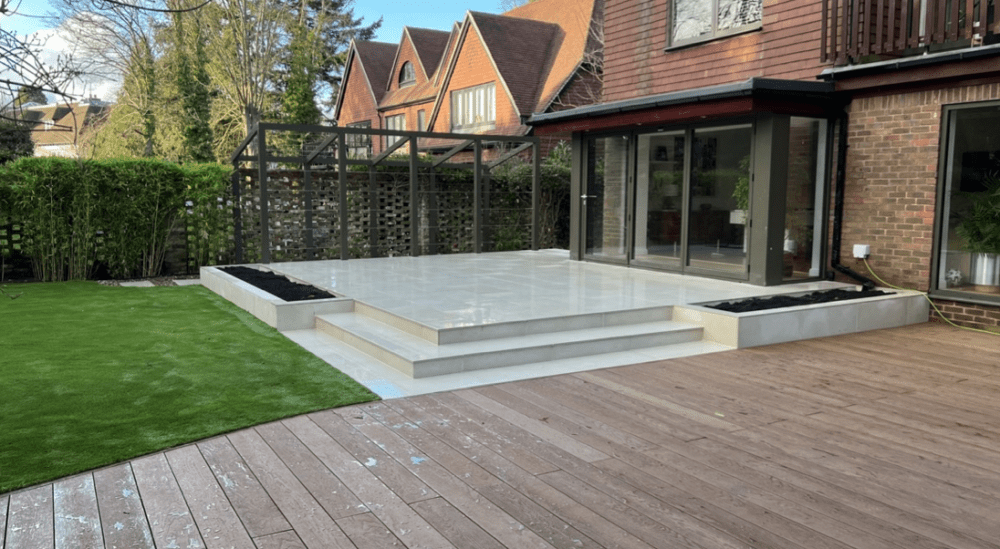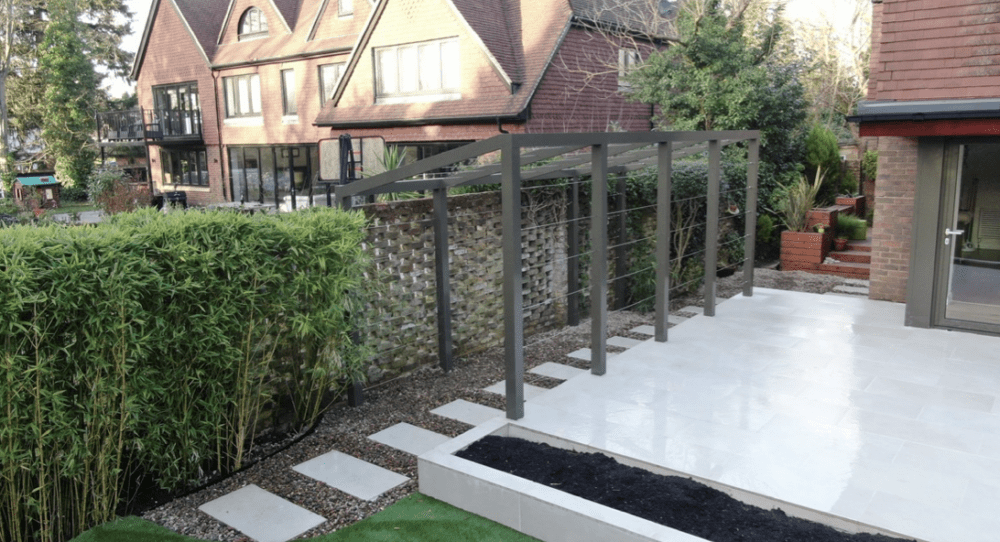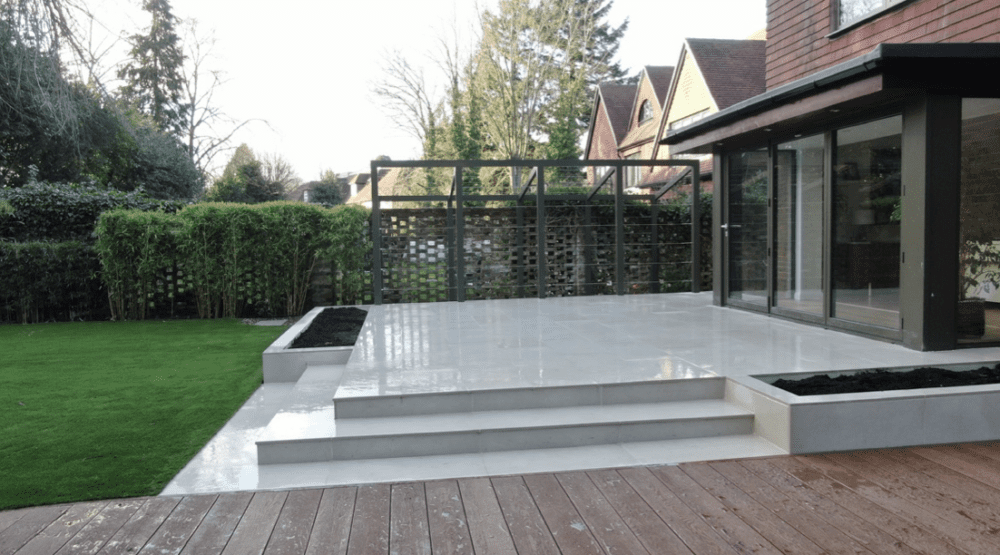 If you need some help to design an outdoor space that complements your home, give us a call to discuss your ideas, and let us help you bring them to life!