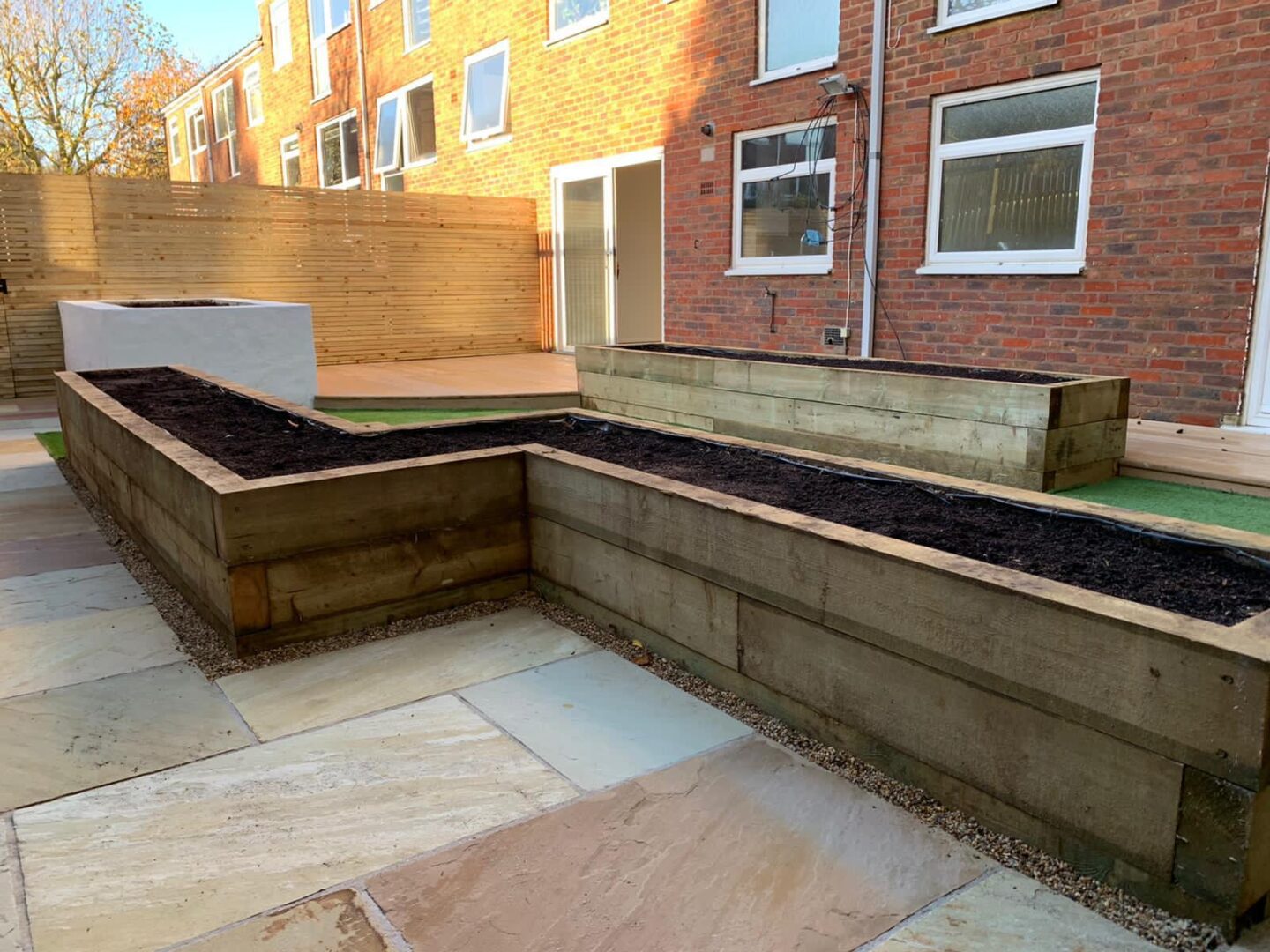 How we liberated a dated garden by embracing a low-maintenance approach –thus freeing up time for its owners to enjoy their new outdoor space
A garden flat needs a garden to be proud of. A space that can act asan outside room, as well as an attractive view from inside the building.With this project, that is exactly what we were able to build for our client, turning a neglected strip of land into an outdoor space that will evolve as our client gains confidence in her new haven.
Who lives here? A new home-owner Alex and her dog
Location: Reigate, Surrey
Garden Dimensions: Approx. 10m x 6m
Maintenance Advice: Millboard Decking, Artificial grass maintenance
Why we loved this project: This project was a real collaboration –our client knew exactly what she wanted, and we were able to help her achieve the raised beds and artificial lawned garden within her budget, whilst leaving scope for the garden to evolve further in the future. Our client was keen to plant out her new garden herself, using our build as the framework, and we can't wait to see what she comes up with!
We had previously worked on Alex's mother's garden. So we were delighted when she called us to ask for our help to bring to life Alex's plans for the garden of her new flat.
One of the attractions of Alex's new flat was the garden that came with it, but when she moved in it was tired and overgrown. But Alex could see the potential of her new space, and quickly got to work planning the landscaping for her garden. When she called us, Alex had already done her own research and knew what she wanted. Unfortunately, the initial quote for high-end specifications came in over the available budget, so we put on our thinking caps and reviewed ideas to come up with the perfect solution!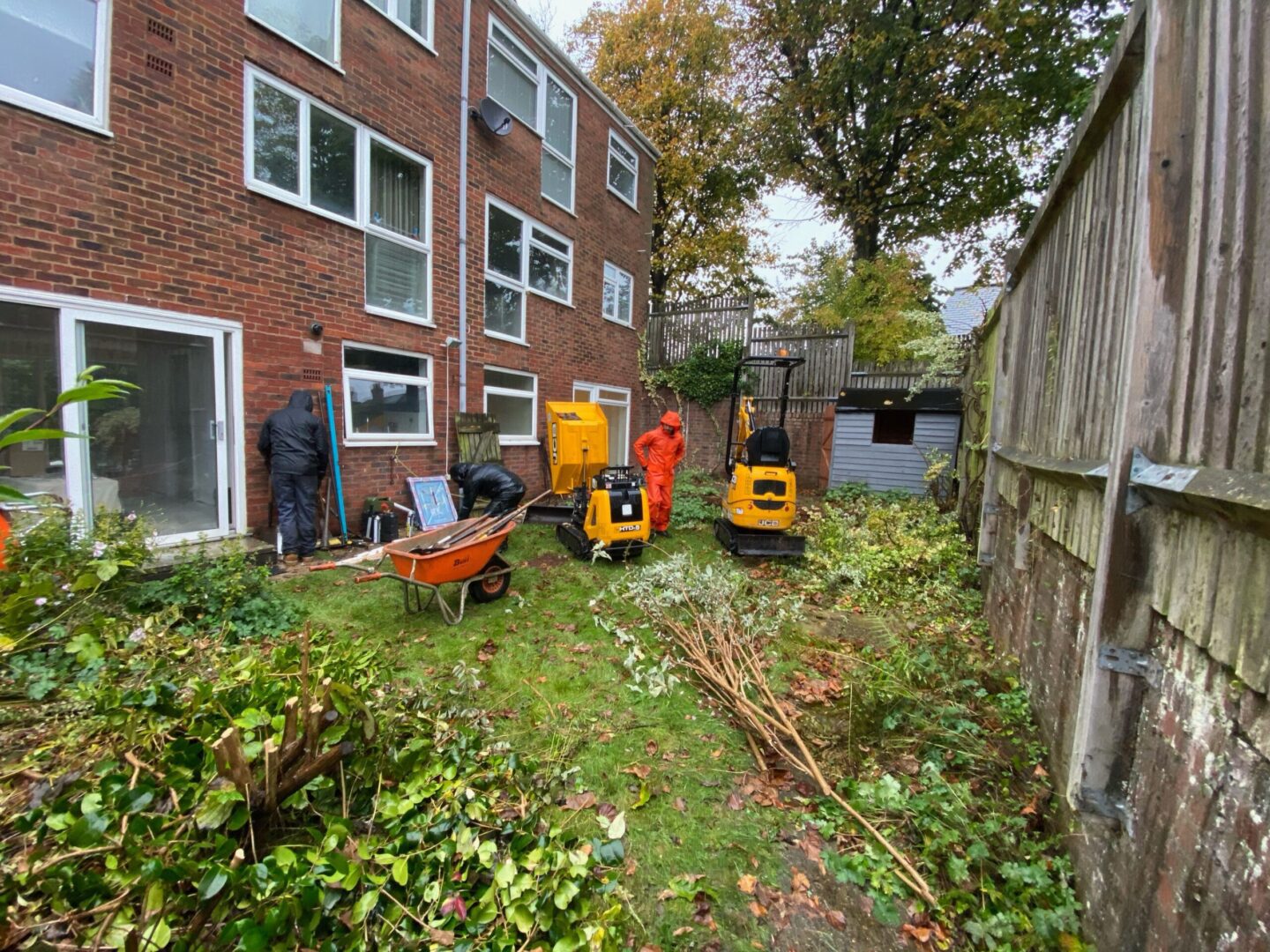 Together with Alex, we broke the project down into her immediate "must-haves" which became the focus of our installation, and elements of the plan that could be added in as the garden evolved over time. Our design and installation included:-installing millboard decking in place of a tired raised patio which we took out;-continuing the decking as a path connecting the back door with the French doors of the sitting room, covering the existing concrete path;-building raised beds from sleepers and a larger rendered raised bed;-laying artificial turf to give a green space for Alex to relax in;-putting up fence battens above the existing wall for privacy. Alex was happy to leave lighting, irrigation, a small shed and a pergola as projects to add to the garden in the future. This helped us to come in on budget, whilst still providing the key elements that form the structure of the garden and giving Alex a strong foundation on which to build, as she gets to know her new space better and her plans evolve. In terms of planting, Alex wanted to plant the garden herself and is excited to be taking on the project. She has plans for a strong colour theme of vibrant oranges and purples, and we can't wait to see what this transformed space looks like in the summer once plants are established and flowering.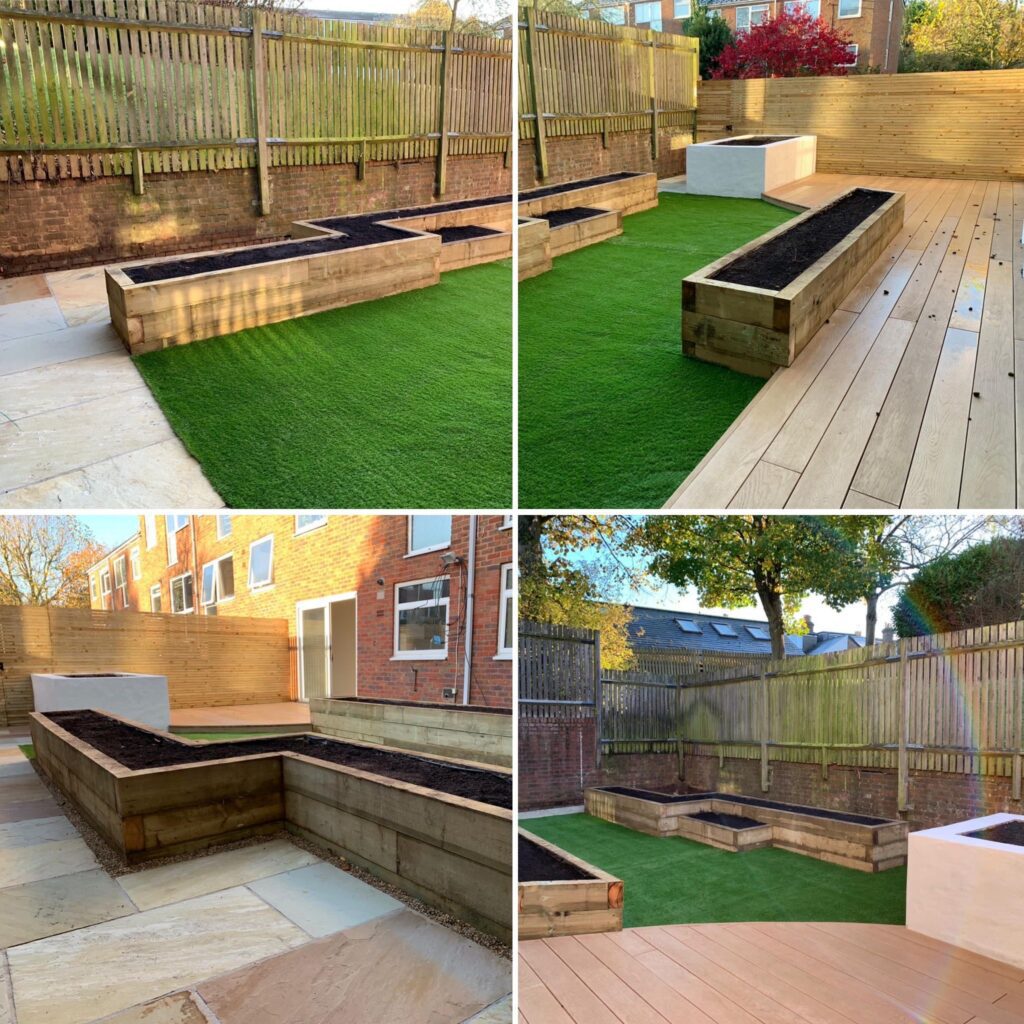 Our clients are at the centre of every project, and we were especially pleased to be able to work with Alex on this project to bring her own design to fruition. Through collaboration and flexibility, we were able to deliver the garden that Alex had so carefully researched and planned herself. This was especially important when deciding which elements to delay so that we could bring the project in on budget, whilst still using high-quality materials and fulfilling our client's brief.