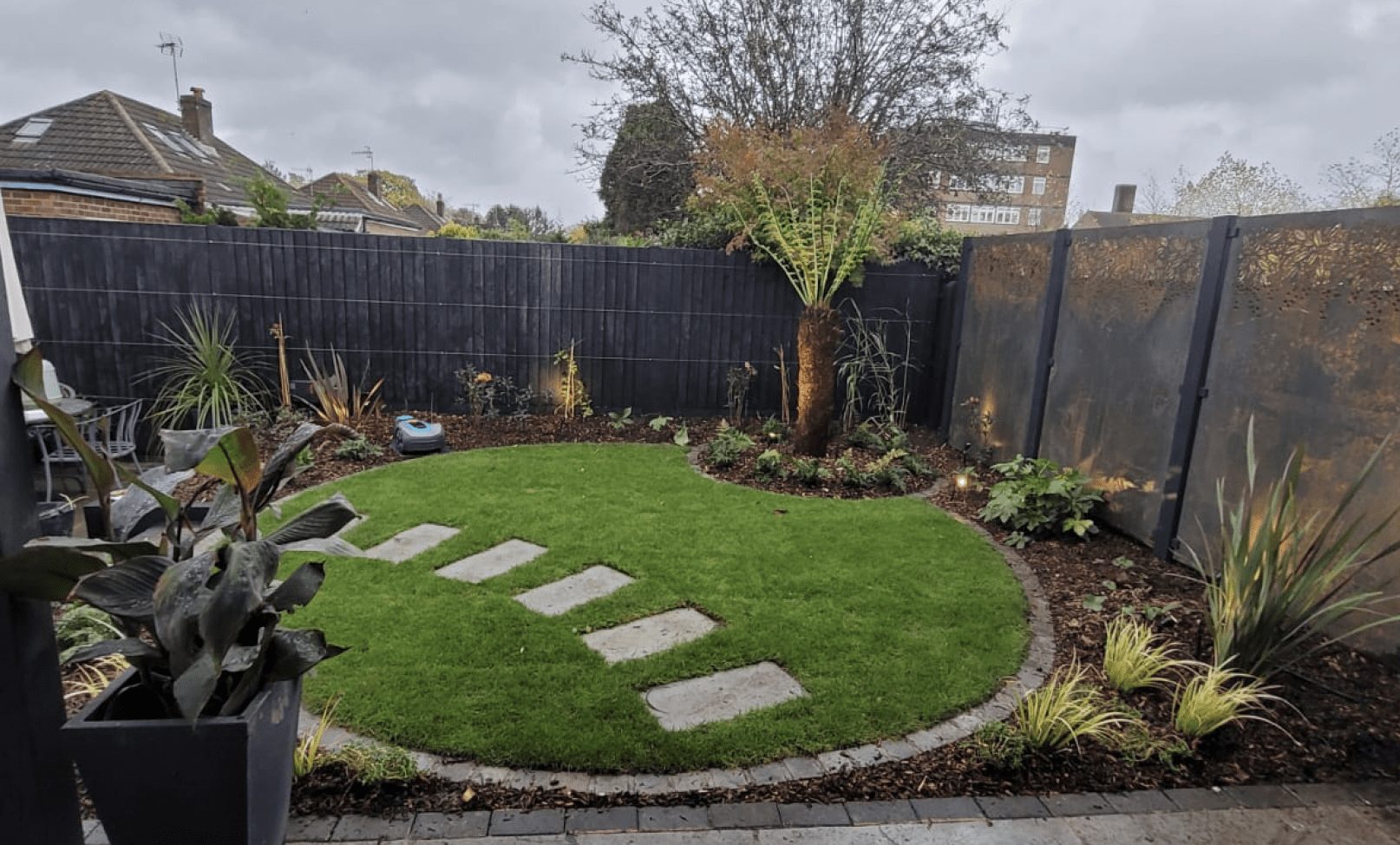 LANDSCAPING PROJECT: BIG PLANS FOR A SMALL GARDEN
Small gardens don't have to be simple. In fact, sometimes the challenges of a smaller space generate the most interesting designs. This beautiful Horley project proves that a small space doesn't have to limit creativity.
Facts & Figures:
Location: Horley, Surrey
Garden dimensions: Approx. 60sqm
Maintenance advice: turfing, sandstone
Why we loved this project: This was a wonderful opportunity to design a more tropical garden. We also enjoyed the opportunity to use different, high-quality materials to make the most of this small space. 
The Client:
Sue is a retired bed and breakfast owner, who approached us to help turn her small garden into an oasis. Somewhere she could relax and enjoy her love of gardening.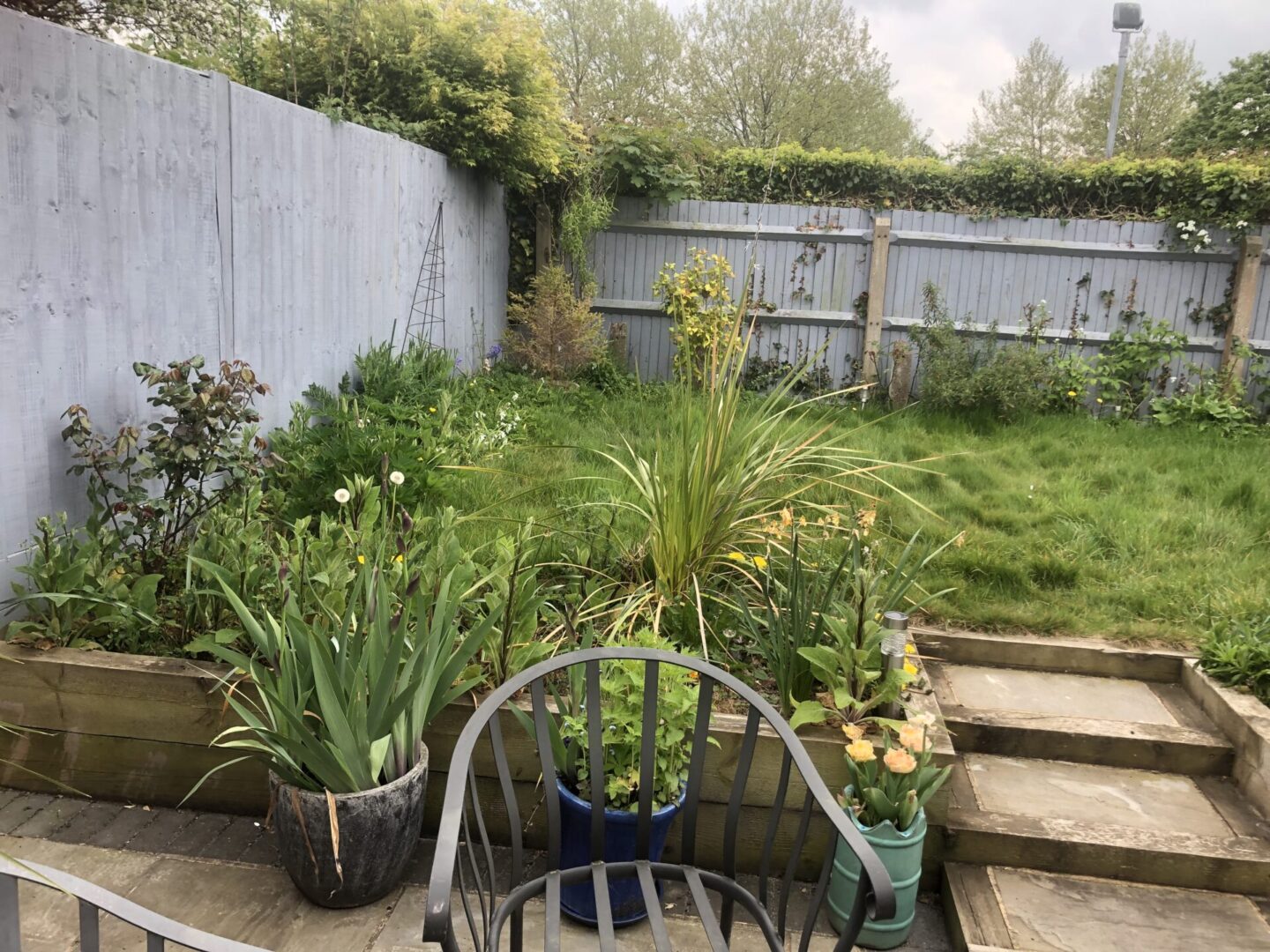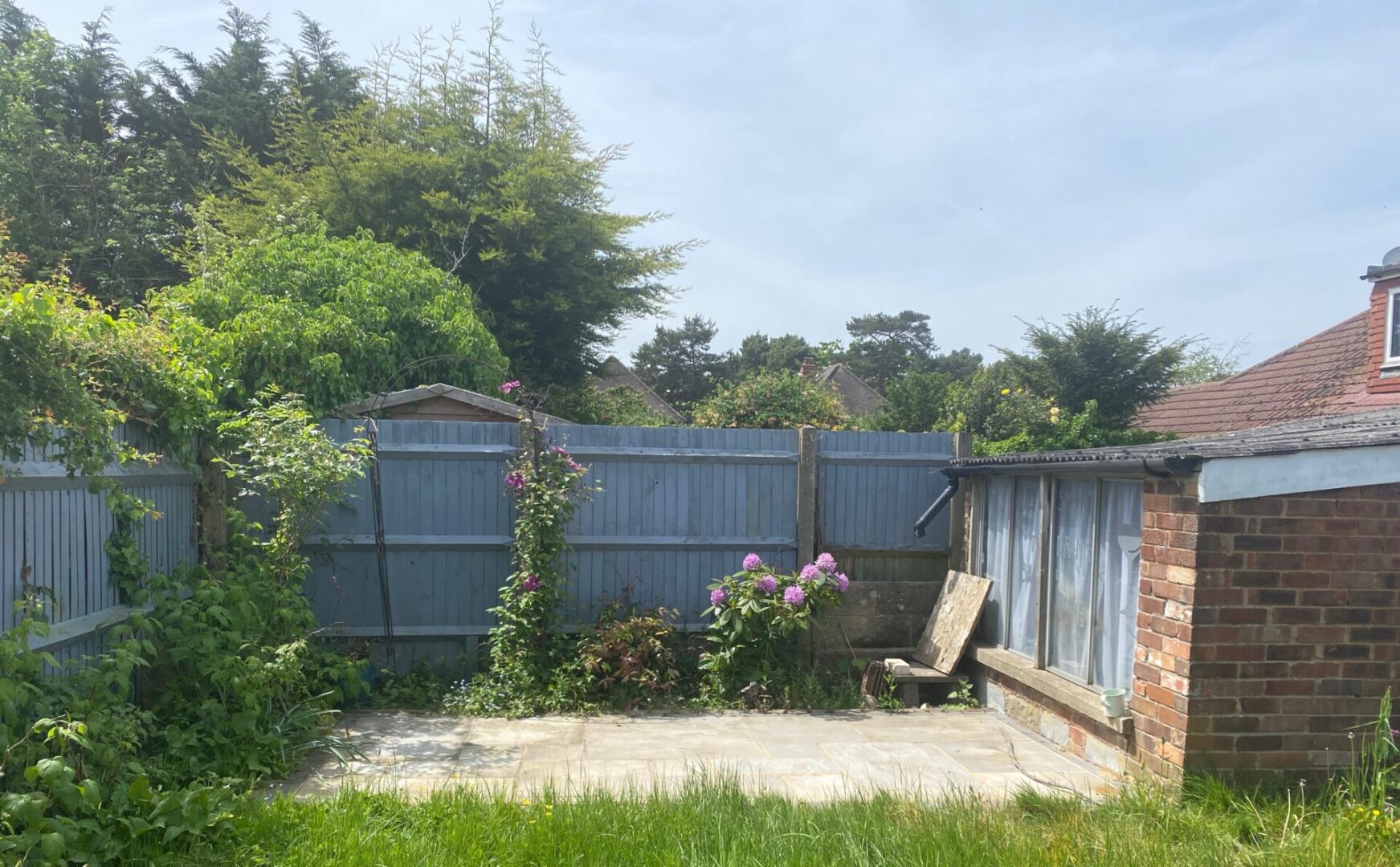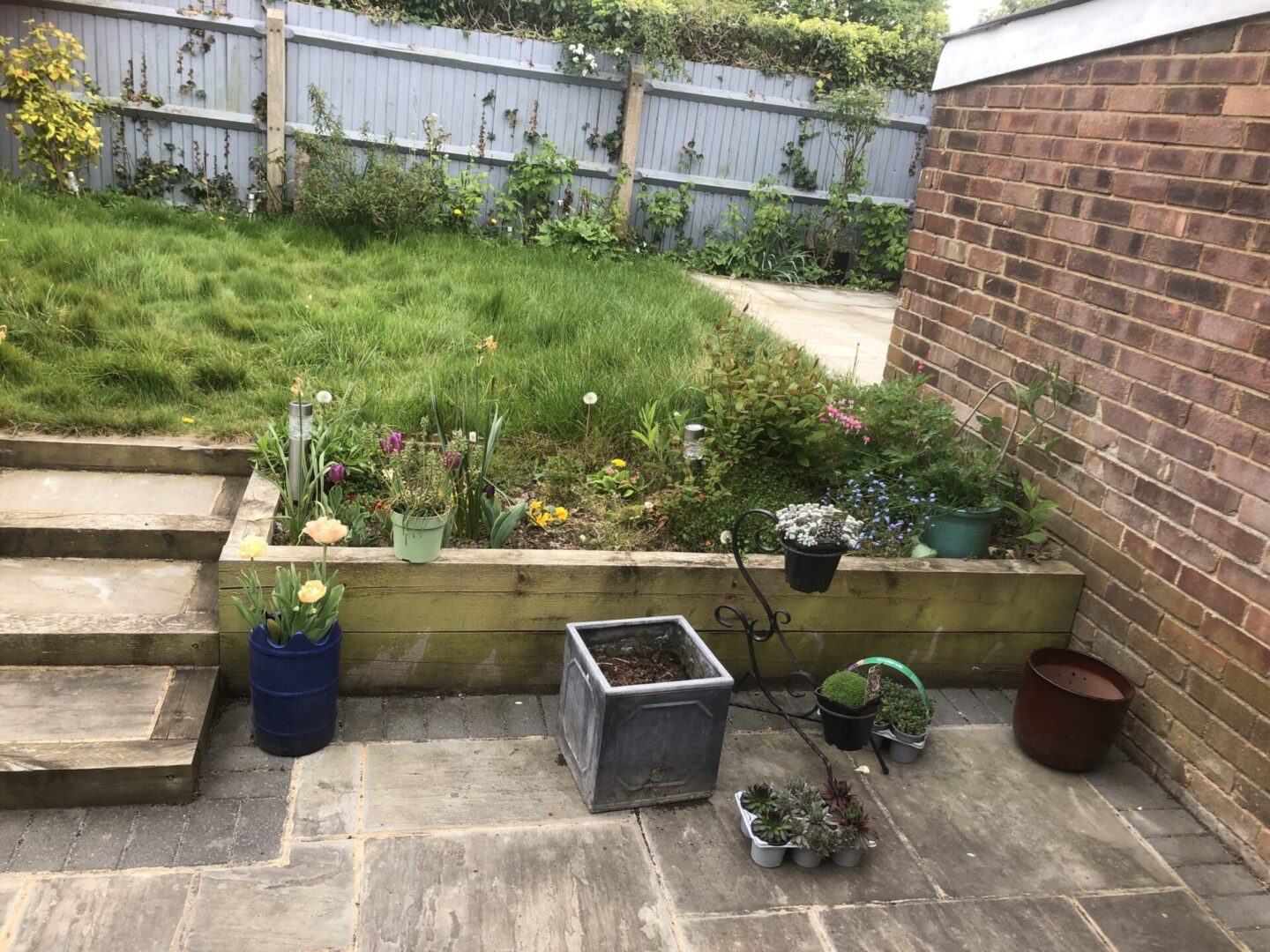 The Brief:
Sue had big plans for her tiny garden! She envisioned a tropical oasis with a statement water feature, with somewhere to sit out in all weathers. Despite the sunny, south-facing plot, the planting still had to be hardy enough to survive our English winters, whilst keeping a tropical vibe. 
Sue wanted to keep the existing patio at the back of the house. But otherwise she gave us free rein to design a garden that would nurture her in her retirement.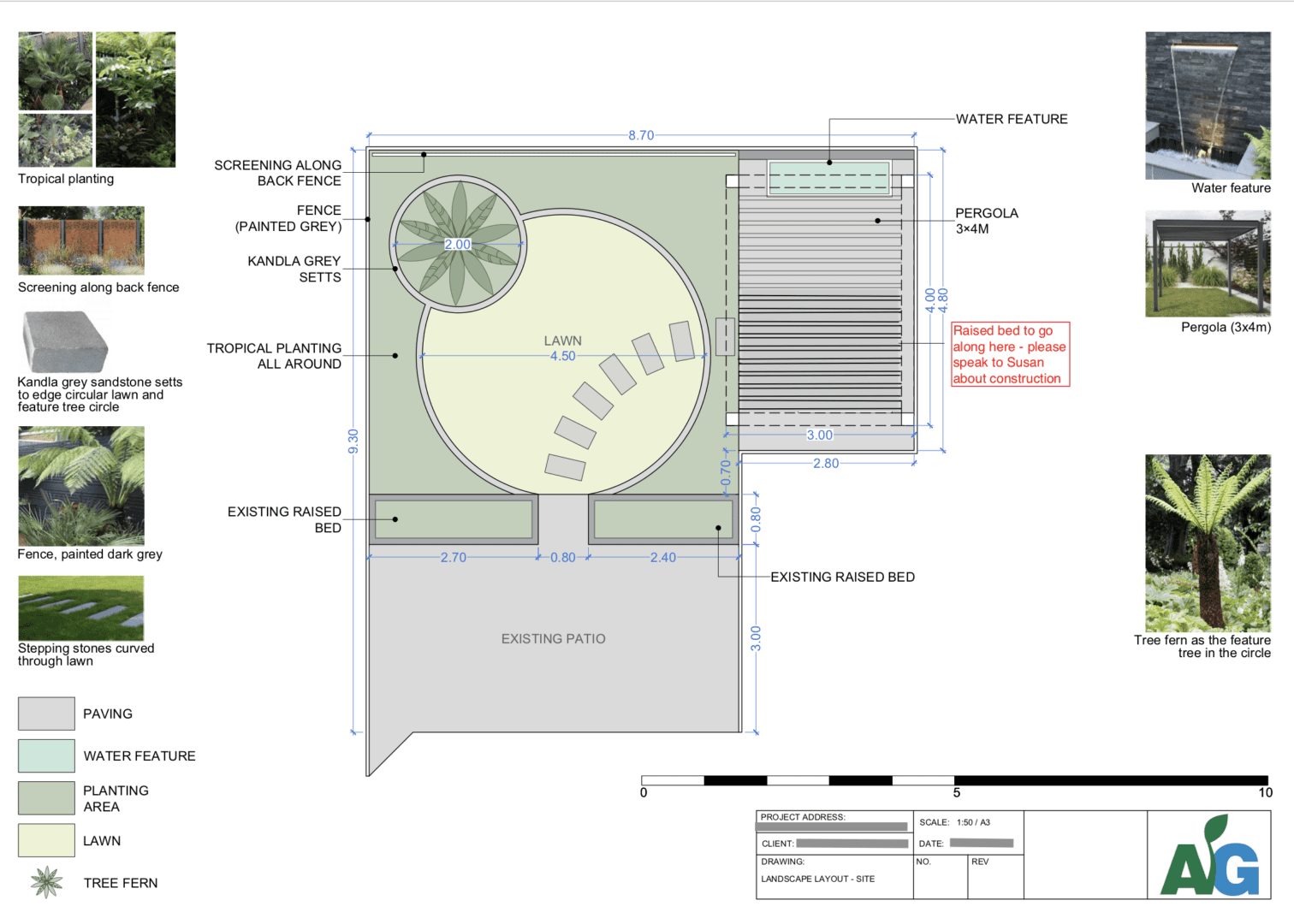 The planting scheme uses a colour palette of tropical oranges and reds. We focused the planting around the tree fern that brings a real wow factor to the garden! We enriched the heavy clay soil, but as always, were careful to choose plants that will thrive in these conditions.

Circular beds are softer, especially in a small garden like this one. Here the circles give wider spaces for planting, and echo the shape of the tree fern.

We painted the fence black, and reduced down the hedge that grew behind it. The intense colours of the planting scheme really pop against this darker background. Corten steel screens installed along the back of the wall give a strong focal point. The screens also echo the colour of the tree fern.

Under the pergola, the water feature gives added interest and a sense of movement to the garden, reinforcing the tropical, lush feel to the space. The simple blade water feature flows down through black polished pebbles into a reservoir.

We completed the design by lighting key shrubs and the water feature as accents.
Client focus:
What a difference! Guided by Sue's vision of what she wanted from her garden, Susan cleverly combined interesting design, exciting materials and a vivid planting scheme to bring the tropics to Surrey! We hope that Sue will be happy in her new garden - a haven for her as she settles into her retirement.
If you need some help to design an outdoor space that complements your home, give us a call to discuss your ideas, and let us help you bring them to life!