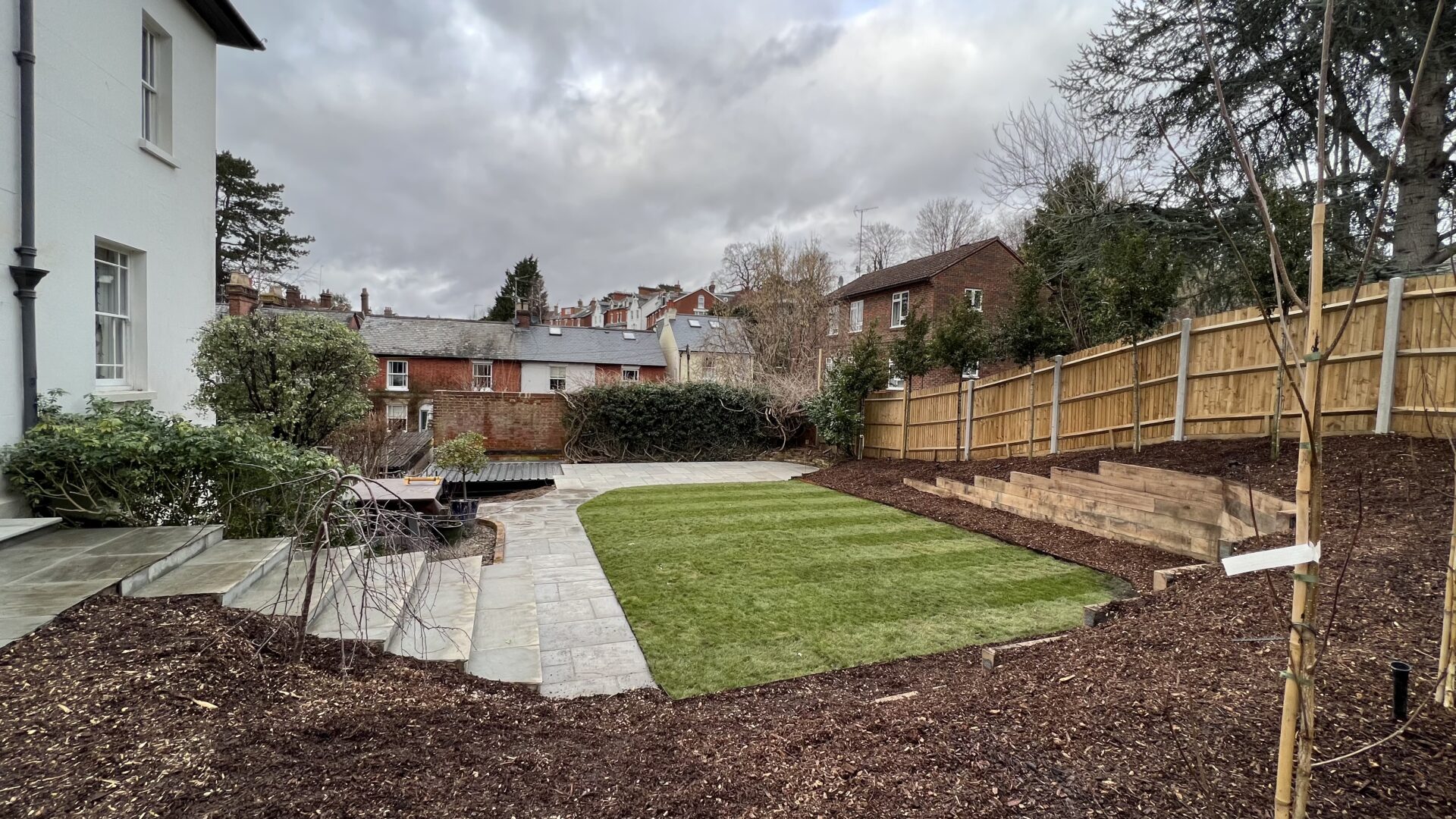 LANDSCAPING PROJECT: 
A Dorking garden: How we highlighted the quirky garden features of this period property, working with our clients to turn their ideas into a beautiful, modern space.
Facts & Figures:
Who lives here? Professional couple Nick & Siobhan
Location: Dorking, Surrey
Garden dimensions: Approx. 300sqm
Maintenance advice: Lawn, sandstone paving, oak sleepers  
Why we loved this project:  This Dorking garden plot was a really unusual shape, with a challenging slope. We were able to retain these elements whilst giving it a more modern look with contemporary materials. 
The Clients:
Nick, a quantity surveyor, and his wife Siobhan, a teaching assistant, raised their (now grown-up) children in this house. The Dorking garden holds many memories for them, but they both recognised that it was time to give it a refresh. Nick and Siobhan had some clear ideas about what they wanted from the garden, and we were very happy to listen closely and work with them to give them what they envisaged.
The Brief:
Our clients wanted to retain the footprint of their garden whilst bringing it up to date. In particular, the steps up to the front door hold special memories, often appearing in family photos over the years. Therefore, it was important that we didn't change them too much.  We worked closely with Nick and Siobhan to accentuate these features with modern materials, whilst keeping the overall design of the garden intact.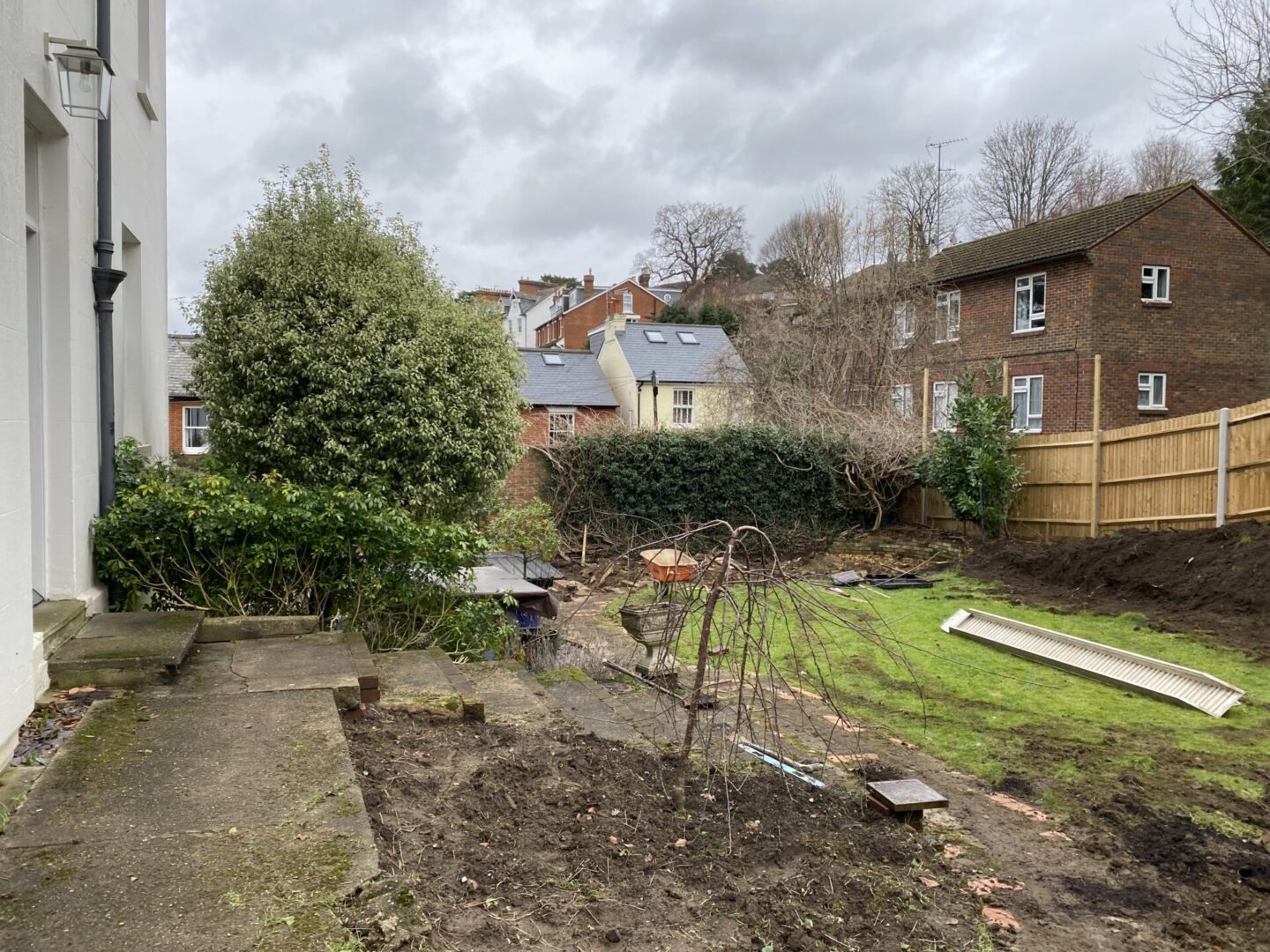 The Solution:
The garden has indeed kept its original footprint, but with a new, contemporary feel that complements the house. The project included:
the demolition and removal of the old patio and paths;

new underground drainage;

a new patio and paths using Kandla grey Indian sandstone;

new steps, using Kandla grey Indian sandstone but retaining the original shape of the steps; 

the supply and planting of 12 trees, Portuguese laurel, to screen the flats behind;

an oak sleeper wall to support the new trees, and provide split-level planting;

new topsoil and mulch for all areas of the garden; and

a newly turfed lawn.
The project's next stage will be to add decking, and we look forward to returning to install this.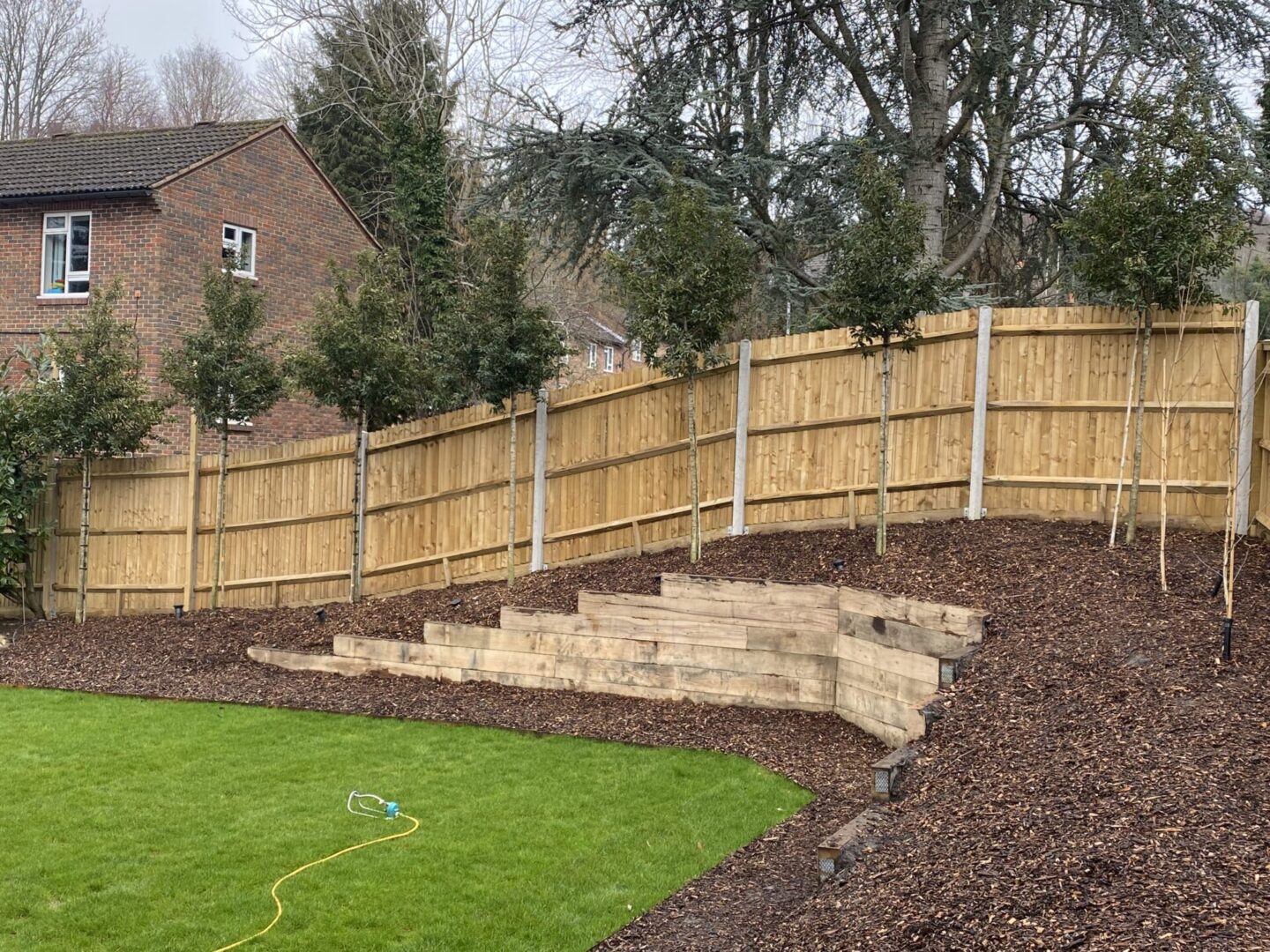 Client focus:  
We listened to Nick and Siobhan's requirements and ideas, to accentuate this unusual garden's features whilst respecting its history and memories. As Nick and Siobhan said afterwards, "We spent a considerable time with Aye Gardening working through the design… best of all was their attitude to our changes, queries and concerns we had along the way". Read the full review here.
Working with Nick and Siobhan was an absolute pleasure, bringing the garden up to date whilst preserving its original character and years of family memories. We hope they enjoy making more memories with their family here in the future!
If you need help to design an outdoor space that complements your home, whatever your budget, give us a call to discuss your ideas, and let us help you bring them to life!