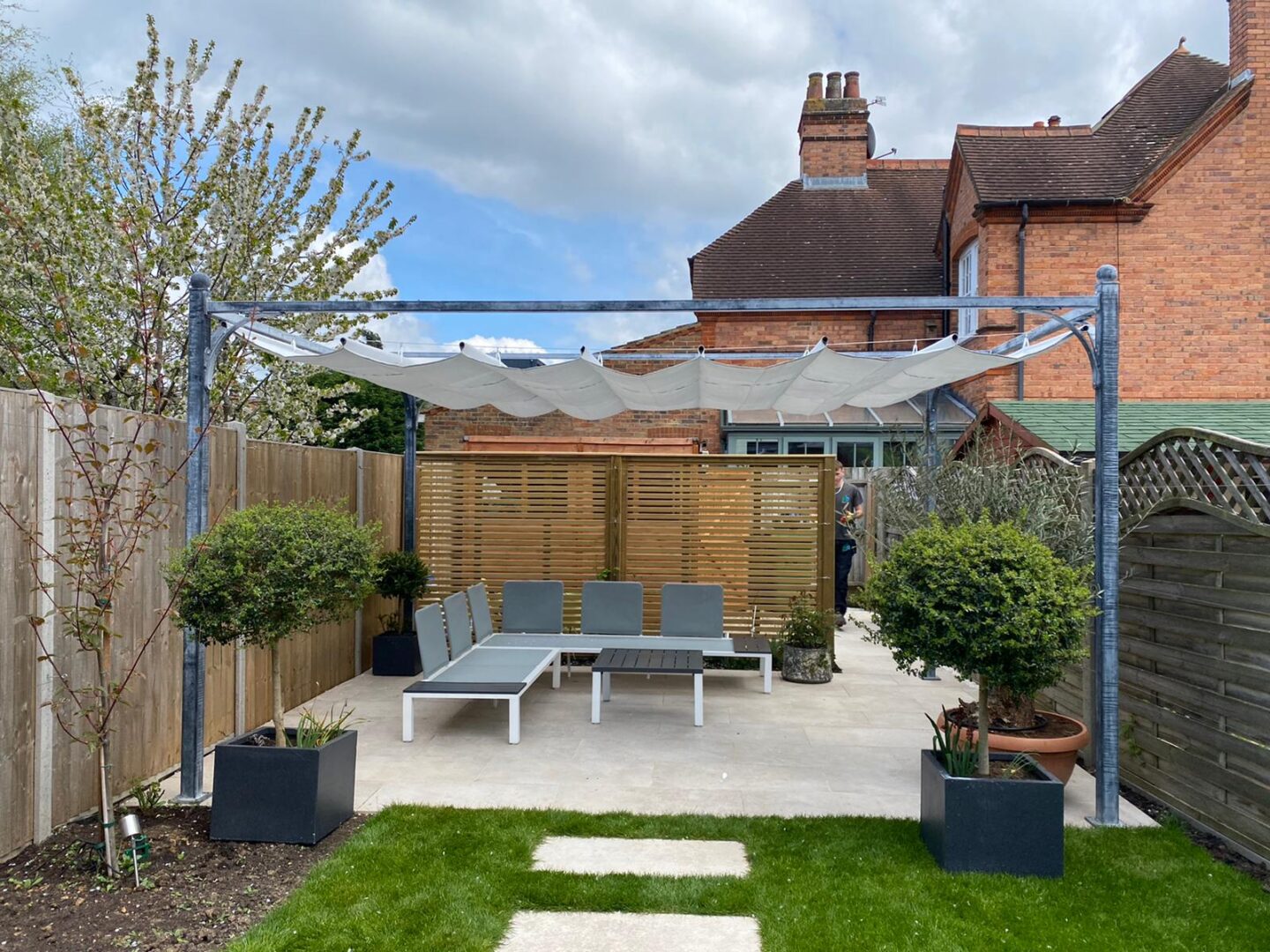 LANDSCAPING PROJECT: A SOPHISTICATED, ZONED GARDEN FOR THE WHOLE FAMILY
How we used modern landscaping and design to update a traditional period property.
When Hugh and Leanne first moved into their Victorian Dorking townhouse, they inherited an old lean-to with a concrete floor, and a large slab of concrete at the end of the garden... in short, the whole outdoor space was in desperate need of some Ayegardening magic! Together with garden designer Ivan Tucker of New Leaf Design we renovated the garden to make the most of the space, using modern materials and finishes in a way that complemented the period charm of the house.
Facts & Figures:
Who lives here? Hugh, Leanne and their cat
Location: Dorking, Surrey
Garden dimensions: Approx. 100sqm
Maintenance advice: Porcelain paving, turfing, fencing
Why we loved this project: We always enjoy working with New Leaf Design, and this small but perfectly formed project gave us the opportunity to show off our skills, using high-end, modern materials to translate Ivan's design into a beautiful new space for our clients
The Clients:
Hugh and Leanne recently moved to their period Dorking town house from London, and were looking forward to renovating their garden as the final stage of the work they had done to put their own stamp on their new home. They both enjoy gardening and were excited about a new, planned space where they could add their own finishing touches through planting and establishing flower beds and containers.
The Brief:
Hugh and Leanne asked for a complete renovation of their narrow back garden, including the side dark, fractured-concrete passage to the dining room. Their vision was a relaxing space for entertaining, where they could enjoy socialising and relaxing with their friends and family. They liked the idea of two patio spaces at each end of the garden, linked with a path through across a lawn, but obviously wanted to update the existing old concrete with more contemporary materials and design.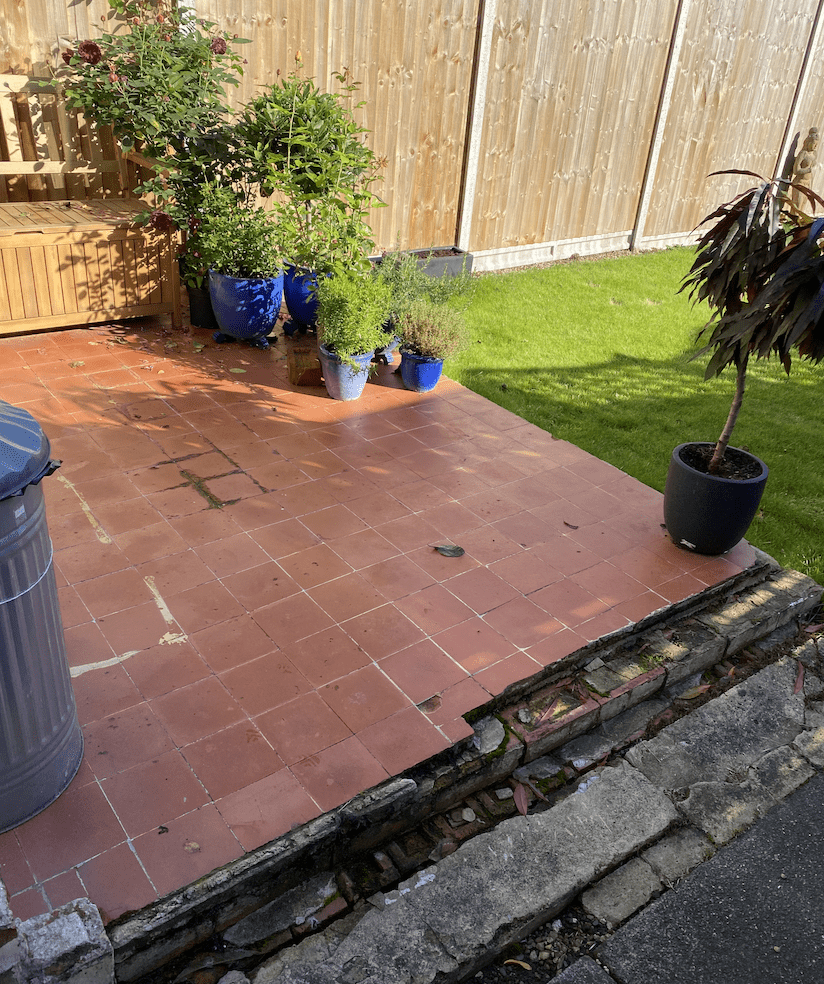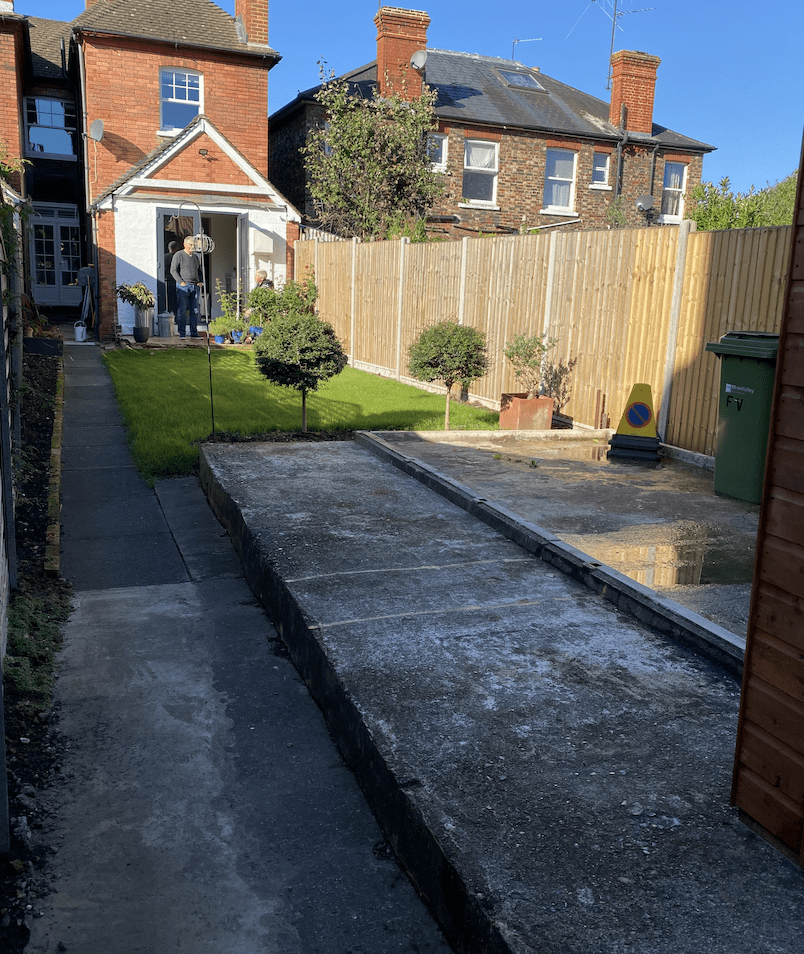 The Solution:
New Leaf Design understand the benefits that outdoor spaces bring to their clients' quality of life, and in this project expertly updated an existing layout using modern shapes and materials to meet the client brief. We loved interpreting his beautiful design into the finished, living garden. We focused on the quality of the materials and the details of the installation to build a sophisticated, modern space, which included:
a patio area outside the rear double doors from the kitchen, replacing the old floor to a now-demolished lean-to;
a second patio at the end of the garden, replacing an old concrete garage base, to make an outdoor room under a bespoke Harrod Horticultural pergola for lounge-type seating;
a modern stepping-stone path across a newly-laid turf lawn to link the two areas;
a new side path to the dining-room doors;
Jacksons fencing panels to screen the utility areas from view, which includes a shed, log store, bins and potting area;
finishing off the design with step lighting and flower bed spike lights from Collingwood to highlight focal points in the garden by night.
Throughout the project we used London Stone's Gea porcelain paving, a luxurious, textured paving that works well as a neutral foundation for both modern and traditional designs.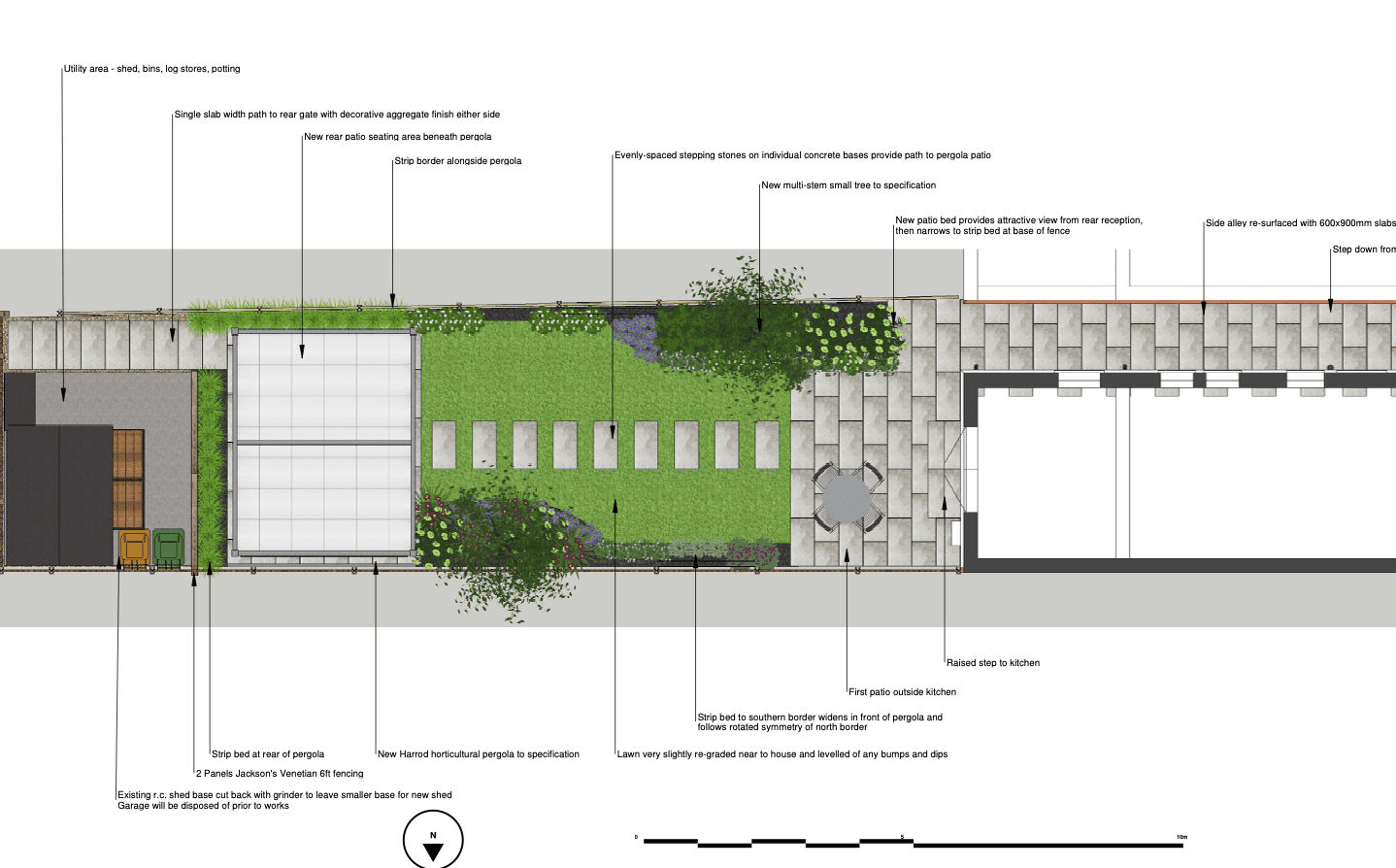 Client focus:
In this project we were able to translate the client's vision and designer's plans into a contemporary-looking garden that works well with the Victorian property. The clean, neutral and modern finish provides the perfect foundation for planting, which will soften the whole space and link the house with the garden. We loved bringing Hugh and Leanne's ideas to life, and wish them lots of happiness in their new home.
"We are so pleased we went with you for the project, and please thank the team for all their hard work – no charge for all those teas and coffees!"
If you need some help to design an outdoor space that complements your home, give us a call to discuss your ideas, and let us help you bring them to life!