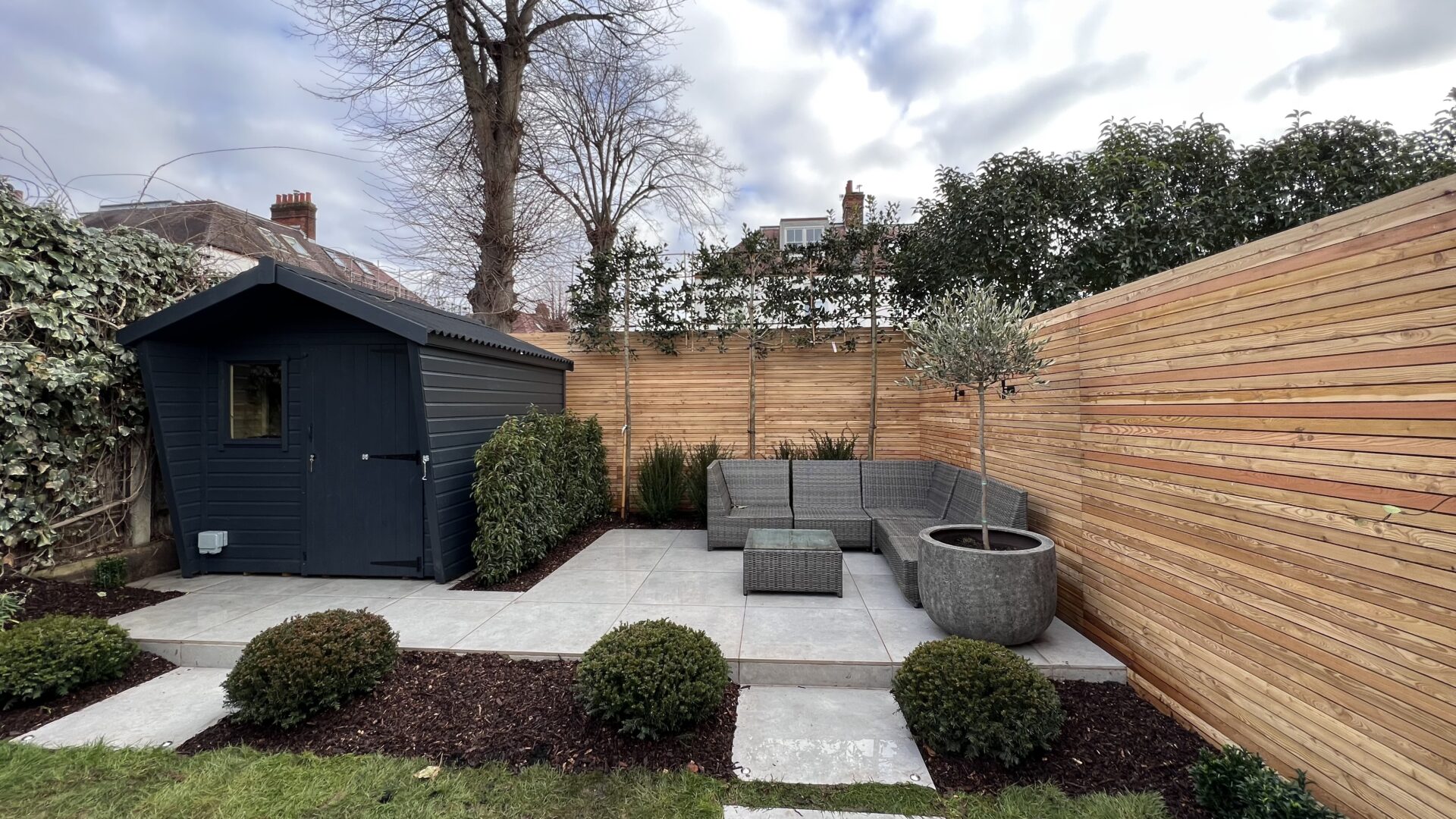 LANDSCAPING PROJECT:

A

Wimbledon garden

gets the designer treatment
How we worked with garden designer Claire Moreno to bring this

Wimbledon garden

up to date.
You may think that garden landscaping is for large, sprawling properties. And whilst it's true that we do work on some big projects, we also love to help our clients make the most of their spaces, whatever the size. So when we were asked to work on this Wimbledon garden, designed by Claire Moreno we jumped at the chance! 
Facts & Figures:
Who lives here? A professional couple, recently married, and their dog 
Location: Wimbledon
Garden dimensions: Approx. 100sqm
Maintenance advice: Lawn, porcelain paving, pleached trees 
Why we loved this project: There were so many elements to this garden, that were all brought together to achieve this clean, simple design. We enjoyed working with Claire Moreno and bringing her design to life, using high-quality materials that we know will last.
The Clients:
Harry and Imogen approached us to landscape their suburban Wimbledon garden, to implement a plan by garden designer Claire Moreno. Claire had designed the garden of a family member, so Harry and Imogen were keen to use her too, but needed a garden landscaper more local to them in southwest London.
The Brief:
Our brief was to carry out the design that Claire had planned for the couple, to bring a tired, overgrown garden up to date and make it a real feature of this beautiful home. The uneven lawn, failing shed and old patio needed to be replaced with contemporary, long-lasting materials, and the garden opened up into a bright, inviting space for relaxing and entertaining.  
We were initially approached in September 2022, with the aim to carry out the work over the winter months, ready for spring.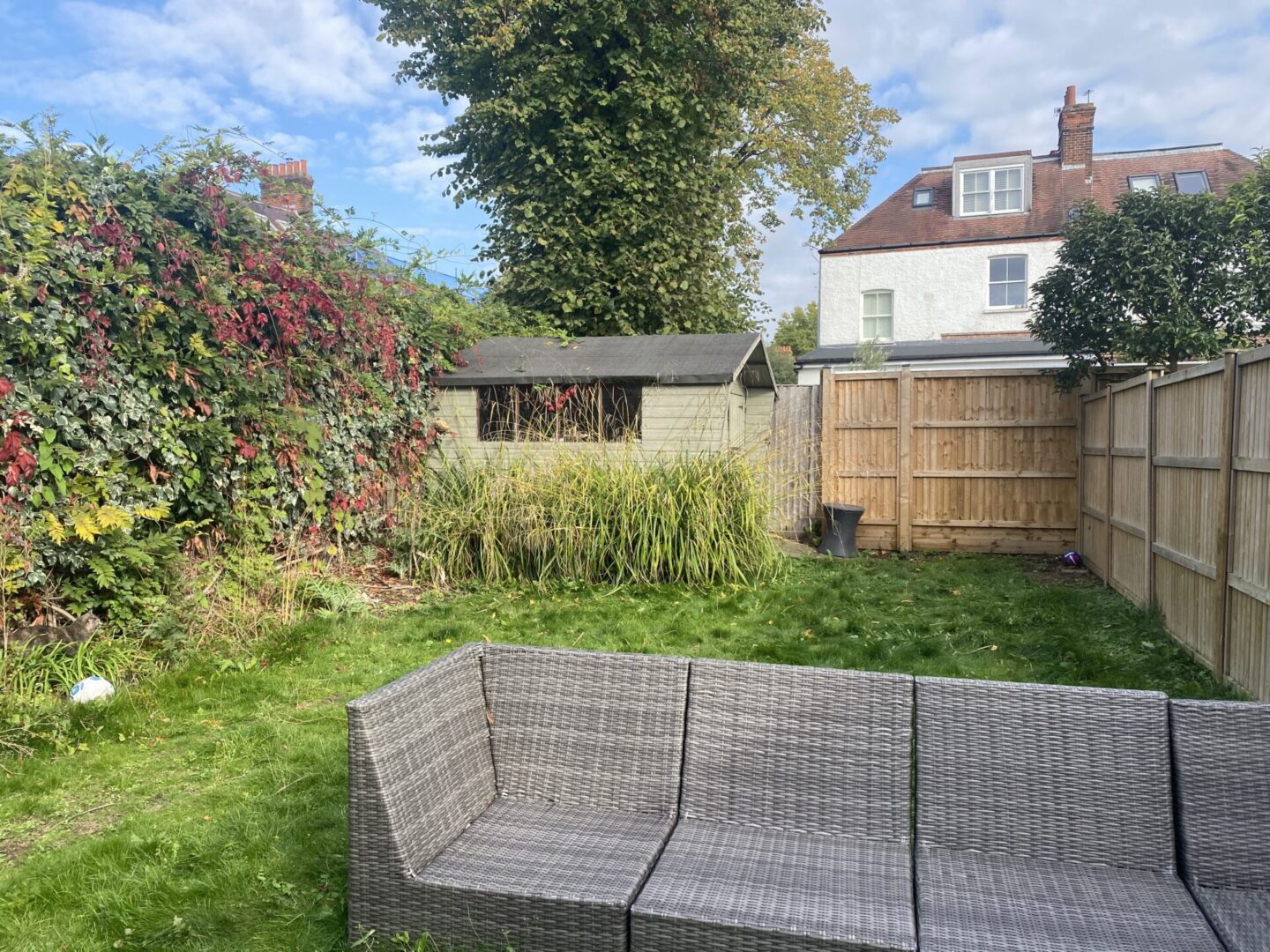 The Solution:
Claire's design combined clean lines and modern planting to achieve a sophisticated but practical outdoor space that made the garden look bigger. Our installation included:
taking out soil to level the lawn area, finishing the new grassed area with metal edging;

 

removing the old, rotting shed and replacing it with a replica, which we painted dark grey;

 
covering the fencing with Siberian slatted screening, installed in front of the existing boundary fence;

 

installing a side gate for access;

 

adding a stepping stone path in London Stone's "Polvere" porcelain paving;

 

laying a matching patio at the rear of the plot, with cut-outs for planting and lighting;

 

planting three pleached trees along the side fence; and

 
installing power and lighting.

 
The lawn was laid in December, and although we weren't able to work when the ground was frozen, with a little flexibility we were able to complete it by the end of January.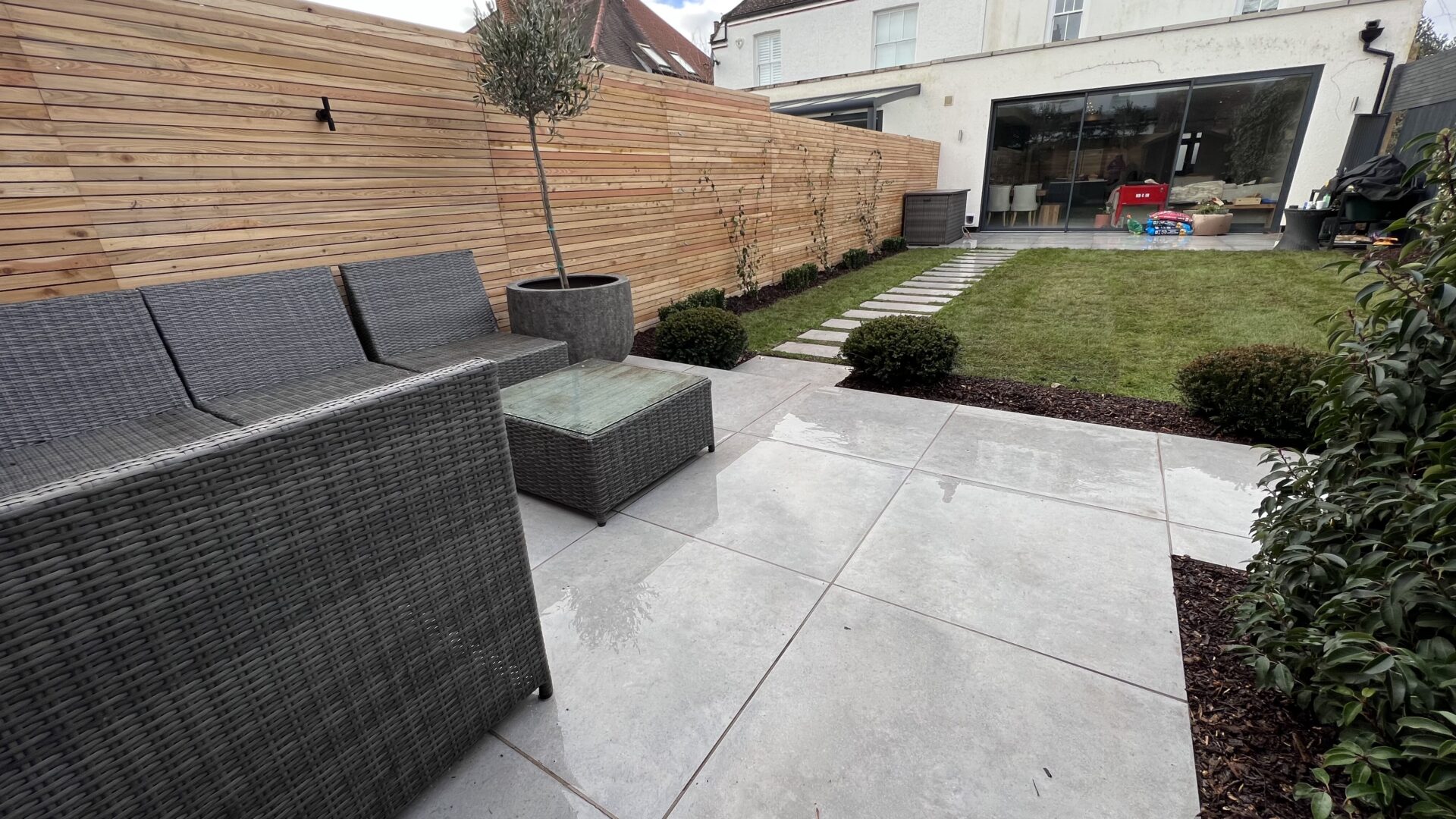 Design focus:  
We would particularly like to focus on the following parts of the design: 
Boundaries:
At the back of the garden, the old shed had previously formed part of the boundary. Once we had removed it, we built a retaining wall to replace it, as the neighbours' garden was higher than our clients'.  
Claire chose Siberian larch for this project because it has a natural resistance to decay. Although it is more expensive than some fencing options, it doesn't need additional treatment despite having a 50-year lifespan! As well as longevity, Siberian larch is particularly attractive as it "silvers down" over time, making it an ideal choice for contemporary gardens. 
Colour palette:
A palette of greys was used in the fencing and shed timbers, together with the natural grey of the paving stone. This is a perfect backdrop to the on-trend colour palette of blues and purples used in the planting. We're excited to see what it all looks like in the summer when the flowers and plants have settled in and are blooming! 
Lighting:
Lighting was an important finishing touch to this project, so we were excited to find local lighting manufacturer Hudson Lighting. Chris makes his lighting fixtures with his team, in his Coulsdon workshop, with sustainability at the heart of his business. He builds his lighting fixtures with interchangeable pieces. This means that individual pieces can be fixed and changed if necessary, rather than having to discard and replace a whole unit. 
We added two uplighters near the patio, lights in the steps up to the patio, and added power in the shed. 
Client focus:
We enjoyed working on this project for Harry and Imogen, bringing Claire's design to life. The contemporary materials and pretty planting are a perfect match, and we hope that the couple will get lots of pleasure from their new garden. It really has shown that garden design and landscaping are for every size of space!
If you need some help designing an outdoor space that complements your home, give us a call to discuss your ideas, and let us help you bring them to life!