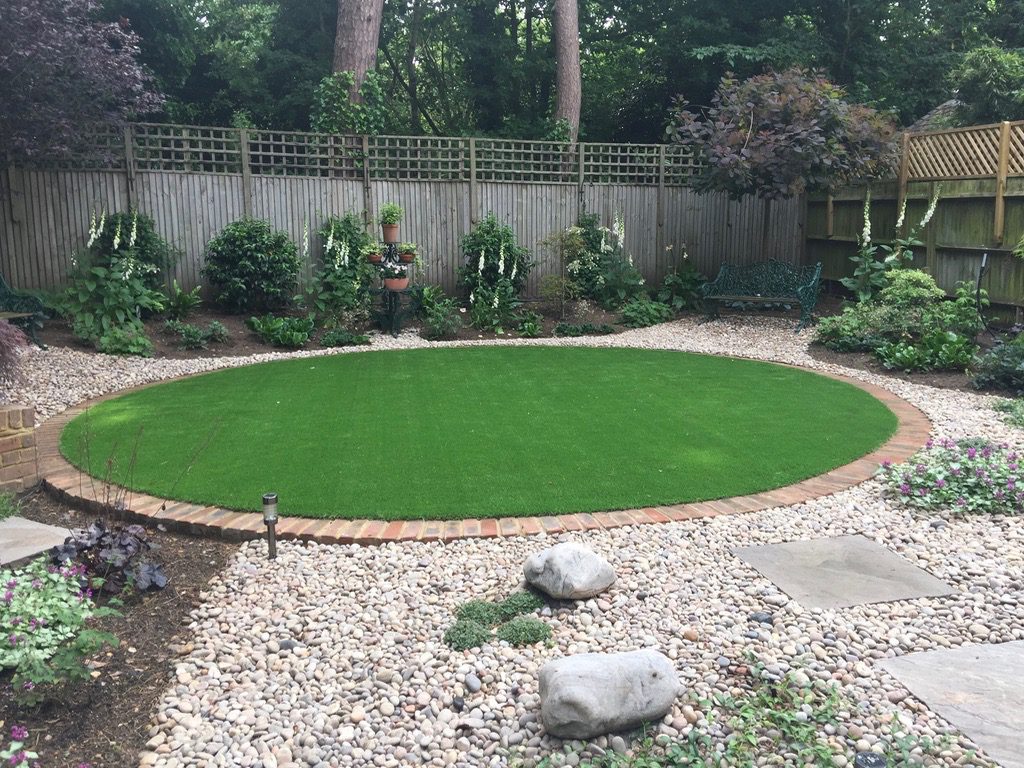 A guide price for a project similar to this size would be £25,000 - £30,000+VAT depending on accessories.
Our clients in Weybridge, Robert and Jerry, had had a few let downs with landscaping companies before they came to us. They had made quite a few decisions about their garden and had received quotes, a design and even had chosen a company to do the work. Unfortunately the company never turned up and so they were left looking for someone else who would construct their new dream garden. Jerry's Internet search led them to us and so after some contact by phone and post, Susan went to Weybridge to meet with them to see the garden and discuss ideas.
They already knew they wanted Porcelain paving, with new planting areas and had ear marked a pergola that they had spotted at the Chelsea flower show. The garden was discussed in detail and the areas costed up. Robert and Jerry had done lots of research into materials for their garden. One reason being that they had a series of Scots pines around the perimeter and a dray of squirrels living nearby who dropped a lot (and I mean a lot) of debris on the garden. We suggested that they take a trip to London Stone to meet with the knowledgeable staff there and have a chat to them. After a very successful visit to London Stone Robert and Jerry settled on cinder porcelain paving for the main patio and tumbled black sandstone for the side path and under the pergola. The two paving types would compliment each other well. Next there was talk about the lawn. The lawn was mainly moss due to the giant and over shadowing Scots pines. Robert and Jerry love nature but knew that they would never be able to get the perfect bowling green lawn what with the shade and the squirrels! Therefore, after a lot of discussion, they opted for artificial grass.
We drafted in help with the planting from the knowledgeable Renee from The Girls Who Gardens. Renee was able to work with Robert and Jerry with their list of favourite plants to see if they were suitable for the setting. Renee came up with a planting list to which we ordered and planted the chosen plants and shrubs in the garden. Other elements that we installed were lighting, brick edging, a retaining wall, shingle areas and an extensive irrigation system. The final result was a real wow factor. Standing on the patio, it feels so luxurious on the beautiful porcelain planks. The garden has gone from bland and characterless to interesting, inviting and elegant.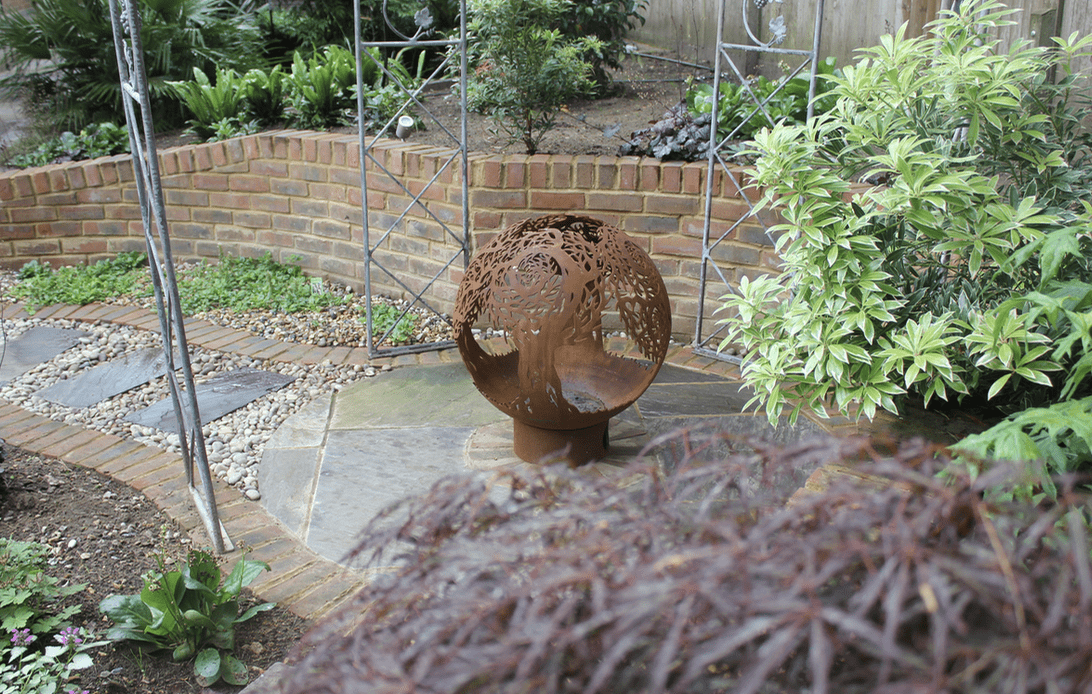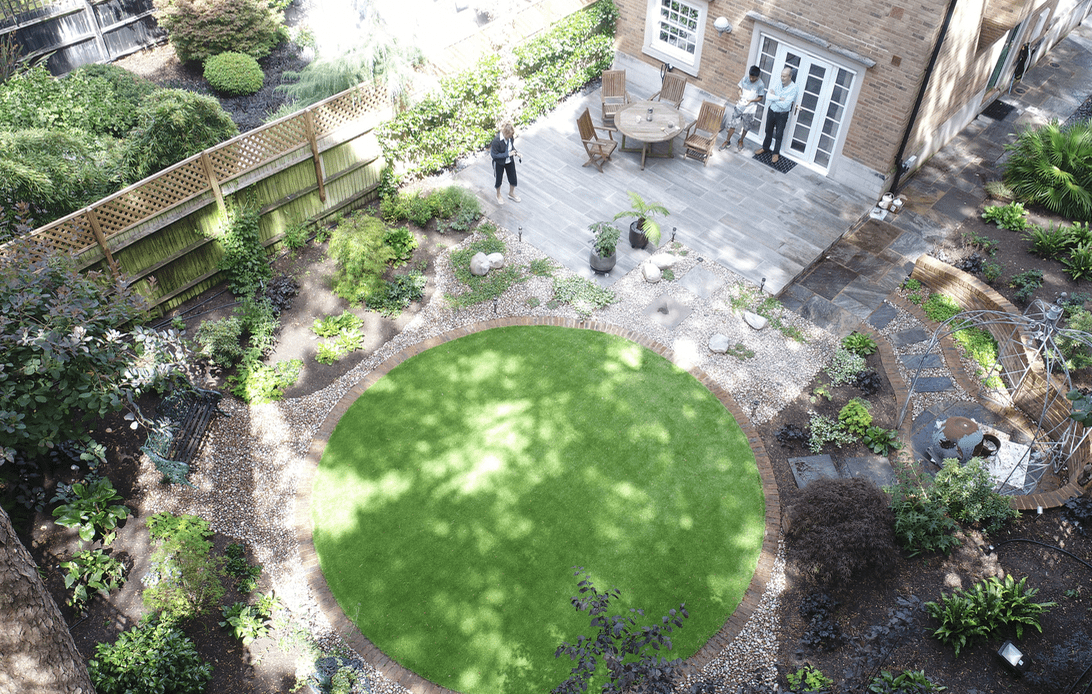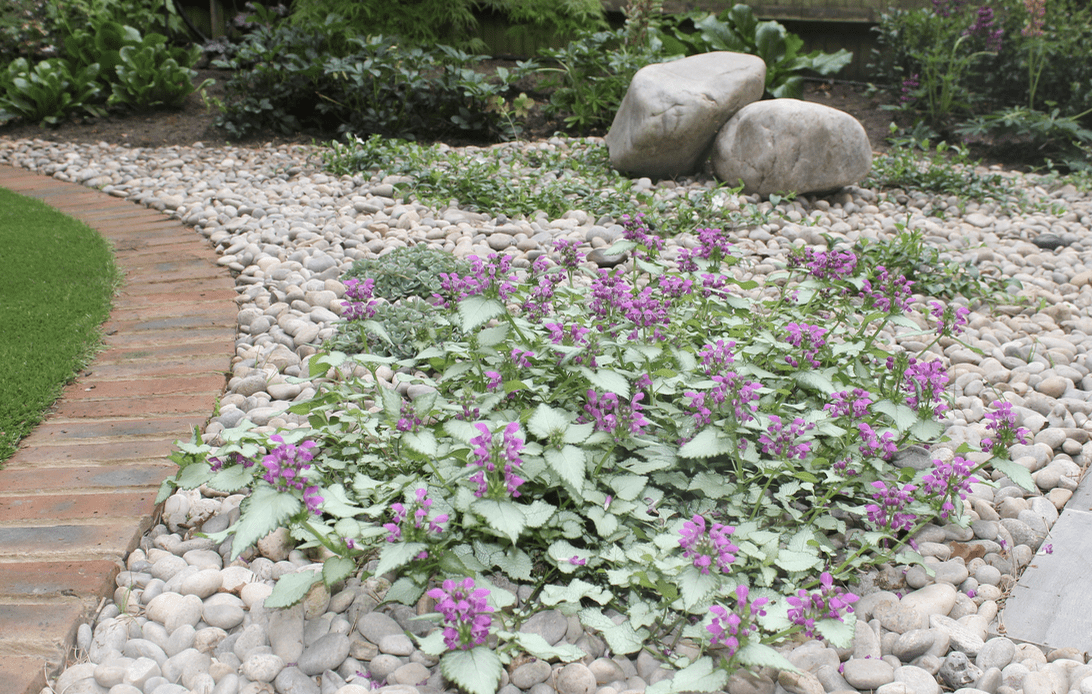 "From the outset, when requesting a proposal, working with Aye Gardening has been a very pleasurable and successful experience, which has transformed our garden from a drab outlook to a beautiful and vibrant scene. The principals Aye and Susan demonstrated considerable enthusiasm, skills and flair for what they undertook, which attitude was exemplified by their work team. We are and will continue to receive great enjoyment from the garden they have created for us and we have no hesitation in recommending their work. A relative has seen our garden and booked Aye and Susan to start work on theirs soon. "