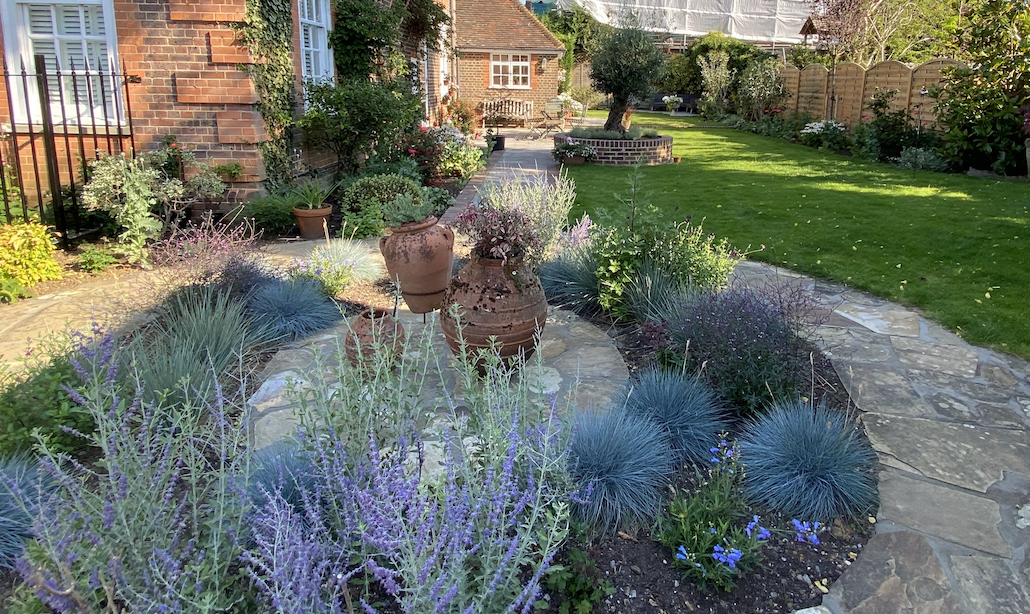 Predicting 2022's landscaping trends: Key elements to add to your garden
What will be the landscaping trends in 2022? In this post, we are making some predictions using our experience to envision the elements that you'll be wanting to add to your gardens in 2022.
Colour
Colour trends for outdoor spaces usually follow interior design fashions, and this certainly looks to be the case in 2022. We predict that we'll be saying goodbye to the greys and metallics that were so popular both indoors and out in 2021… and hello to softer, more natural colours for landscaping elements. 
In terms of planting, we're seeing lots of bright, jewel colours – reds, oranges, yellows and purples. The Society of Garden Designers agree! "Experimenting with colour is one of the most exciting things about creating a planting palette for a new garden", they say in their own trends report for 2022. As landscapers, we love these bold colour schemes and enjoy working with interesting materials and textures to provide the perfect backdrop for bright colour schemes.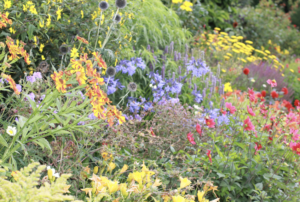 Materials
In our last post we predicted a more natural feel to gardens in 2022, and we can see this driving the choice of more organic materials across our landscaping projects. From paving to boundaries, edging to furniture, a more natural look will continue to be in high demand in 2022. 
If you are looking to embrace this trend in your landscaping project, we can advise on the perfect elements. We enjoy bringing together different materials to form a foundation that you can then accentuate with pops of colour in your planting and accessories.
Accessories will also follow the natural feel. Think recycled glass, organic textiles and upcycled furniture to help you bring personality and individuality to your garden.
Vertical gardens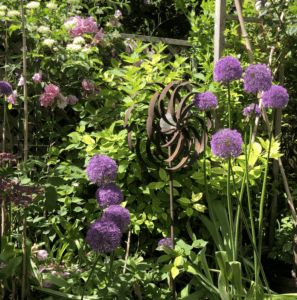 An extension of the more natural feel is the vertical garden. They are perfect for small spaces, for disguising less attractive areas of your garden or to highlight a particular space. They are becoming increasingly popular due to
their effective use of space – even the smallest garden has room for a vertical garden, or "living wall". We've seen them made from hanging baskets, clever arrangements of pots attached to a vertical panel or purpose-made structures that we can design to fit your space.
Cor-Ten steel
Also known as weathering steel or COR-TEN®, we are seeing more and more requests for steel in our landscaping projects.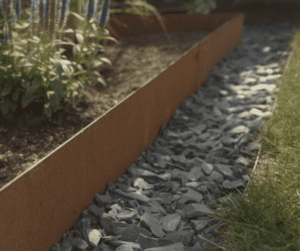 In the right environmental conditions, a layer of rust forms on the surface of the metal, protecting the steel underneath from further deterioration. The result is a deep rusty orange colour, an industrial but aged look, with no need to paint or protect the metal. No wonder it is becoming so popular! This versatile and strong material is perfect for a variety of uses in the garden. We've used it for edges and borders, retaining walls, planters and a number of architectural features – and the deep rust colour looks fabulous set amongst the foliage.
Outdoor kitchens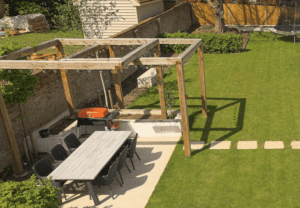 Many of us only get to spend time in our gardens at the weekend or in the evening, as our days are spent at work. So it's no surprise that the outdoor kitchen is becoming an increasingly popular feature for our landscaping projects! The perfect place to relax after work, and combine our love of cooking, entertaining and the outdoors.
Vegetable garden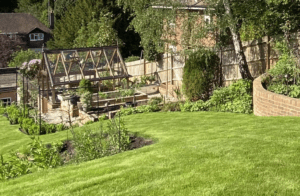 During the pandemic lockdown, many of us spent more time at home and in our gardens, whether working, relaxing or enjoying growing plants. Vegetable gardens are making a comeback! In the smallest of spaces, we can add living walls to grow herbs, making the most of vertical space. Or in a larger garden, we can incorporate an area for a more traditional vegetable garden, complete with potting shed or greenhouse if required. One of our favourites was the vegetable garden in last year's Dorking landscaping project. 
All of these elements illustrate the trends of a more natural, organic look to landscaping in the coming year. We hope that they have given you some inspiration for your garden!