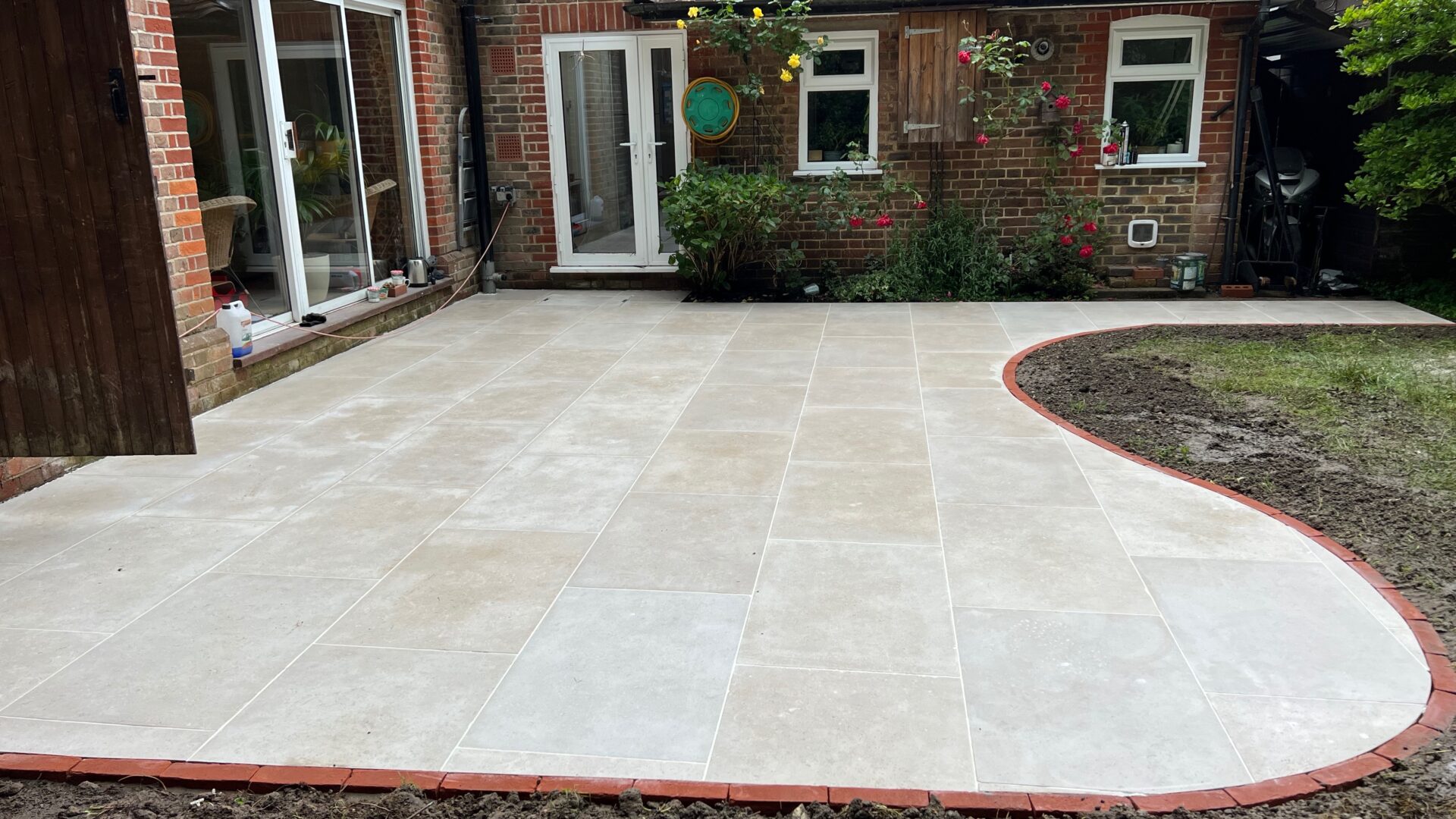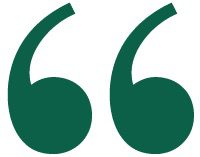 Delighted with the result
Ayegardening did an excellent job when installing our new patio recently. The service was professional from the first phone call, through the site surveys and the actual installation. We are delighted with the result and it has brightened up our garden. Rachel
Replacement patio, trellis and lawn edging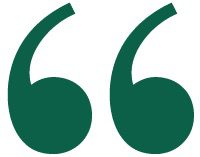 The team at Aye are always clear with the work specification, timely and a pleasure to have on site. Susan and Jo are very responsive to any queries we have. The team doing our fence were polite, tidy, hardworking (not the easiest of boundaries to work along) and troubleshooted some difficult layout options. The fence looks great and has really changed the look of the garden. Read more here.
Replace 6 fence panels and wooden posts along our boundary.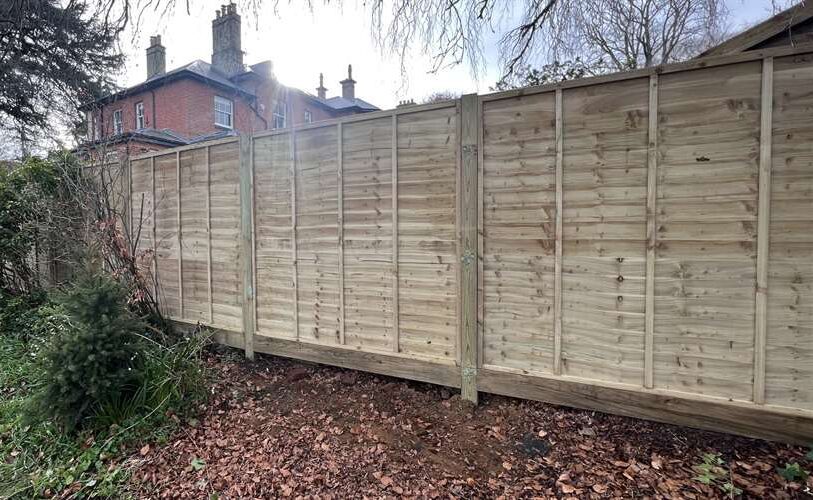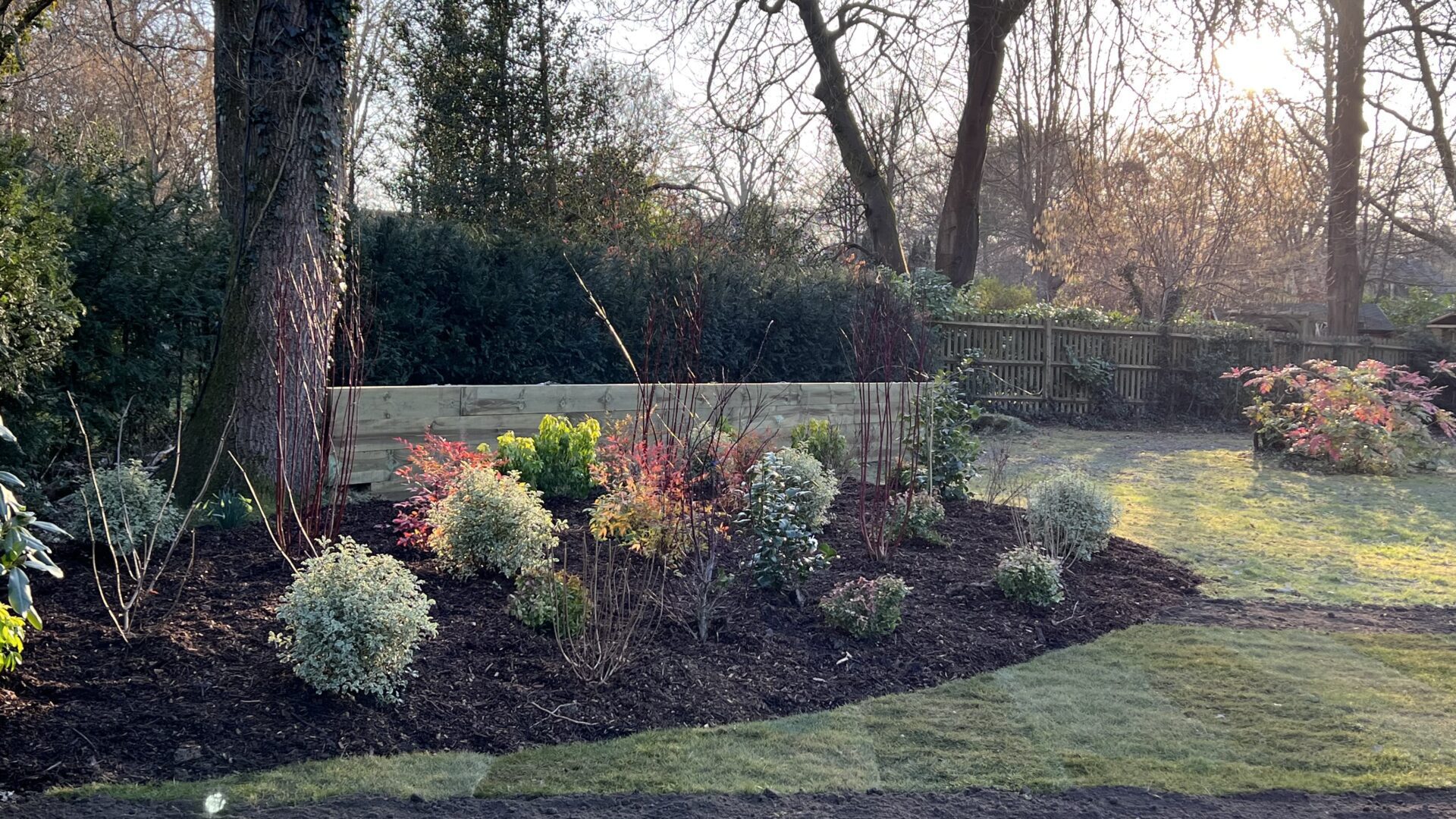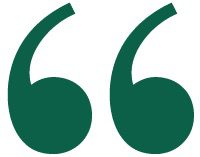 Great advice and guidance
The experience of working with Aye, Susan and the team is incredibly straightforward and professional. Every job has its nuances but they are always looking for solutions - doesn't matter whether the job is big or small. Great advice and guidance - and they will work with you to create what you're looking for. The team on the ground are very hard working and polite - and always check to make sure they have interpreted instructions correctly. Read more here.
Removal of old concrete cricket wicket. Creation of a large, new flower bed. Removal of old brick BBQ. Installation of timber raised bed.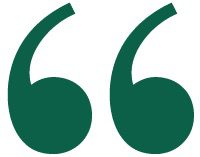 highly professional and approachable
We spent a considerable time with Aye Gardening working through the design with Susan and Jo patiently revising their quotations to match the plans as we refined them. Once the team started the work we immediately felt confident that we had chosen the right firm, with Aye and his team of landscapers working extremely hard to create our new garden, cheerfully coping with freezing temperatures and lots of mud along the way. Read more here.
New patio, paths, steps and an oak sleeper wall together with banking, a new turfed lawn and the supply and planting of 12 trees. The job included the demolition and removal of the old patio, paths etc, together with new underground drainage, new topsoil and mulch for all areas.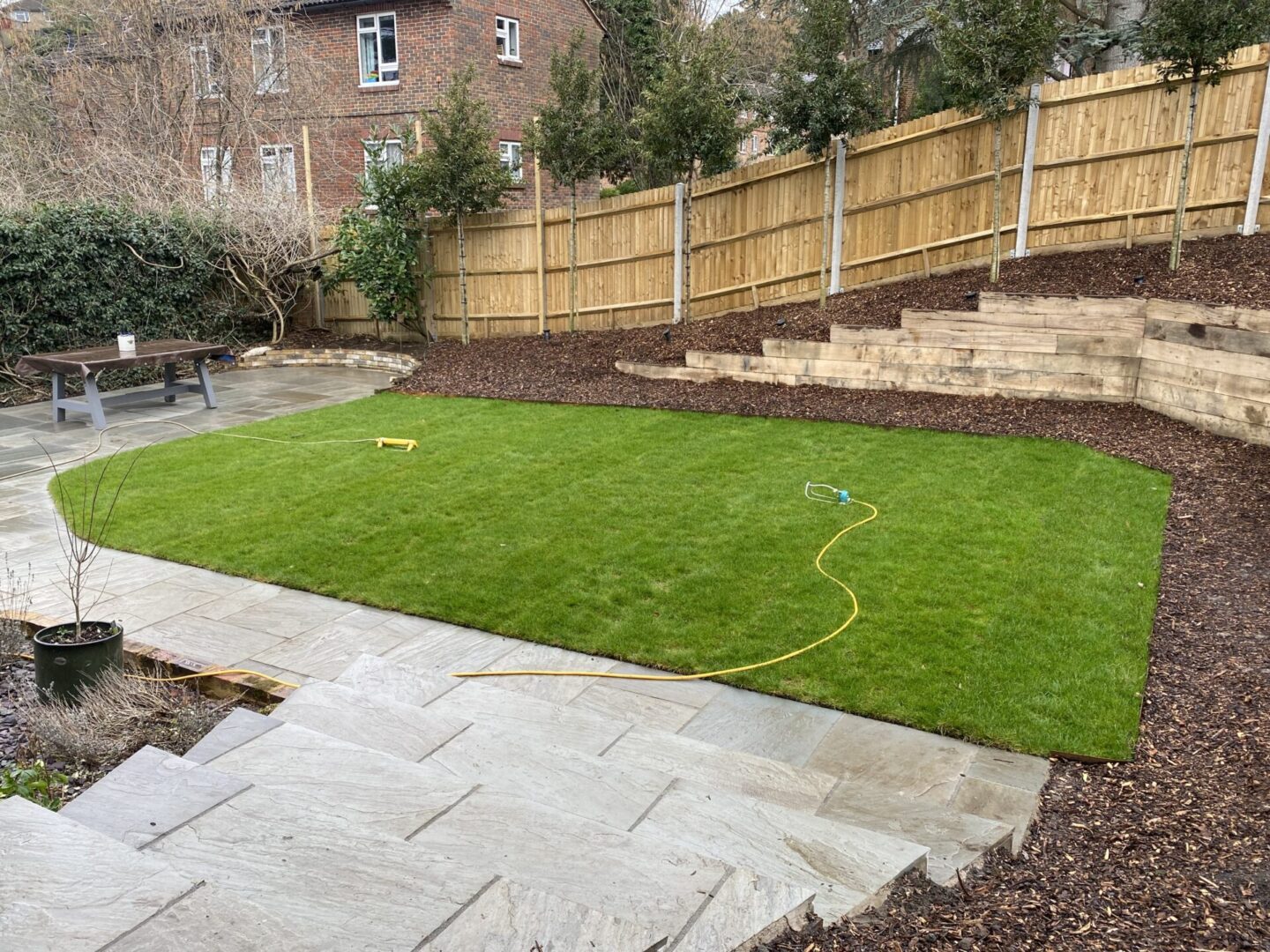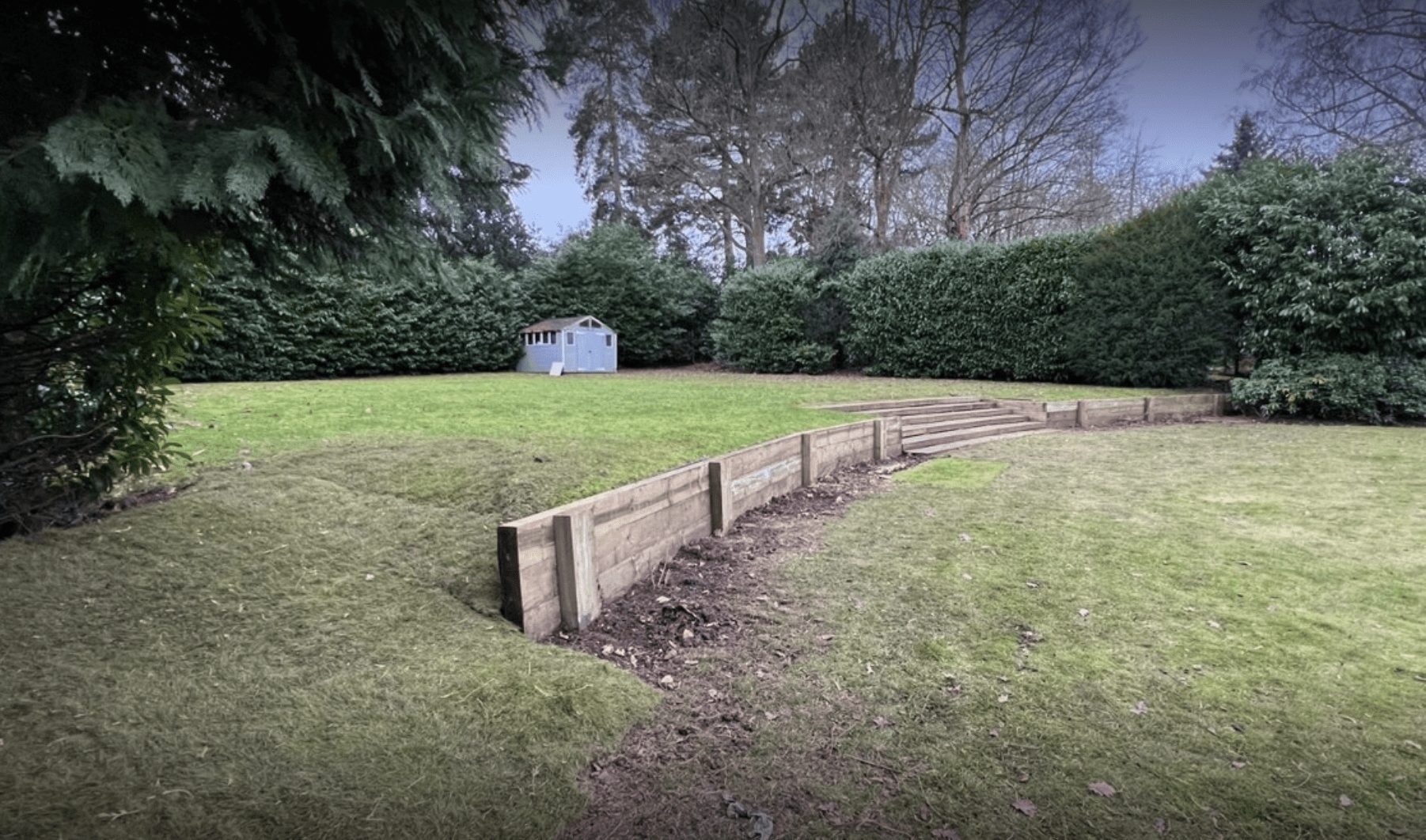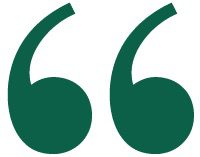 Quote was clear and comprehensive
Very happy with the services from Ayegardening. They helped replace a rotting sleeper retaining wall and steps and added in a slope for our lawnmower. My house is rented as I am overseas and they made communication from abroad super easy. Drawings were provided, the quote was clear and comprehensive. They showed up when they said they would, cleaned up after themselves and complete the job efficiently and to a high standard. Very happy and highly recommend.
Jackson's fencing sleeper retaining wall and steps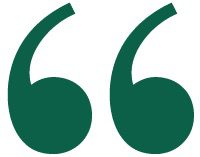 Since the day I spoke to Susan on the phone, I knew I wanted to work with her. They created a bespoke pergola in our garden, tiled a patio and created and area for a sand pit. We couldn't be happier with all the work they put into it. It looks amazing as the team that worked on site were amazing, simply the best team for us, very respectful and organised. We won't hesitate on recommending them and if we ever need more work done to our garden Ayergardening will be the right company for us. Susan and Aye are amazing people and extremely helpful. Thank you
Pergola, patio and sleeper area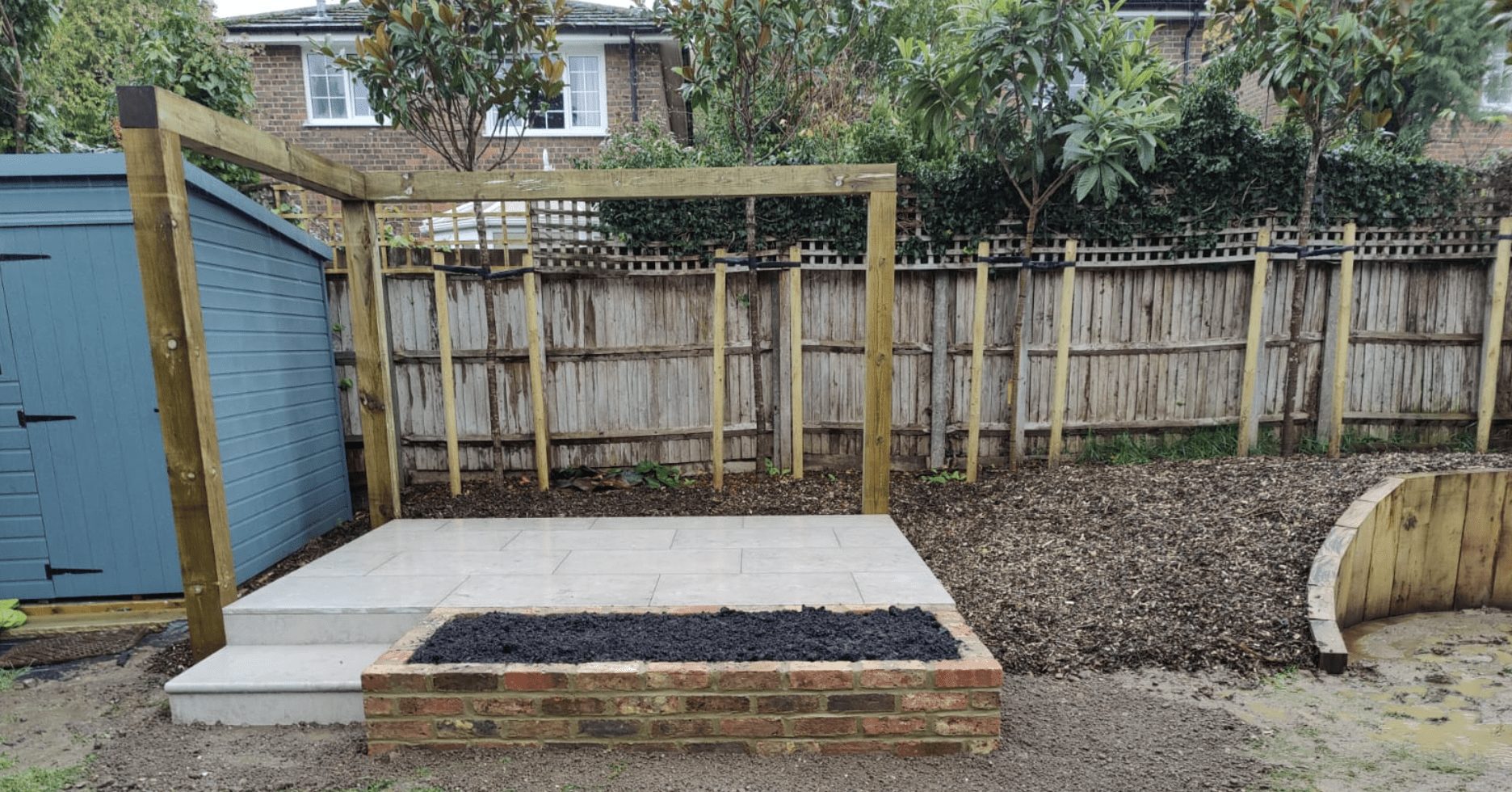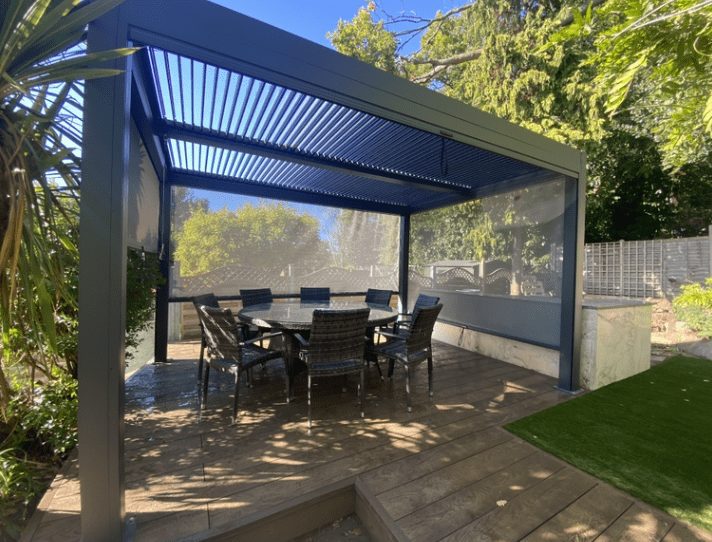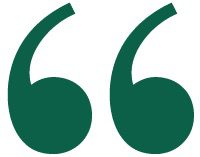 We are really pleased we chose Ayegardening for our project. Our current garden was in need of much love with rotten decking and a beaten-up pergola needing replacing. We were impressed from the start when we received a detailed quote from Ayegardening meaning we knew exactly where our money would be spent and increased our trust in them from the start. The work was completed to a high standard with the team making sure we were entirely happy with every decision made. They realised this was a significant investment for us and so wanted to make sure that everything looked as good as it possibly could. I would highly recommend them for your gardening project. Our results were superb.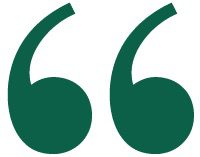 Makes a massive difference
Thank you so much, makes a massive difference. Thank you Ayegardening, very professional from start to finish. 
Front garden clearance, turfing and hedging in Tadworth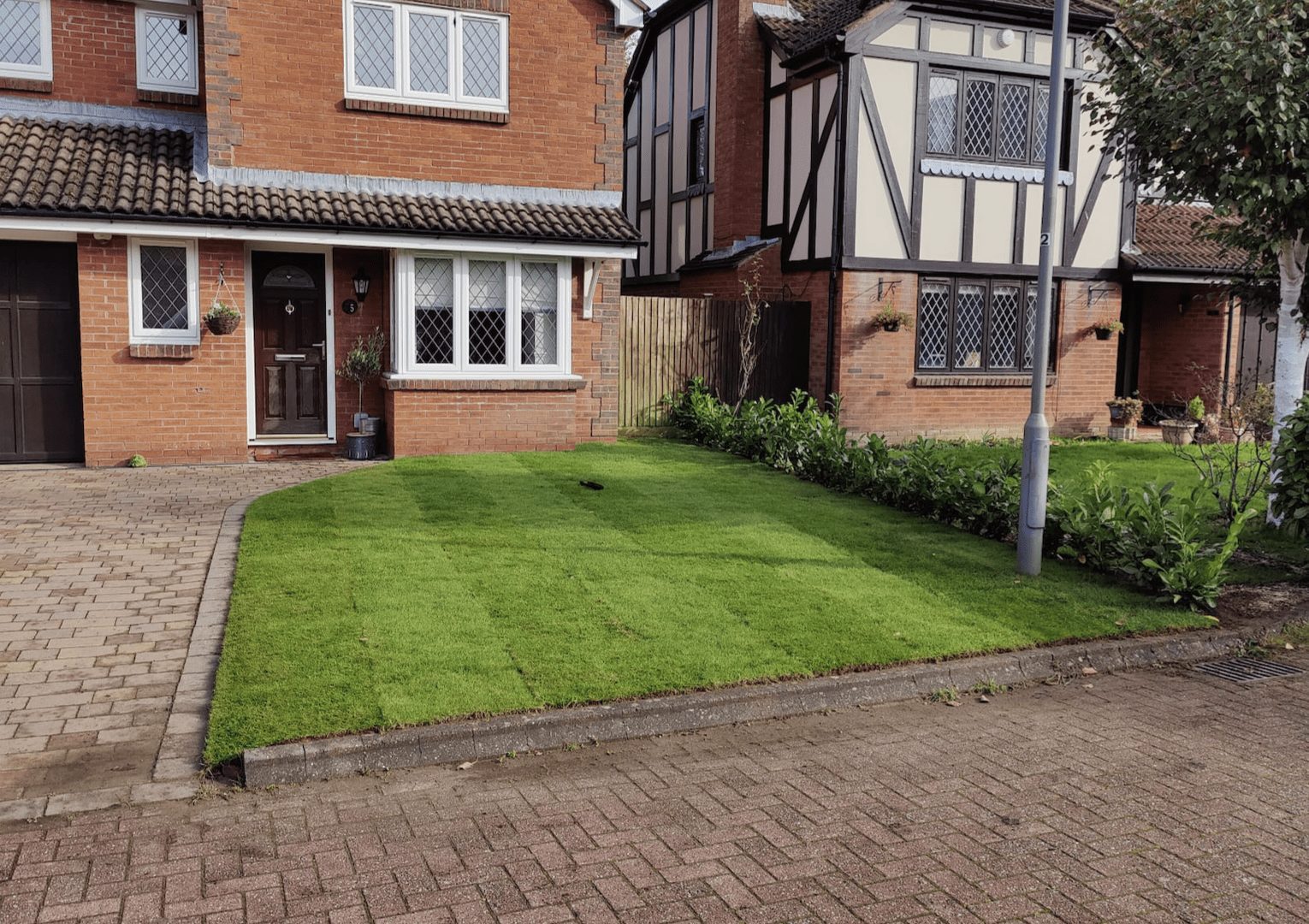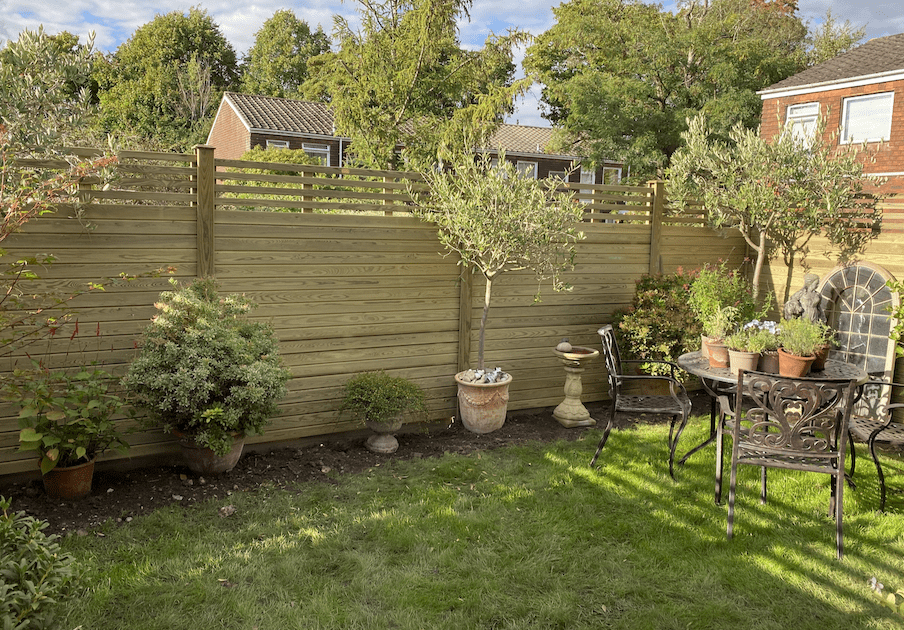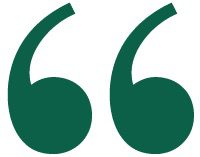 Both my husband and I thank Ayegardening for the professional workmanship that was carried out when installing our new Jackson fencing. Susan was very professional and her team were very hard working, friendly and got on with the job to a good high standard.
We highly recommend Ayegardening and are delighted with our new fencing and storage area.
Jackson's Fencing Installation Reigate Surrey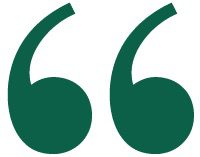 Although the garden itself was designed by Ivan at New Leaf Designs, we entrusted the project to Aye Gardening and we're delighted that we did. Susan project managed everything whilst Aye and his team did all the hard work! Access to the site wasn't easy but the guys somehow got a small JCB and all the materials in without a hitch.
The team turned up on time every day and the job was completed on time and to the agreed costing. As you can see from the photos, the garden is pretty small but it looks great and we can't wait to get planting properly in the Spring.
You're welcome to come and view it - just contact Susan at Aye Gardening to fix a date and time.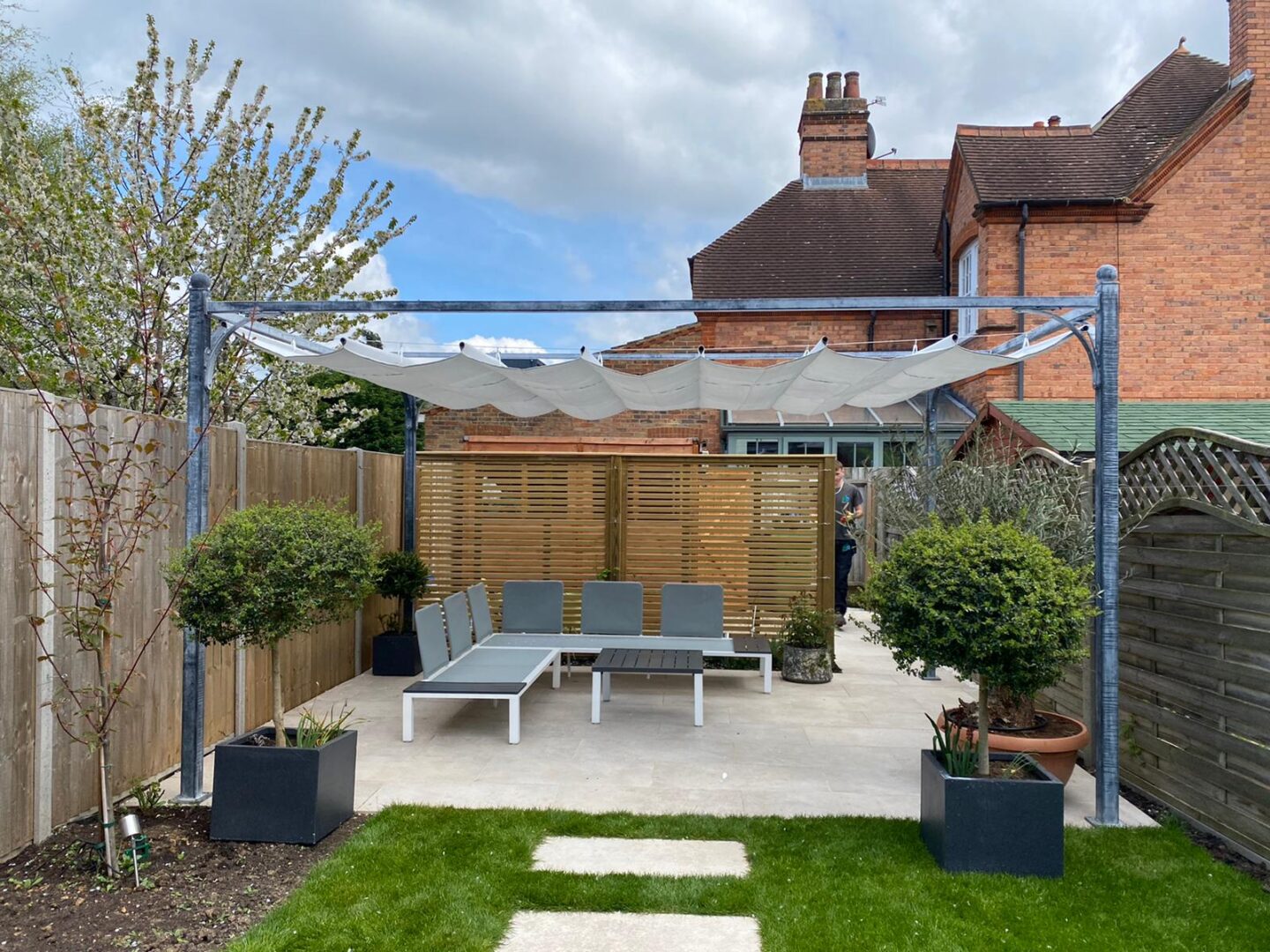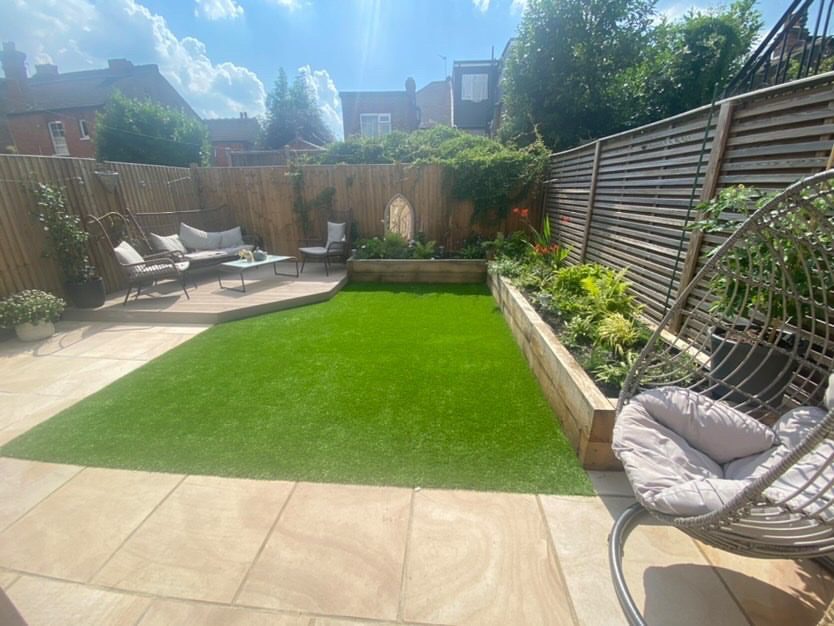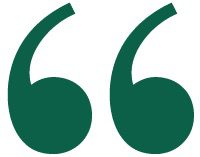 What a transformation! Honestly so happy. The team were so lovely! Please pass on my thanks again for all their hard work! You have really made our summer ❤️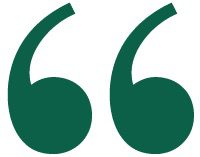 Ayegardening are tremendous; they supplied and installed our SureCell & SureSet resin bound paving for our patio. They were great through the quoting process and equally flexible throughout the installation process. We love our space! Thank you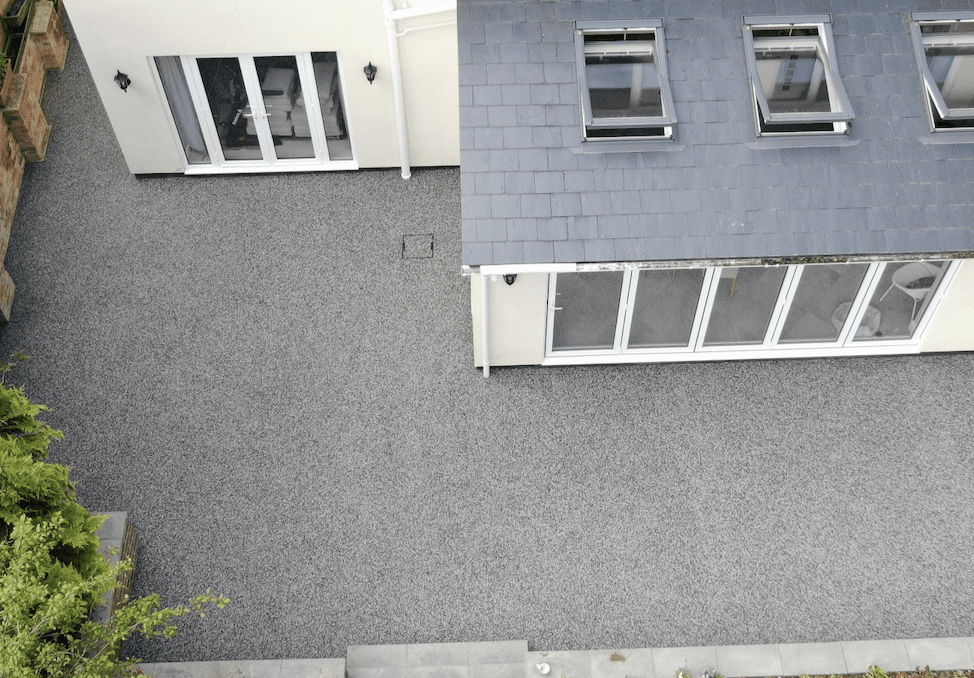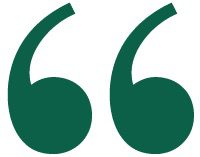 My front garden was in desperate need of a revamp! I decided that I wanted to install a SureSet resin driveway and Aye Gardening were the recommended installer in my area. From the outset, I was very impressed by their warmth and professionalism. It gave me a great deal of confidence in them as a business. I had a clear idea of what I wanted to achieve with the design and was looking for a company I trusted with the implementation. The estimates they provided were thorough, with fully detailed breakdowns of costs, giving transparency. Any queries were dealt with promptly. Any questions were met with helpful advice. The communication was excellent around start dates and any potential hold-ups or supply issues.
To read the rest of the review please see here: Ayegardening Reviews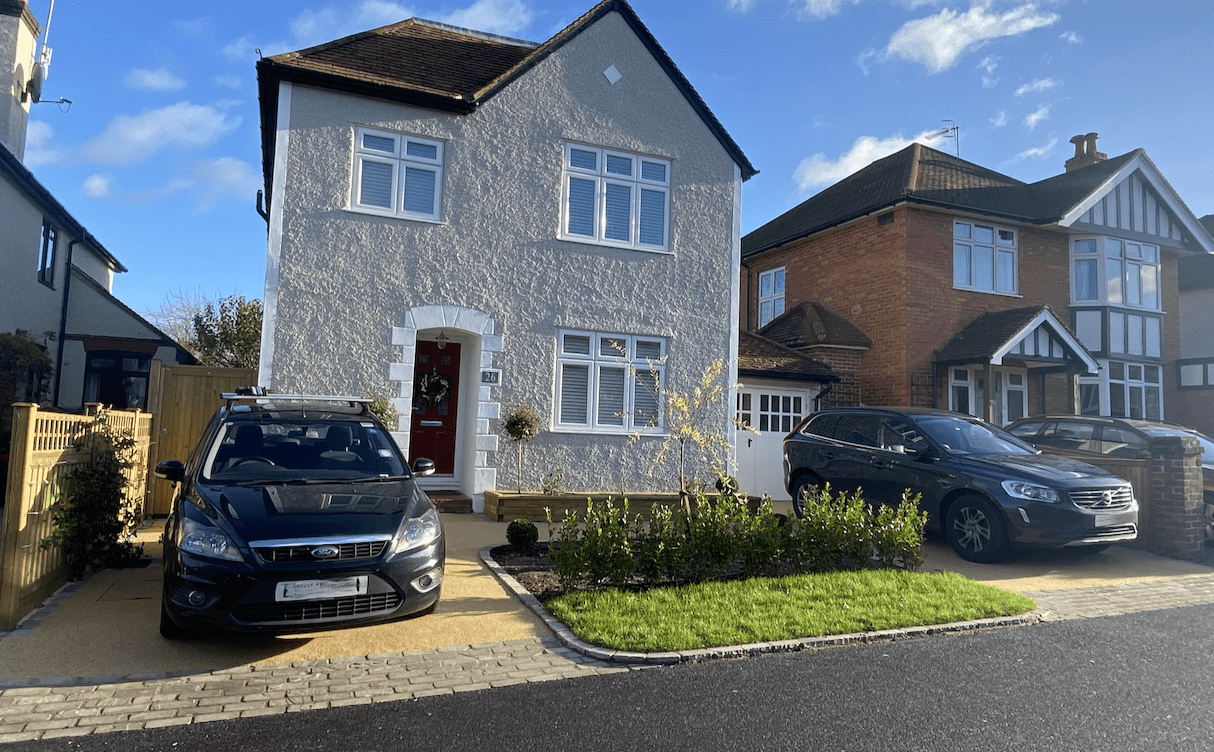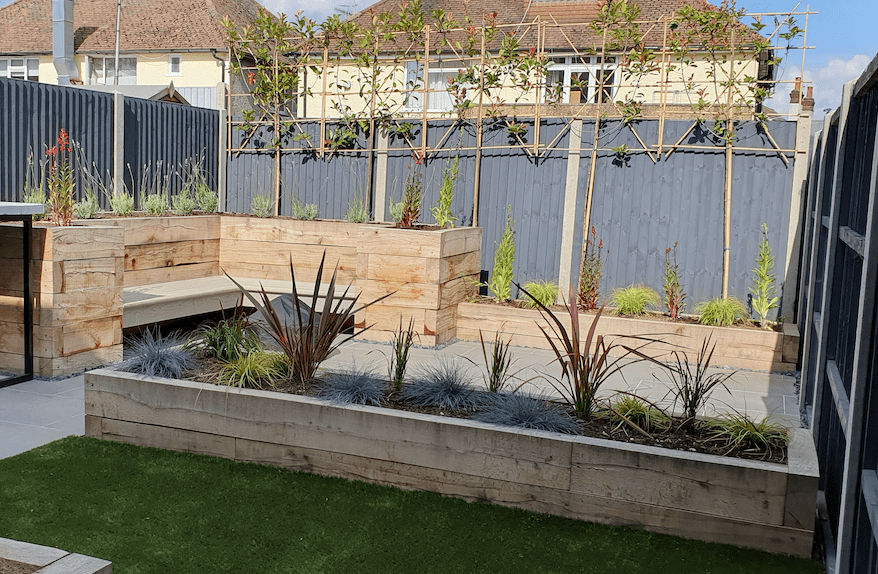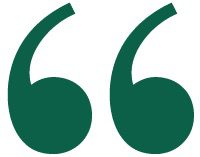 I have never instructed such a project to be done before, but right from the very first meeting with Susan I was made to feel confident that AyeGardening would not only provide a great solution to what I sought but that my wishes were listened to. Through the design process the conversation was succinct and clear with really useful imagery created to help visualise the project. The construction was completed in just 2 weeks and even adjustments made during construction were dealt with with zero fuss. Everyone was fully respectful of my property and very personable. The end result is a garden which has absolutely given my home an upgrade and I am thoroughly enjoying now adding to the space that AyeGardening has made for me. I cannot recommend Aye and Susan enough!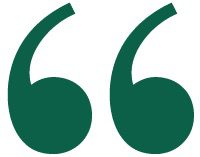 Thorough and Professional
I cannot recommend Ayegardening too highly enough. From our first meeting with Susan, through the paperwork and administration with their back office, to finally meeting Aye and his team when they built a new patio for us and re-configured our garden, they were helpful, friendly, thorough and professional in every way. It was a pleasure to have Aye working for us; always courteous and friendly and able to adapt our designs at a moment's notice as the installation actually took place. The end result is beyond all of our expectations and we are delighted in every way.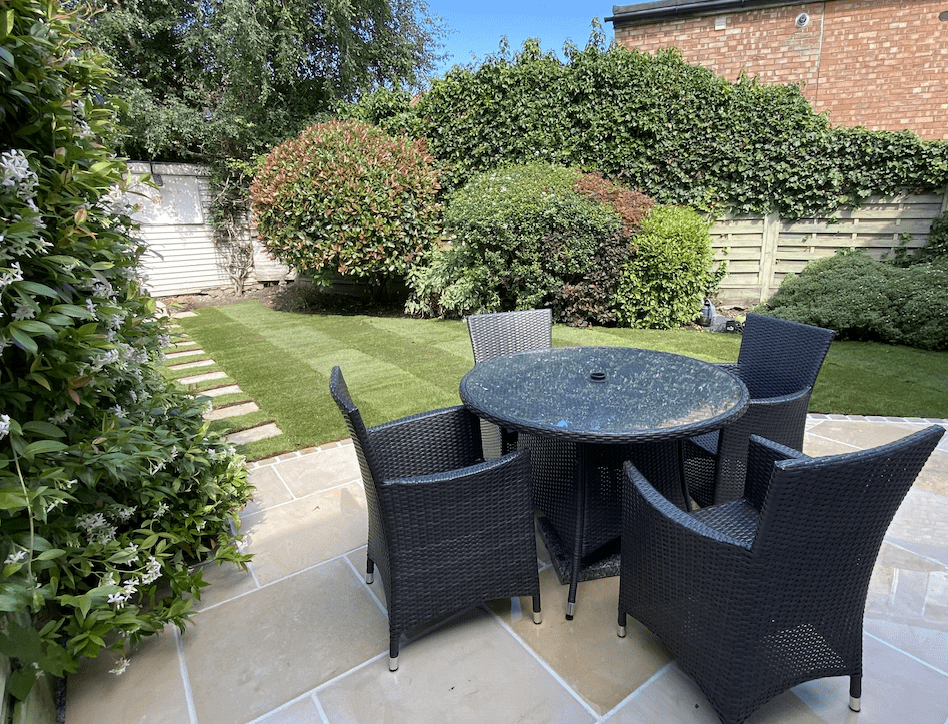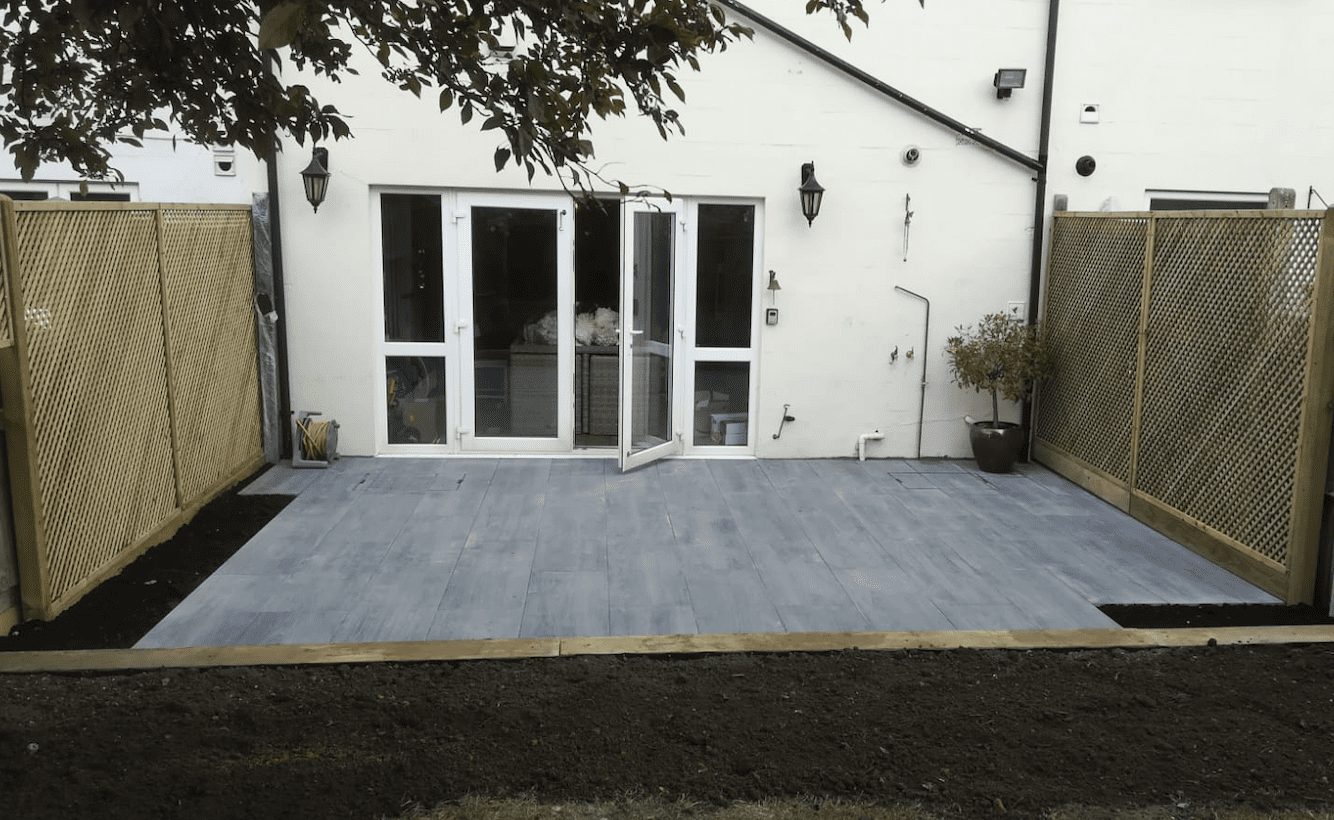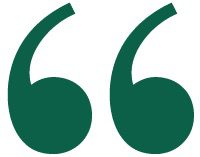 A huge thank you for your amazing work in the garden - hugely impressed with the work and efficiency and your team were a delight to have on site. We will definitely be recommending you locally. Thank you also for squeezing us into your very busy schedule that was very much appreciated.
Patio transformation- Redhill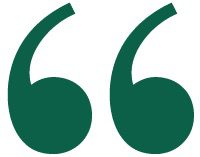 Ayegardening were lovely to work with. We felt lucky that after finding them on Houzz they were available. The job went smoothly with workmen turning up early every morning and the end result is fantastic. Our garden feels 3 times the size and we can't wait to spend all day in it in the summer. Susan was so helpful throughout and we can't thank the team enough.