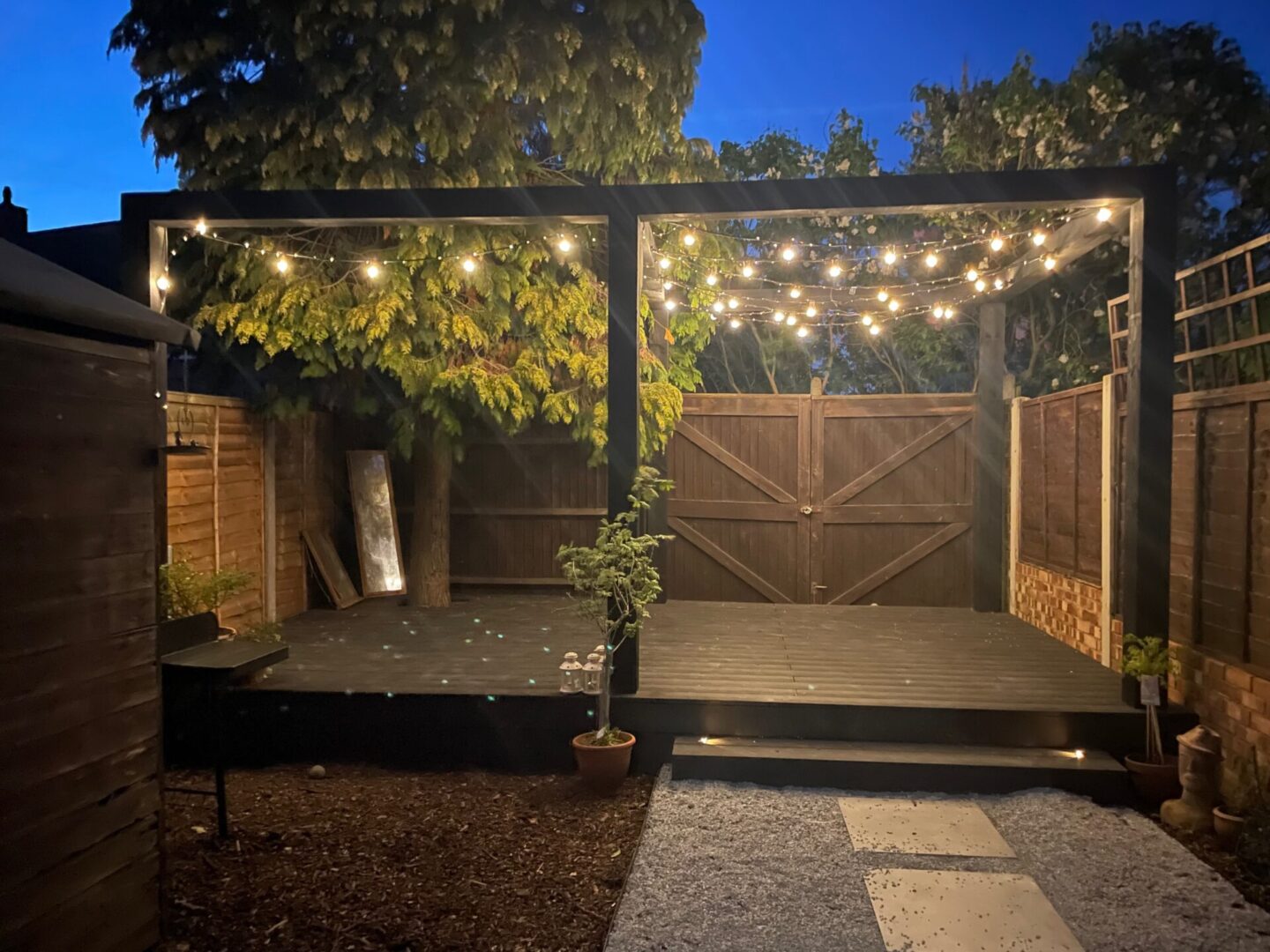 LANDSCAPING PROJECT: Mid-Terrace magic!
Small is beautiful in this multi-functional mid-terrace garden
This small garden space in Mitcham was in dire need of transformation. It was little more than a couple of out buildings and failing grass. Until we stepped in to transform owner Matt's design into something much more inspiring.
Facts & Figures:
Who lives here? Three housemates: Rick, Matt & Adnan
Location: Mitcham, Surrey
Garden dimensions: Approx. 50 sqm
Maintenance advice: Pergolas, paving, drainage, lighting, decking
Why we loved this project:  We loved using Saige decking which is lovely long lasting quality product. The collaboration with the clients was enjoyable as we working through what they wanted to achieve. 
The Clients:
Rick, Matt & Adnan share a house in Mitcham. It's a mid-terraced period property with a typical suburban garden, that over the years had been neglected. But the guys had big plans for their small garden – quite literally! Matt, a graphic designer, had drawn a design based on their ideas, but needed us to turn it into a reality.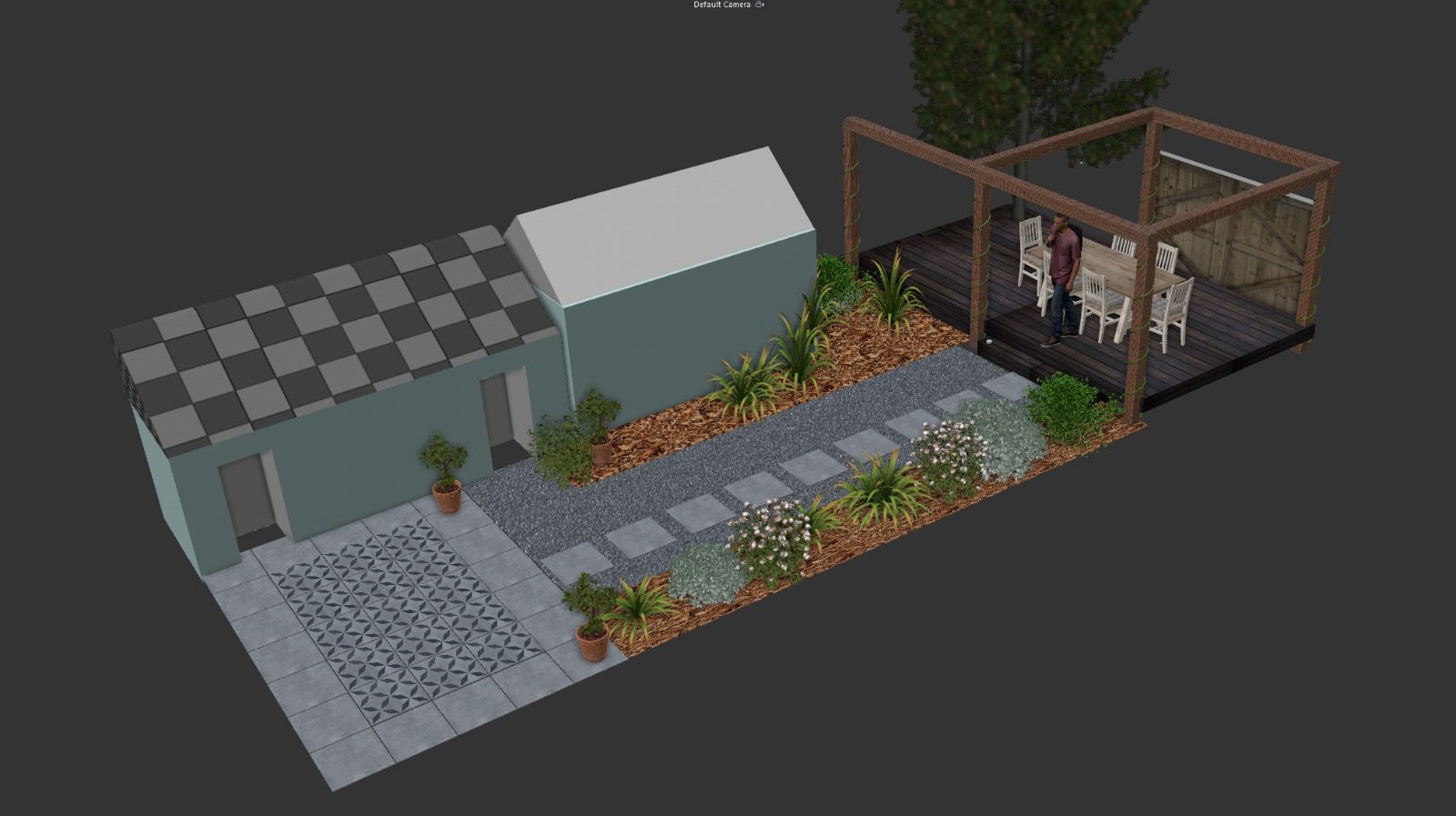 The Brief:
The guys were looking to create an outdoor oasis in their limited space, for relaxation and entertaining friends and family. They were eager to transform their small garden into a functional and private open-air living area.  
Plans included a raised decking area at the rear of the garden. They wanted to remove what little grass there was, as it was proving problematic for their dogs and wasn't thriving in the poor conditions.  
Top priority was to establish an easy-to-maintain outdoor space that would complement their property and give them an outdoor room.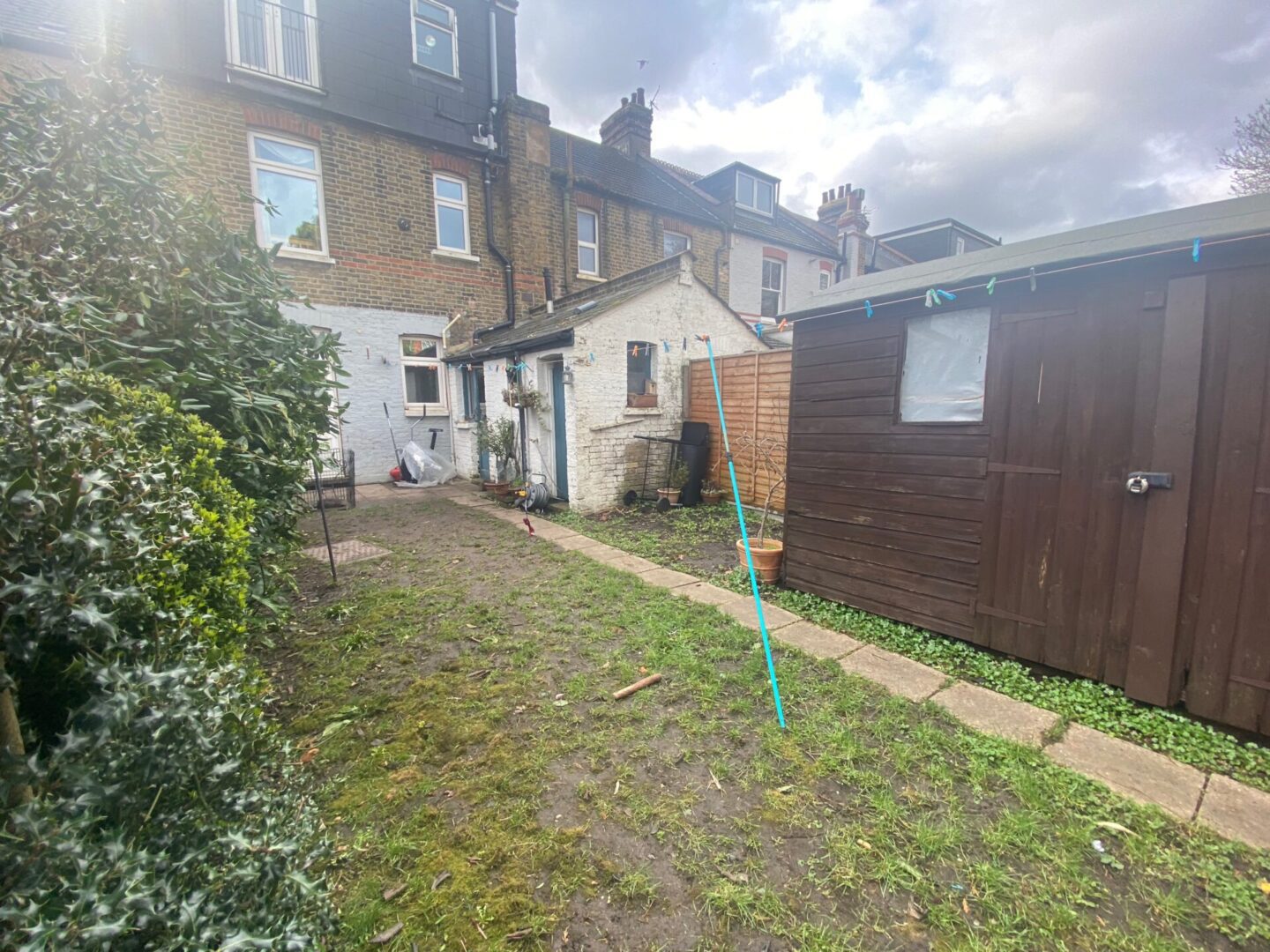 The Solution:
We first took a look at Matt's design and gave the trio a ballpark figure for the work. A poorly-maintained private road and a narrow path to the back meant access was tricky! Following a visit we went over the budget together with our clients. To meet their budget, we were able to suggest ways in which they could minimise costs. For example, the guys were prepared to do much of the clearance themselves, as well as painting the shed, replacing fence panels, and planting the new flower beds.
We then got down to the main elements of this project by: 
installing a raised deck of Saige composite decking at the rear of the garden, to catch the sun and provide a distinctive area for entertaining;

 

constructing a pressure-treated timber pergola around the decking area for added definition and privacy;

removing the difficult lawn area, installing a stabilisation grid, and replacing it with "Blue Ice" 3-8mm gravel stones from Stone Warehouse;

installing linear drainage, and a recessed manhole cover, which we filled to match the paving and gravel;

 

laying a patio and path using Metro Tiles porcelain tiles. We used patterned tiles to add character to the patio by the house, and added stepping stones from this patio leading to the decking;

 

adding wood mulch and planting areas around the boundary fencing and shed;

 

completing the project with the installation of lighting – on the walls of the house, the steps of the decking, and festoon lights around the pergola.

 
Then, to further save money, the old paving was reused as a base for the shed, which was moved to make better use of the space.
Top Tips
When using patterned tiles in your garden project, make sure that the tiles you choose are for external use. They should be at least 20mm thick.

 

 You don't need planning permission to install raised decking in your garden, as long as it is less than 30cm high.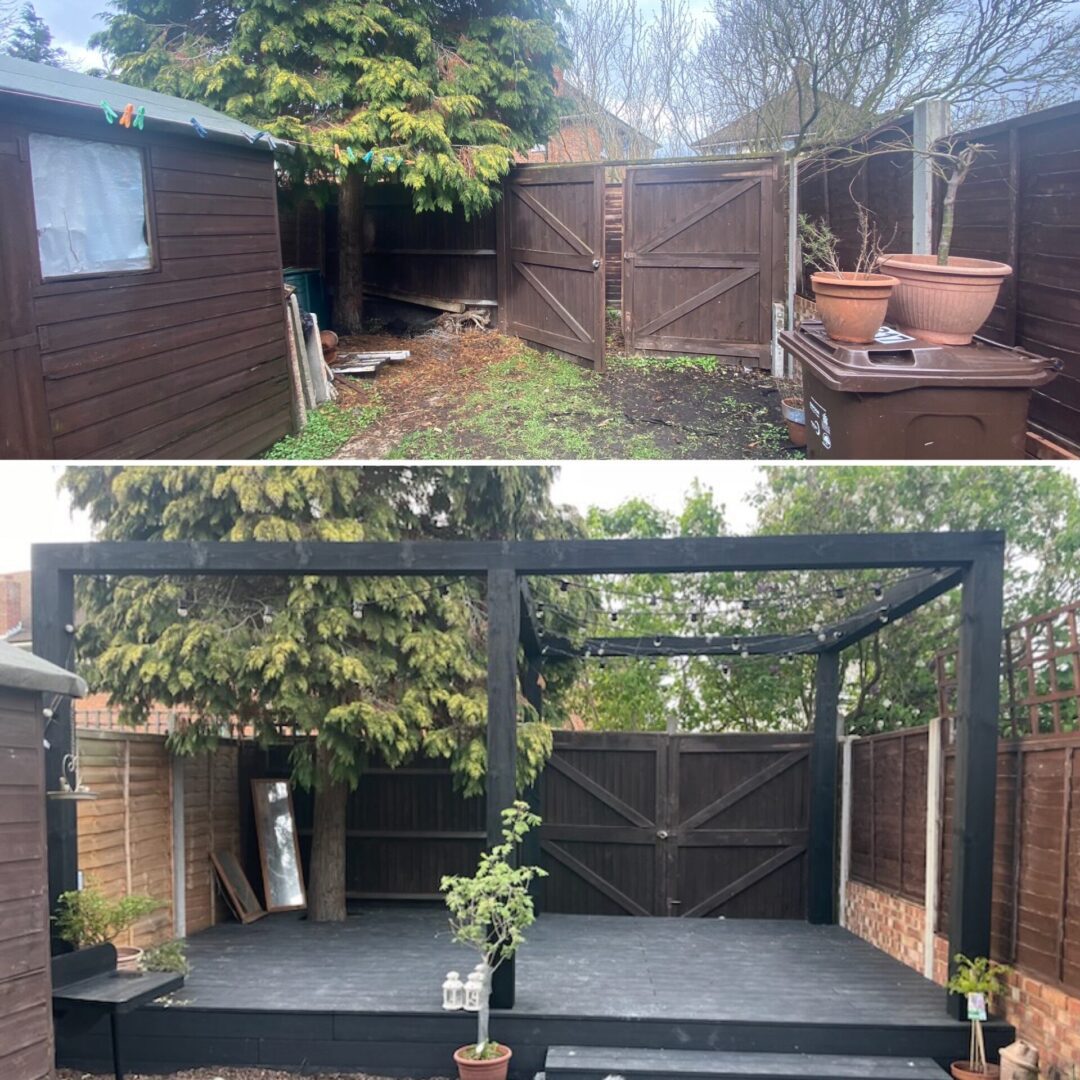 Client focus:  
From our first discussions with Rick and Matt it was clear that quality, craftsmanship and attention to detail were important to them. So we worked hard to bring the project in at a price that suited their budget. By doing some of the work themselves, the guys could focus their budget on the premium materials and quality construction that were so important to them.
We pride ourselves on our flexibility and communication, so it was simply a matter of sitting down with our clients and coming up with a plan that suited everyone. Magic!
I just wanted to say a big THANKS for the great effort, craftsmanship, and quality that you've all put into our garden. We really love it and it's been a pleasure meeting you all! Please pass on our thanks to all of the team.
Rick, Matt, Mart & Adnan
If you need some help to design an outdoor space that complements your home, give us a call to discuss your ideas, and let us help you bring them to life!